5 top choices in golf high-tech
Golf tech is in full swing just in time for the PGA Championship.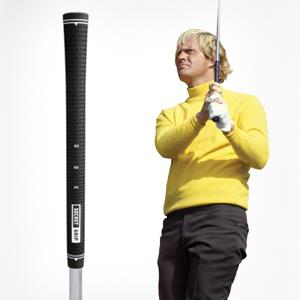 With the PGA Championship underway this week, America's 25 million golfers are considering how to take a few strokes off their own scorecards. Here's a look at five favorite, high-tech products designed to help players improve their game and navigate a course.
Secret Grip   Endorsed by Jack Nicklaus, the Secret Grip by Boccieri Golf is designed to improve consistency, control, and distance by back-weighting a player's clubs. The grip itself runs 40 percent heavier than standard grips, and a 17-gram tungsten counterweight in the butt end further raises a club's balance point. Secret Grip can be installed on any club, and runs about an inch longer than standard grips to allow for grip-down shots around the green (without the need for extra taping). Nicklaus has said that he's enjoyed the benefit of back-weighted clubs all throughout his career, explaining that they slow down his hands and reduce dispersion. Learn more at Boccieri Golf. Price: $16.99 per grip
Bing: Latest updates from PGA Championship
GolfLogix app  There are literally thousands of golf apps available today — about 700 of them for GPS alone — but this one is worth picking out of the haystack. GolfLogix was first to market with a handheld GPS for golfers, and has since expanded its offerings into a full suite of smartphone functions. Among the app's many features are yardage-book quality imagery of every hole on some 32,000 golf courses worldwide; an embedded GPS for precise point-to-point distances on a hole; grids displaying landing zones for every club; and storage of all your scores and stats. When you're off the course, read news feeds from the PGA Tour, tips from the pros, and book your next tee time (sometimes, at a discount). And if, after all that handheld help, you still shoot a 9 on that par 4, you can find a little satisfaction by viewing how many calories you've burned. Learn more at GolfLogix. Note that features are tiered by membership level. Prices: Club Membership, Free; Champion Membership, $19.99/year; My Golf Digest,  $9.99/year.
MSN Fox Sports: Tiger struggles in first round
Cool Clubs custom fittings  Once available only to tour pros and the wealthiest of duffers, custom-fitted clubs are today within reach of anyone who can swing a relatively modest entry price. For $125, Cool Clubs can get you started with a Driver Fitting or Long Game Fitting. First they learn the specs on your current clubs, then they capture your biomechanics using Trackman technology, which collects 3-D info about your swing on 20 data points including club speed, ball spin, and attack angle. The data is analyzed by Cool Clubs software to identify the most ideal club/shaft choices for you from over 25,000 possible combinations. Once you're hooked, start dropping hints before your birthday for the $1,000 "Day In the Life" custom fitting, which includes lunch and a massage (flight to Cool Clubs HQ in Scottsdale not included). Learn more at Cool Clubs.
MSN Fox Sports: Phil almost left out at PGA
Bushnell Pro 1M laser rangefinder  Bushnell has been a leader in laser rangefinders, and the Pro1M gets high marks for 7x magnification, a display that performs well in any lighting, and waterproof construction. The Pro 1M is bigger and heavier than most rangefinders. If you want a small, light unit, try Bushnell's Wingman Pack instead. That includes the Tour Z6, the smallest rangefinder in their laser line, and proceeds from the Wingman benefit the families of service members. Learn more at Bushnell. Prices: Pro 1M, $499; Wingman Pack, $399.
OptiShot simulator  OptiShot is a portable simulator you can use to practice or play a full round of golf indoors using your own clubs. Virtual replications of holes from world-class courses appear on your Windows computer, and you take a full swing off a turf-lined pad containing optical sensors that read your shot and simulate it onscreen. You'll need to set up a net or other catcher if you want to hit a real ball, though OptiShot can read the shot using the foam balls provided (or no ball at all). The system can also be used to analyze your swing, offering feedback on club-head speed, face angle at impact, swing path, and distance traveled. Learn more at OptiShot. Price: $399.99
Next time somebody says you're just knocking a ball into a hole with a stick, show off the cool tech that gets it done.
More from Technobabble:
Introducing Tech Today, your video guide to what's hot in tech
Weddings and social media: How much should they mix?
Cybercriminals mail heroin to frame journalist
Friend us on Facebook, follow us on Twitter and find us on Pinterest.
Photo: The Boccieri Golf's Secret Grip, endorsed by the legendary Jack Nicklaus (Courtesy of Boccieri Golf)