Fall's 5 Best Boots Under $100
Autumn is a magical time: crisp mornings, brilliantly colored leaves, and a new crop of fall boots just waiting for us to discover them. Speaking of new boots, we scoured the internet for fall's finest for under $100 and came up with some truly impressive offerings.  
1. Take this season's craze for quilting to new heights with the 
Gabriella Rocha ABCDE boot for $69.00 from Zappos
. Pair these "synthetic leather" beauties with a pencil skirt and graphic-print sweater for an uptown effect, or take things downtown with black leggings and an oversized cashmere tunic.
2. Like everyone, we're in love with all things burgundy right now. If you're on the burgundy bandwagon, too, take heart. The
BDG Suede Riding Boot from Urban Outfitters
 for $79.00 will satisfy your cravings without blowing your budget. Which is sort of amazing, considering the fact that they're real suede. (Good news for those who despise burgundy: They also come in four other yummy colors.)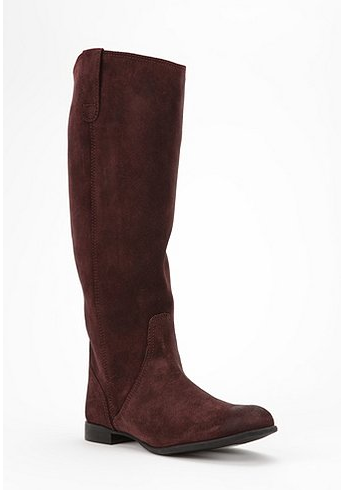 3.  These dove-grey booties look perfectly elegant paired with just about anything, from wide-legged wool trousers to a flirty silk skirt. And at that price, you don't have to feel guilty about getting your faux suede wet as you walk through the rain. 
Sole Society 'Josslyn' Platform Bootie for $59.95
 from Nordstrom. 
4. Remember in the
Lord of the Rings
when Gollum kept whispering, "My precioussssss," to the Ring of Sauron? (NERD ALERT!) That's how we feel about the 
Shiny Heel Ankle Boot from Zara
 for $49.00. Just look at them. They have a chunky gold heel and THEY ZIP UP THE BACK. Who cares if they're not real leather? Wear them with anything or with nothing at all (option two not recommended for work).
5. With subtle stitching and that luxe burgundy shine, these classy ladies are destined for greatness—or at least daily rotation in your work wardrobe. 
Burgundy Franco Sarto 'Learn' Boot
, $99.95 from Nordstrom. (For $100, you might hope these are real leather. But they're not.)