Top 10 Fashion Week Looks You Can Actually Wear to Work
Fashion Week is famous for its "OMG who would WEAR that??" outfits, but if you look closely at the crazy clothes coming down the catwalk, you can start to make out the shape of your future wardrobe. That's right - even your future work wardrobe.
With a little moderation, these 10 trends will have you looking totally fashion-forward at the office—without looking like a fashion victim.
1. Black and White
Maybe it's a backlash against the wild colors of the past few seasons, but graphic black-and-white looks were EVERYWHERE during the shows in New York and London. Pair a black-and-white blazer (in a less extreme silhouette, of course) with a black pencil skirt and a pair of black kitten heels and call yourself promoted.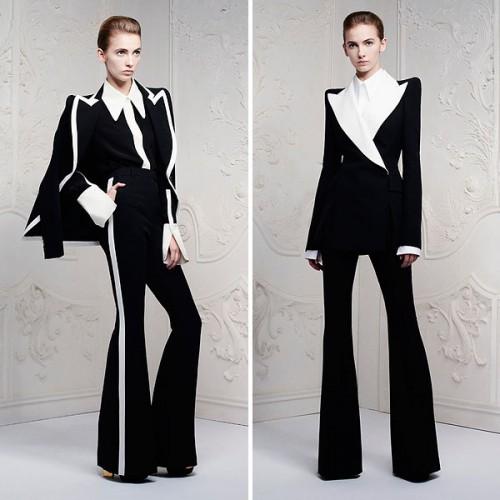 Alexander McQueen
2. All Buttoned Up
All that stands between you and an ultra-modern wardrobe update? A few buttons. Button-down shirts are all buttoned up these days, lending a vaguely '80s chic vibe to your look (think Sean Young in
Bladerunner
). Pair with pretty much anything (pencil skirt, skinny jeans, wide-legged trousers - really, almost anything), plus just a touch of attitude.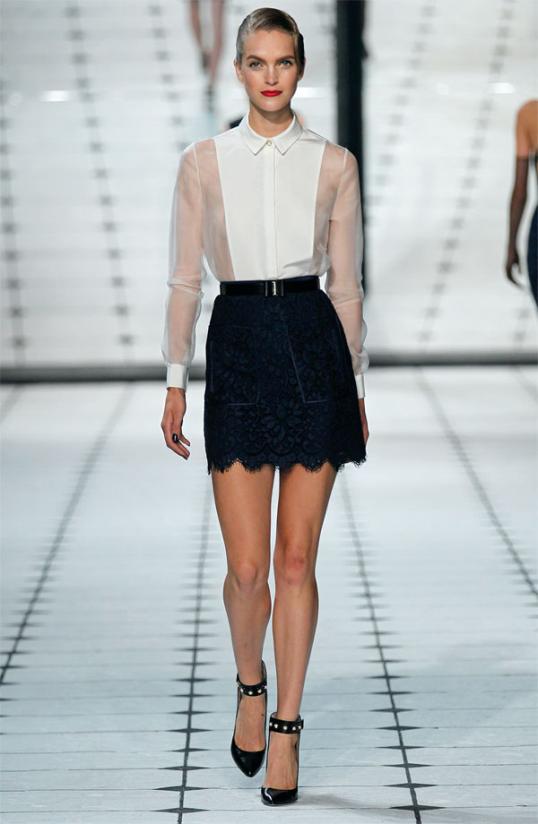 Jason Wu
3. Pretty Floral Prints
Those who love feminine, pretty styles can breathe a sigh of relief: stores are starting to fill up with whimsical, delicate prints that hearken back to the '40s, '50s and '60s. From soft shirtdresses to easy button-downs, this look is pretty much a no-brainer for work. Hooray!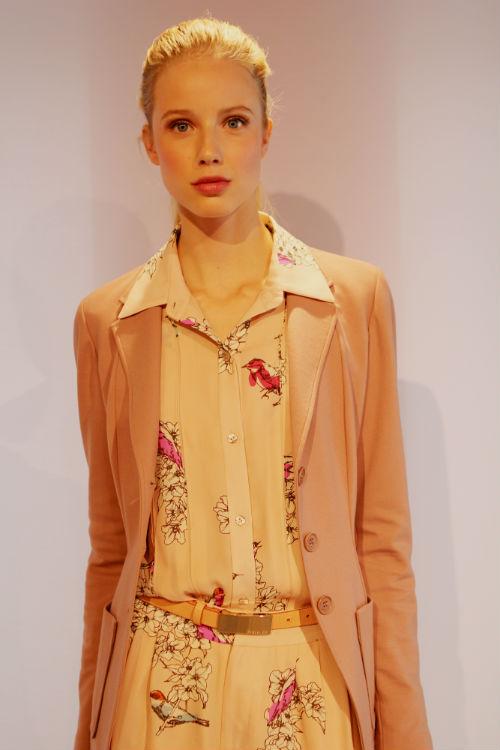 Rachel Roy
4. Mesh, Lace and Cut-Outs
Slightly more challenging—but a feature of almost every important show this season—mesh, lace and cut-outs. The challenge for work? Rocking some fresh mesh without looking like a slut or a slacker. The solution? Ladylike looks with a sweetly vintage vibe like this skirt from Yigal Azrouel (just ignore everything that's happening above the waist in this picture). Crochet is a big win, too, as long as you have a tasteful foundation garment underneath.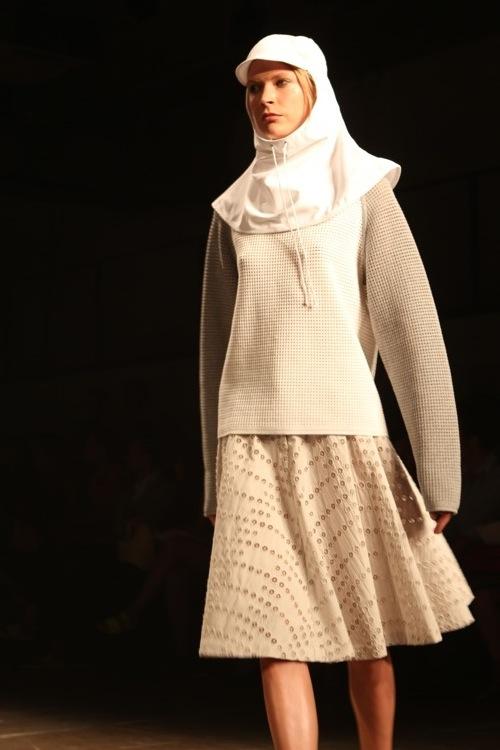 Yigal Azrouel
5. Retro Silhouettes
Holy smokes but retro is IN. From Marc Jacobs to St. John (and everything in between), the mod '60s are back in ferocious force. And, honestly, I couldn't be happier. These bright double-knit (I know, right?) dresses from St. John are pretty much universally flattering, and office appropriate for almost every industry. Ladylike, chic, and totally now? Yes, please.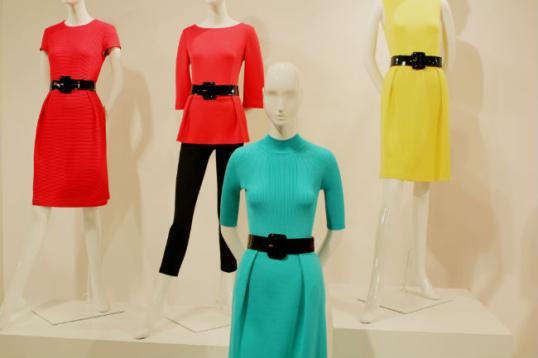 St. John
6. Mustard Yellow
So, this is really happening. Mustard yellow is a
thing
this year and it's stubbornly persistent. However, once you get the hang of it, this old-school color is pretty easy to wear. Much like the condiment, it lends a refreshing spice when properly deployed. Start small at first, like yellow piping on a blazer, or a yellow handbag. Then maybe move up to yellow accents in a printed skirt or blouse. Once you're ready, dive in with blazers, cardigans, scarves and blouses.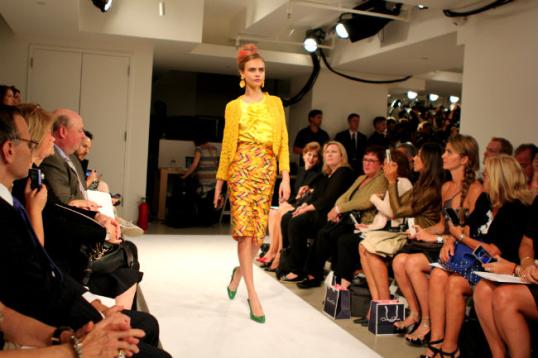 Oscar de la Renta
7. Cropped (Leather) Jackets
The cropped jacket remains one of the hottest looks on the runways. This one by Jason Wu manages to capture four trends at once: quilted, moto-inspired, cropped and tasteful nude/beige. Not bad for a night's work, eh? The cropped silhouette is a little edgy, but it plays nice at the office when paired with a polite sheath dress.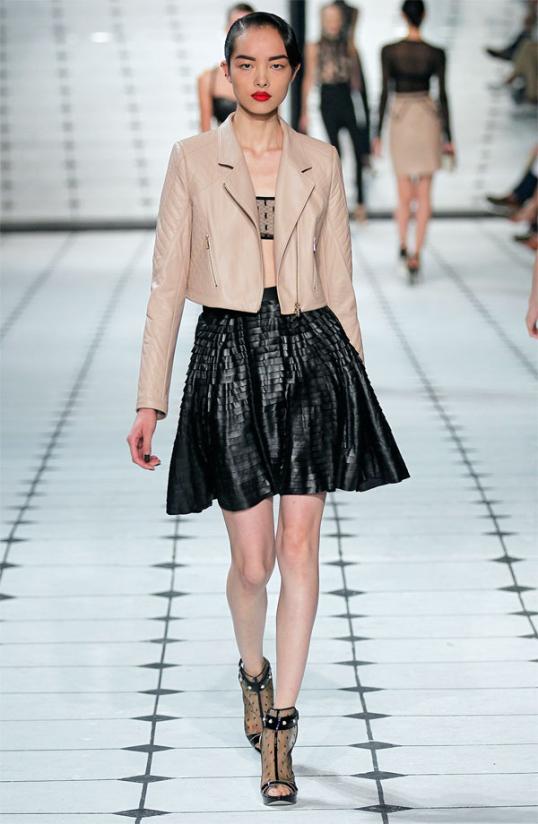 Jason Wu
8. Animal Print
Marc Jacobs delivers a trifecta of trends in this amazing coat: black-and-white, totally-retro and a graphic animal print that stays firmly on the right side of stylish. If all that giraffe is a little too much for the workplace (unless you work at an ad agency or in fashion, it probably is), try toning it down with a more discreet print that fades softly into the background but doesn't disappear. Or go for the bold with a wild, animal print handbag or pair of smoking slippers (or pumps) that pack a pretty punch.
Marc Jacobs
9. Sparkle and Shine
Shimmer is a sure bet when it comes to the catwalk, but you need to tone it down a little for work or you'll risk looking like Christmas tinsel. Derek Lam delivers a tasteful option in this rust-and-gold pencil skirt that would love divine with a soft, simple sweater (think black crew-neck with three-quarter sleeves) and black pointy-toe pumps.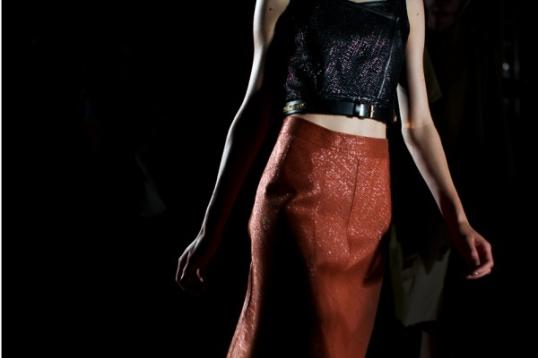 Derek Lam
10. Pop-of-Color Everything
Remember how all the stores the past few seasons have been practically exploding with clothes in eye-popping hues? Well, those clothes are still in style, and will be for at least two more seasons. So keep working those brilliant blazers, pop-of-color purses and citrus-hued shoes. Even if your boss found them shocking at first, she's probably used to them by now. Heck, she's probably rocking some candy colors herself.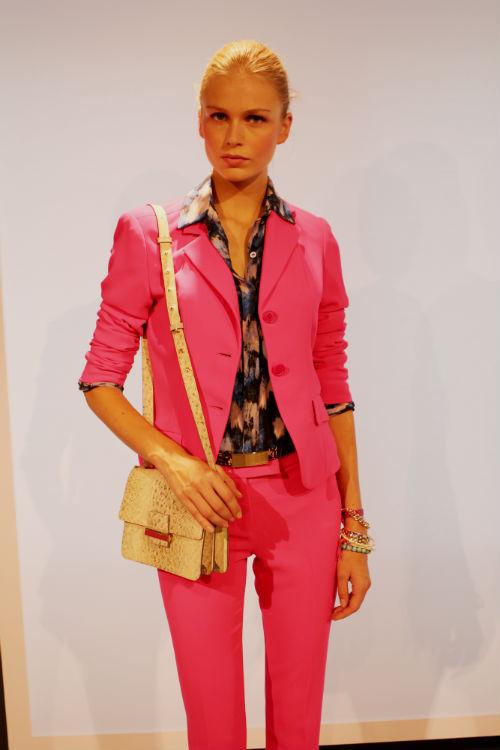 Rachel Roy
What are your favorite Fashion Week looks? What runway trends did you absolutely hate this season? And (most importantly) how do you bring fashion to the office without turning off your more conservative co-workers?