How to pack for a weekend getaway
Wherever you're headed this winter, we've got you covered. Here is the perfect vacation bag for a chilly clime.
The editors, Details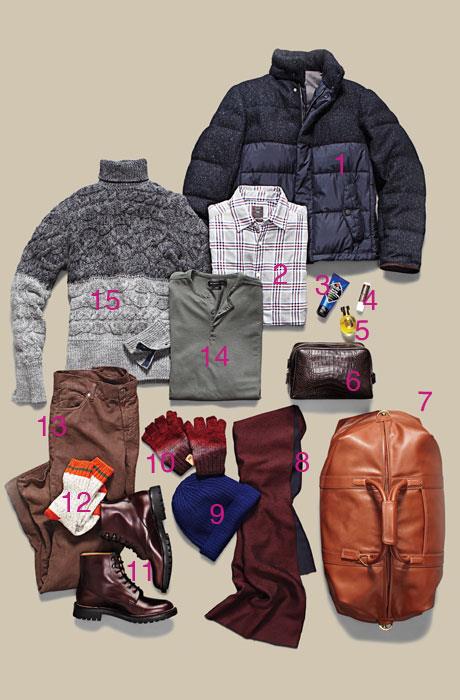 1. Nothing is warmer than a down jacket. Get a stylish version, like this one with a marled chest and sleeves. Jacket ($3,995) by Brioni.
2. When it's cut slim, a plaid flannel shirt provides the perfect blend of practicality and understated style. Shirt ($50) by Gap.
3. Use a daily face cleanser with aloe to keep skin smooth and moisturized. Pure Clean Daily Facial Cleanser ($12) by Jack Black.
4. A multipurpose skin-repair stick heals chapped lips, cracked skin, small cuts, and windburned hands. Remedies Multi-Purpose Repair Stick ($16) by McBrides.
5. A winter cologne, like this subtly floral scent with fresh notes of gardenia, bergamot, and Italian mandarin, will help thaw out your senses. Boutonniere No. 7 ($175) by Arquiste.
6. When your Dopp kit is croc-embossed, you'll be less inclined to hide it under the sink. Dopp kit ($475) by Smythson.
7. Travel in true style with a roomy, bench-made leather weekender. Bag ($648) by Coach Men's.
8. With a scarf as elegant as this reversible polka dot number, you need to pack only one. Scarf ($112) by Berg & Berg.
9. Add a pop of color to your winter wardrobe with a bright cashmere beanie. Hat ($168) by Elie Tahari.
10. Fingerless cashmere gloves are essential for texting on the go. Gloves ($470) by Raif Adelberg.
11. Opt for rugged lug-soled boots that are sturdy enough for snow and stylish enough to wear with a suit. Boots ($700) by Church's.
12. Thick, cushioning rag socks are a must with stiff winter boots. Socks ($19 for two pairs) by L.L. Bean.
13. Winter-weight corduroys are a great alternative to basic dark denim. Pants ($189) by 7 for All Mankind.
14. Layer with a henley to bring warmth and dimension to any ensemble; the narrow placket gives it a modern feel. Henley ($98) by John Varvatos USA.
15. A chunky cable-knit turtleneck sweater is a cold-weather must. Sweater ($1,450) by Black Fleece by Brooks Brothers.
More from Details: