Beat the burn: 6 tricks for a smooth shave
And how to avoid razor burn.
The Editors, Details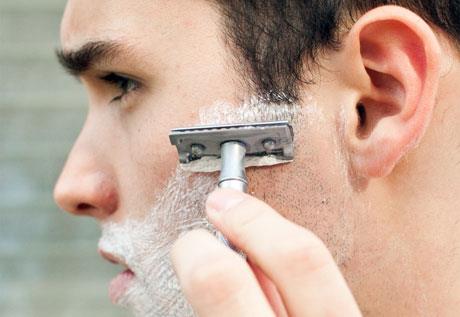 Nothing's gnarlier than red, itchy spots that pop up on your neck after shaving. It's embarrassing, and (sorry) it looks amateurish. Bring the razor super-close (think: Daniel Craig and Naomie Harris in Skyfall's seductive-shave scene) with these six easy tips.
Soften the beard. Shower steam opens up your pores and softens whiskers, making them less resistant to a blade.
Exfoliate. A facial scrub will keep dead skin from clogging up your blade and lift facial hairs up so you can get a cleaner cut in fewer strokes.
Stay sharp. Blunt blades require more pressure on the skin to get the job done, which can lead to irritation. Replace your blade after every five to seven shaves or as soon as you feel it slightly tugging on your skin.
Protect skin with an oil or cream. Pick a product that contains dimethicone or a natural lubricant like coconut or argan oil to reduce drag. Gels and foams are mostly air and don't provide enough glide.
Shave with the grain. It takes longer, but shave in the direction your facial hair grows. Can't tell by looking? Rub your hand against your whiskers and shave in the direction that feels smooth, not prickly.
Moisturize. Ingredients like tea-tree oil and propolis are great natural antiseptics and help heal irritation and nicks. Look for aloe and chamomile to soothe skin and reduce any redness, and avoid products with alcohol if you have sensitive skin.
More from Details:
Bing: Men's shaving

Do yourself a favor.Buy aPanasonic wet dry battery shaver es5831 works better than any razor you have ever tried! No expensive blades to buy.Just some AA batteries Lasts 90 or more shaves on the batteries. Blade lasts over one year. Great deal At Amazon.com $12 dollars or less.I am not associated with Panasonic. Fred S
Are you sure you want to delete this comment?