Latest Trend for Teens: Pajamas at Prom?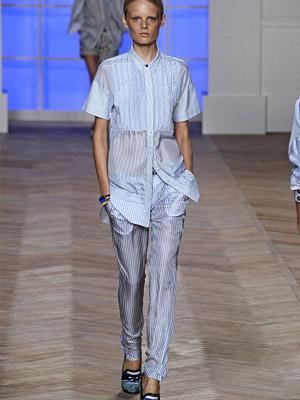 When I was in high school, the big trend was the more rhinestones and sequins, the better. And although that was a long time ago (nope, I'm not giving you the year), it appears that things have changed quite a bit.

The Wall Street Journal tore a page out of Teen Vogue's April 2012 prom issue this month to discuss the latest trend for prom, inspired by the mag—wearing pajamas to the dance.

Pajamas to prom? What happened to silk floor-length dresses and good, old-fashioned strappy heels?

WSJ claims that this new trend, menswear-inspired pajama looks for prom, is the hottest thing since peanut butter—and it all stems from adult fashions that grace the runway each season.

Jane Keltner de Valle, fashion news director for Teen Vogue, tells WSJ that young girls are taking cues from the runway and red carpet when choosing their looks these days, no matter what the event.

But isn't half the fun of going to prom choosing your dress?

Tell us: What do you think of wearing pajamas to prom?
Photo: Victor VIRGILE/Gamma-Rapho via Getty Images
beauty tips and style advice
One shopper's tweet of the emaciated-looking figure forced the store to take action.

Once the summer heat kicks in, it's all we can do not to slip into the breeziest beach dresses and flip-flops for the morning commute. So trust us when we say we understand that the humidity can have a powerful effect on your wardrobe — still, there are some things you just can't wear to your place of employment, no matter how hot it gets.

Wrinkle no blouse, tangle no jewelry, leave no beauty product behind, and still have room to spare.

Hue-changing dos we absolutely love.

Why your jean size varies from store to store.

Wait a month between waxing visits? Check. Pop a preappointment Advil? Duh. We all know the basics, but here are the tricks you don't know.

What to always—and never, ever—do to keep hair in top shape.

Get inspired to try these sweet and summery looks.

Stunning wedding styles that create a statement.

I attended the Abercrombie and Fitch holiday-season press preview yesterday, and in between checking out the cute gear that will hit stores this November, I picked up a little nugget of information I just have to share.

How to wear this cool-weather staple in the summer.

See how Miranda Kerr made a pair of Birkenstocks chic.