The new Brazilian
What it is and why you should try it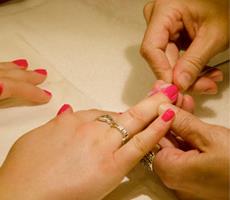 By Renee Trilivas
,
Allure magazine
There is no doubt that Brazilian women are connoisseurs of beauty (see: hair straightening treatments, bikini waxing). So I was super psyched to visit the Maria Bonita Salon & Spa in Soho to experience a cultural first: the Brazilian manicure—a service that promises impossibly glossy, impeccably polished nails, and the solution to my biggest manicure pet peeve (bare, unpolished nail edges). Here, owner Fernanda Lacerda explains the service.
Related: The Top 21 Drugstore Beauty Bargains What's the difference between a standard mani and a Brazilian? 


"It's a more intense manicure. After soaking hands in a paraffin treatment and exfoliating, we remove the cuticles to make the surface of the nail completely flat. Then, instead of applying polish only to the nail, we also paint the surrounding skin to ensure that the polish coats edge of the nail bed to make the manicure last longer. We wrap cotton dipped in nail polish remover around an orange wood stick and wipe away the excess polish on the cuticle area."
Are there any special tools a needed for a Brazilian mani? 


"Since Brazilian manicures focus on the cuticles, we use special clippers that come straight from Brazil. They are much sharper so we can easily remove the inner and exposed cuticles and not just hangnails."
Related: The 6 Most Flattering Haircuts for Round FacesWhy do you paint outside the nail area?


"The whole point of the Brazilian manicure is to get right to the edges of the nail. It's more precise, so it lasts longer—especially as the nails begin to grow out."
What tips would you give to someone doing a Brazilian manicure at-home?


"I wouldn't recommend cutting your own cuticles at home, because using the sharp Brazilian clipper right at the nail bed could be dangerous if done incorrectly, so just push the cuticles back with an orange wood stick. Try dipping a pointed cotton bud in nail polish remover to quickly clean up the polish skin."
Why are manicures so important in Brazil?


"In Brazil, manicures are a weekly regimen—people consider it part to be part of their normal routine more than a lifestyle choice. When girls turn 13 in Brazil, they start this regimen that carries on with them through life."
More from Allure:
The 12 Best Eye Creams
Best of Beauty 2012
The 10 Most Gorgeous Hair-Color Ideas for Brunettes

beauty tips and style advice
If your New Year's resolution is to try new things, a great place to start is with your hairstyle! Check out these major 'dos to rock as you ring in 2014.

Nope, holiday hair doesn't have to be fussy—or even hard to do. These five looks are simple and chic. Try one tonight!

It was a year full of hair-related breaking news: There was the good, the bad, and the pixies. Oh, the pixies. Here, in no particular order, the top ten most jaw-dropping celebrity hair makeovers of 2013.

If there was one makeup trend we all wanted to be wearing in 2013, it was cat-eye liner

After the presents are purchased and plane tickets are secured, there's one final to-do: packing a suitcase for your holiday getaway. Instead of choosing your largest bag and shoving everything inside (yes, we've all done it), take some style inspiration from these always-glamorous celebs. Whether you're heading to a warm or cold climate, these ladies will lead you in the right style direction with perfect outfit ideas for your vacation.

"These are my secret weapons for looking like I'm always on top of my beauty game—even when I'm not!" says Glamour beauty editor Maureen Choi.

Don't get me wrong—there's nothing better than a simple, classic peacoat or double-lined trench to get you through those long winter workweeks. But when it comes to the holiday party circuit, you need something with a little more oomph to layer over all those pretty cocktail dresses. Whether thanks to a statement hue, a dramatic silhouette, a flash of metallic or a dose of fur (real or faux, of course), the toppers in the slideshow above are just the thing to complete all your cold-weather formal looks. So the next time you head out to a yuletide fête, don't leave your coat at home (seriously, hypothermia's not a good look on anyone)—just pick one that's festive enough to hold its own against the rest of your look. Click through to shop my holiday outerwear picks now!

Have you ever found yourself stuck in a snowstorm while wearing non-waterproof mascara? We know from experience that the result is not a pretty one.

Every flight seems to have one: that girl who, even after spending several hours enduring the same dry, cramped conditions as everybody else, deplanes looking mind-bogglingly dewy and well-rested. She leaves you too intrigued to be jealous, because who survives air travel without getting puffy eyes and dry patches? Does that mean you can as well? According to our editors, the answer is yes. As you'll see in the slideshow above, which includes their in-flight beauty routines, maintaining your skin, health and hair while traveling through the sky all comes down to the right products. Click through to see what they use, and to stock up before your next big trip—next time, you'll be the one everyone notices.

This year, appearance and politics collided, and body-image issues—from the serious to the frivolous—were top news. Afros were back, a larger-than-life governor got a little smaller, and a duchess gave birth to a prince in the most stylish way. So let's raise a glass to the year that was—because sometimes looking back is the only way to see where we're going.

There's nothing more stressful than trying to elbow my way through the malls during the holiday season. So this year—for the first time—I'm determined to do all of my gift shopping online. I would say it's going great, but to be honest I've barely started. So if you're like me and still have yet to make a dent in your holiday list of things to buy, there are tons of beauty retailers that are offering free shipping today for those in a last-minute bind. Click through above for participating beauty stores.

See 4 ways to transform your look with holiday accessories.