The new Brazilian
What it is and why you should try it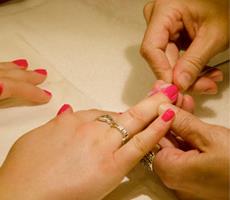 By Renee Trilivas
,
Allure magazine
There is no doubt that Brazilian women are connoisseurs of beauty (see: hair straightening treatments, bikini waxing). So I was super psyched to visit the Maria Bonita Salon & Spa in Soho to experience a cultural first: the Brazilian manicure—a service that promises impossibly glossy, impeccably polished nails, and the solution to my biggest manicure pet peeve (bare, unpolished nail edges). Here, owner Fernanda Lacerda explains the service.
Related: The Top 21 Drugstore Beauty Bargains What's the difference between a standard mani and a Brazilian? 


"It's a more intense manicure. After soaking hands in a paraffin treatment and exfoliating, we remove the cuticles to make the surface of the nail completely flat. Then, instead of applying polish only to the nail, we also paint the surrounding skin to ensure that the polish coats edge of the nail bed to make the manicure last longer. We wrap cotton dipped in nail polish remover around an orange wood stick and wipe away the excess polish on the cuticle area."
Are there any special tools a needed for a Brazilian mani? 


"Since Brazilian manicures focus on the cuticles, we use special clippers that come straight from Brazil. They are much sharper so we can easily remove the inner and exposed cuticles and not just hangnails."
Related: The 6 Most Flattering Haircuts for Round FacesWhy do you paint outside the nail area?


"The whole point of the Brazilian manicure is to get right to the edges of the nail. It's more precise, so it lasts longer—especially as the nails begin to grow out."
What tips would you give to someone doing a Brazilian manicure at-home?


"I wouldn't recommend cutting your own cuticles at home, because using the sharp Brazilian clipper right at the nail bed could be dangerous if done incorrectly, so just push the cuticles back with an orange wood stick. Try dipping a pointed cotton bud in nail polish remover to quickly clean up the polish skin."
Why are manicures so important in Brazil?


"In Brazil, manicures are a weekly regimen—people consider it part to be part of their normal routine more than a lifestyle choice. When girls turn 13 in Brazil, they start this regimen that carries on with them through life."
More from Allure:
The 12 Best Eye Creams
Best of Beauty 2012
The 10 Most Gorgeous Hair-Color Ideas for Brunettes

beauty tips and style advice
Every year, we look to the biggest names in bridal beauty and fashion design to pinpoint the hottest bridal hair and makeup ideas – keeping in mind of course that this is a wedding (no crazy neon mascara here). This year, bridal beauty has gone extra natural and romantic -- think messy braids, wispy hair, natural eye makeup and more.

You've got the dress. You've got the venue, date, and invitations. The last thing you need to complete your wedding day? An amazing pair of shoes to wear as you walk down the aisle!

With the dress as the main focus, you want the hair to be understated. An updo does just that. But there's a difference between understated and boring. Adding simple accessories, like a pin or flower, is just enough decoration to the hair. Let these gorgeous pins serve as inspiration for finding a simple, yet understated, wedding hairstyle.

Just when we were getting used to seeing beards everywhere, it may be time for men who enjoy the attention of the opposite sex to invest in some shaving paraphernalia. In a new University of New South Wales study, researchers found that "when people are confronted by a succession of bearded men, clean-shaven men become [...]

If your arm aches just thinking about blow-drying, take heart: These easy hair-saving tips will cut down on your mirror time and deliver salon-level results.

From designer maxi dresses by Roberto Cavalli and Temperley London to contemporary finds by Alice + Olivia and Zimmermann, there's a dress for every kind of seaside bride.

Mom jeans are back this spring.

We combed our favorite online shopping haunts to find 20 stunning options for the unconventional bride who'd rather splurge on the perfect flowers and a signature cocktail than her aisle-bound gown. These gowns and frocks from Rae Francis, Black Halo Eve and Jill By Jill Stewart €"plus one epic jumpsuit by Rachel Zoe €"are the perfect antidote to the strapless fishtail option most brides seem to favor right now. You're certainly not basic, so why would your dress be?

We've rounded up 10 red carpet inspirations for long hair wedding hairstyles that don't scream "bridal," but are perfect for a walk down the aisle.

We're not in the habit of feeling sorry for supermodels. We reserve our sympathy for a less fortunate set, namely, everyone else on planet Earth.

How to love everything in your closet

Every season, wedding dress designers unveil their latest collections, and without fail, there are a handful of designs that give us pause. We're talking about beautifully designed dresses -- not meant for the fainthearted. For the Fall 2014 and Spring 2015 collections, these are the ones.