The new Brazilian
What it is and why you should try it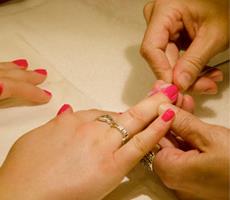 By Renee Trilivas
,
Allure magazine
There is no doubt that Brazilian women are connoisseurs of beauty (see: hair straightening treatments, bikini waxing). So I was super psyched to visit the Maria Bonita Salon & Spa in Soho to experience a cultural first: the Brazilian manicure—a service that promises impossibly glossy, impeccably polished nails, and the solution to my biggest manicure pet peeve (bare, unpolished nail edges). Here, owner Fernanda Lacerda explains the service.
Related: The Top 21 Drugstore Beauty Bargains What's the difference between a standard mani and a Brazilian? 


"It's a more intense manicure. After soaking hands in a paraffin treatment and exfoliating, we remove the cuticles to make the surface of the nail completely flat. Then, instead of applying polish only to the nail, we also paint the surrounding skin to ensure that the polish coats edge of the nail bed to make the manicure last longer. We wrap cotton dipped in nail polish remover around an orange wood stick and wipe away the excess polish on the cuticle area."
Are there any special tools a needed for a Brazilian mani? 


"Since Brazilian manicures focus on the cuticles, we use special clippers that come straight from Brazil. They are much sharper so we can easily remove the inner and exposed cuticles and not just hangnails."
Related: The 6 Most Flattering Haircuts for Round FacesWhy do you paint outside the nail area?


"The whole point of the Brazilian manicure is to get right to the edges of the nail. It's more precise, so it lasts longer—especially as the nails begin to grow out."
What tips would you give to someone doing a Brazilian manicure at-home?


"I wouldn't recommend cutting your own cuticles at home, because using the sharp Brazilian clipper right at the nail bed could be dangerous if done incorrectly, so just push the cuticles back with an orange wood stick. Try dipping a pointed cotton bud in nail polish remover to quickly clean up the polish skin."
Why are manicures so important in Brazil?


"In Brazil, manicures are a weekly regimen—people consider it part to be part of their normal routine more than a lifestyle choice. When girls turn 13 in Brazil, they start this regimen that carries on with them through life."
More from Allure:
The 12 Best Eye Creams
Best of Beauty 2012
The 10 Most Gorgeous Hair-Color Ideas for Brunettes

beauty tips and style advice
I can't tell you how many times one ill-timed sneeze ruined all of my hard work with a mascara wand. #allergyproblems.

While we're not averse to shelling out upwards of $30 for an amazing lipstick, many of our standby lip colors cost a whole lot less than that. The drugstore is full of high-quality, long-lasting lipsticks in gorgeous shades that—wait for it!—ring in under $10. Click through above to shop our favorites!

What's the perfect add-on to your beauty look? A hair accessory, of course! Just when you think you've seen it all, every year there seems to be a new "it" hair piece that rules the moment. In the '50s, a dainty bow-tied head scarf was perfectly housewife-chic. In the '60s and '70s, real flower crowns officially became the epitome of boho style—your outfit simply wasn't complete without a daisy topper. Fast-forward to the '90s and you had a bevy of creative hair charms and baubles, including butterfly clips, hair wraps and those infamous bra strap headbands (shudder).

The right blush can warm up your complexion, create the illusion of cheekbones, and even make you look younger. (Yes, really!) Here, the most flattering shades for fair, medium, olive, and dark skin.

Think you can't put a price on looking younger? Well, we did—and it's $25. We challenged dermatologists to find great products that don't cost even one cent over that amount.

You want to dress in a way that's young and cool but that doesn't suggest you're on your way to a One Direction concert. "The trick to looking younger is adding one fashionable piece to a classic outfit," says stylist Cher Coulter. Here's how to nail it.