The new Brazilian
What it is and why you should try it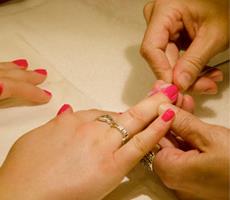 By Renee Trilivas
,
Allure magazine
There is no doubt that Brazilian women are connoisseurs of beauty (see: hair straightening treatments, bikini waxing). So I was super psyched to visit the Maria Bonita Salon & Spa in Soho to experience a cultural first: the Brazilian manicure—a service that promises impossibly glossy, impeccably polished nails, and the solution to my biggest manicure pet peeve (bare, unpolished nail edges). Here, owner Fernanda Lacerda explains the service.
Related: The Top 21 Drugstore Beauty Bargains What's the difference between a standard mani and a Brazilian? 


"It's a more intense manicure. After soaking hands in a paraffin treatment and exfoliating, we remove the cuticles to make the surface of the nail completely flat. Then, instead of applying polish only to the nail, we also paint the surrounding skin to ensure that the polish coats edge of the nail bed to make the manicure last longer. We wrap cotton dipped in nail polish remover around an orange wood stick and wipe away the excess polish on the cuticle area."
Are there any special tools a needed for a Brazilian mani? 


"Since Brazilian manicures focus on the cuticles, we use special clippers that come straight from Brazil. They are much sharper so we can easily remove the inner and exposed cuticles and not just hangnails."
Related: The 6 Most Flattering Haircuts for Round FacesWhy do you paint outside the nail area?


"The whole point of the Brazilian manicure is to get right to the edges of the nail. It's more precise, so it lasts longer—especially as the nails begin to grow out."
What tips would you give to someone doing a Brazilian manicure at-home?


"I wouldn't recommend cutting your own cuticles at home, because using the sharp Brazilian clipper right at the nail bed could be dangerous if done incorrectly, so just push the cuticles back with an orange wood stick. Try dipping a pointed cotton bud in nail polish remover to quickly clean up the polish skin."
Why are manicures so important in Brazil?


"In Brazil, manicures are a weekly regimen—people consider it part to be part of their normal routine more than a lifestyle choice. When girls turn 13 in Brazil, they start this regimen that carries on with them through life."
More from Allure:
The 12 Best Eye Creams
Best of Beauty 2012
The 10 Most Gorgeous Hair-Color Ideas for Brunettes

beauty tips and style advice
For any trade, it's totally counterintuitive that an industry could so obviously not cater to the largest demographic out there — but that's exactly how the plus-size world is.

Sorry, Kate Upton. You may be having a moment now, but the lovely supermodels of the '90s (and '80s) have been going strong for decades, and their careers and stunning looks are showing no signs of slowing down. In fact, we think they've only gotten sexier throughout the years.

Look stylish, even when you have absolutely no idea what to wear, with these totally amazing style hacks.

Your strands are saying more than you think. Not only can your facial features tell you a thing or two about yourself, "your hairstyle can also reveal things about you," Jean Haner, an expert in face reading and author of The Wisdom of Your Face, says. Here, Haner tells what your strands most likely are saying about you, based on her studies in 3,000-year-old face reading derived from Chinese medicine.

Realized that pixie or bob haircut isn't for you? Luckily, it is possible to make a graceful transition back to long.

Not everyone was pleased with free copy of 'GQ" featuring Emily Ratajkowski.

Not everyone was pleased with free copy of 'GQ" featuring Emily Ratajkowski.

Could you go that long without using cosmetics?

Controversial.... Or empowering?

From a young age, little girls learn the word "pretty," but in the last few years, everything has been changing — for the better.

If you want to look picture-perfect in your beautiful wedding dress, you have to invest in the proper undergarments. From comfy shapewear to no-slip strapless bras, we've got answers to every burning question you have about what you need to wear beneath that gown. Your next dress fitting just got way easier. Q: I'm plus-size. [...]

You've seen many a star hit the red carpet in glamorous curls. But, most of the time, these coiled updos come courtesy of a curling iron, which leaves us craving some all-natural inspiration.