The new Brazilian
What it is and why you should try it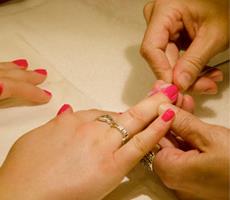 By Renee Trilivas
,
Allure magazine
There is no doubt that Brazilian women are connoisseurs of beauty (see: hair straightening treatments, bikini waxing). So I was super psyched to visit the Maria Bonita Salon & Spa in Soho to experience a cultural first: the Brazilian manicure—a service that promises impossibly glossy, impeccably polished nails, and the solution to my biggest manicure pet peeve (bare, unpolished nail edges). Here, owner Fernanda Lacerda explains the service.
Related: The Top 21 Drugstore Beauty Bargains What's the difference between a standard mani and a Brazilian? 


"It's a more intense manicure. After soaking hands in a paraffin treatment and exfoliating, we remove the cuticles to make the surface of the nail completely flat. Then, instead of applying polish only to the nail, we also paint the surrounding skin to ensure that the polish coats edge of the nail bed to make the manicure last longer. We wrap cotton dipped in nail polish remover around an orange wood stick and wipe away the excess polish on the cuticle area."
Are there any special tools a needed for a Brazilian mani? 


"Since Brazilian manicures focus on the cuticles, we use special clippers that come straight from Brazil. They are much sharper so we can easily remove the inner and exposed cuticles and not just hangnails."
Related: The 6 Most Flattering Haircuts for Round FacesWhy do you paint outside the nail area?


"The whole point of the Brazilian manicure is to get right to the edges of the nail. It's more precise, so it lasts longer—especially as the nails begin to grow out."
What tips would you give to someone doing a Brazilian manicure at-home?


"I wouldn't recommend cutting your own cuticles at home, because using the sharp Brazilian clipper right at the nail bed could be dangerous if done incorrectly, so just push the cuticles back with an orange wood stick. Try dipping a pointed cotton bud in nail polish remover to quickly clean up the polish skin."
Why are manicures so important in Brazil?


"In Brazil, manicures are a weekly regimen—people consider it part to be part of their normal routine more than a lifestyle choice. When girls turn 13 in Brazil, they start this regimen that carries on with them through life."
More from Allure:
The 12 Best Eye Creams
Best of Beauty 2012
The 10 Most Gorgeous Hair-Color Ideas for Brunettes

beauty tips and style advice
Just when we thought Pamela Anderson's sleek pixie marked her biggest hair makeover this year, the star ditched her trademark blonde hue.

Yes! Lupita Nyong'O shows us how.

Take the health of your hair up a notch with these natural treatments

Nope, it's not your resume.

This is why a short wedding dress makes sense.

The Queen is a handbag trendsetter, apparently.

You know winter is here when you pull off your clothes and find the insides lined with a thin coating of tiny dry skin particles. (Am I alone here, or do I have more serious dry skin issues than I thought?)

Yesterday I popped by the Clear Clinic, a dedicated acne treatment center that a lot of people (including a Glamour beauty blogger or two) swear have helped cure them of the dreaded spots.

The first thing I noticed about this photo of Keira Knightley at a London gala last night was her 90s-chic makeup, featuring matte pale foundation and lots of black eyeliner.

It's the stuff of pinups, old Hollywood glamour, and even science study after study says guys really go for it. But that classic Rita Hayworth red doesn't necessarily flatter every complexion. We rounded up the absolute best reds for every skin tone, so you can breeze through the sea of cherries, raspberries, and any other scarlet fruit.

It's finally tights season, that wonderful time of year where you can simultaneously hide your pale legs and still wear that Saint Laurent slip dress. But who says you have to stick to boring black stockings? Why not keep your look above cool and clean, and let your bottom half shine? From patterned polka dots to colorful camouflage, here are six options that will make a statement all on their own.

How many holiday parties do you all have this season?