Here's what Barbie would look like if she were a real person
The shocking statistics of Barbie.
From not being able to stand up straight to being forced to walk on all fours are just two of the problems that Barbie would face if she were a real person, based on the doll's actual measurements.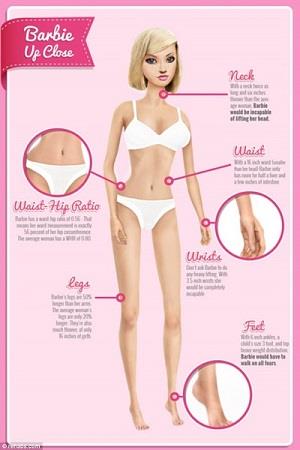 According to the Daily Mail, the shocking statistics of Barbie's proportions make it physically impossible for her to do things that the average woman can do—for starters, her thin neck is way out of proportion with her head, which would make it impossible for her to lift her own head on her own.

More Living Style: Your biggest skincare problems, solved!

In addition, her 16-inch waist would also be four inches thinner than her head, "leaving room for only half a liver and a few inches of intestine," reports the site. 

And her thin, frail ankles would make it impossible for her to hold up her entire body, making it essential that she walk on all fours to be able to move. 

More Living Style: The 10 most fascinating results from the Allure Aging Survey

The charts of Barbie, released by Rehabs.com, a site for locating mental health treatment centers in the U.S., said that the odds of finding a real woman with the same tall and thin neck measurements as Barbie is one in 4.3 billion, and finding the same waist as Barbie would be one out of every 2.4 billion. All in all, that well-dressed doll is definitely not in comparison of your average women—or even your uniquely-sized women, for that matter.

Tell us: Do you think Barbie's size is controversial?

More Simply Chic:
Barbie goes au naturel
Gwyneth Paltrow swears off this beauty treatment
The state of sleepwear: Nude or prude?

Bing: Barbie in the news

Photo: Courtesy Rehabs.com

Parents of daughter should remember that Barbie was modeled after a German prostitute doll that was a gag gift item sold for adults.  The proportions are the way they are because the doll represents a men's sex fantasy ideal, and has no relation to actual humans.  The doll is not a good role model for young girls' body image views .. A similar modern day version is the Lara Croft Tomb Raider video game character, based on the appearance of model/actress Rhona Mitra, who has a 
disproportionately-l​arge
chest due to breast implant surgery performed by her father - how sick and twisted is that?!       

So, if you give a kid a toy bulldozer, are all the parts made exactly to scale? Didn't think so. Have you looked down GI Joe's pants lately? That's right, it would be impossible for him to reproduce in "real life." So, unless there is some important point to make, why not get a life, and let the kids enjoy their toys.

Are you sure you want to delete this comment?
beauty tips and style advice
One shopper's tweet of the emaciated-looking figure forced the store to take action.

Once the summer heat kicks in, it's all we can do not to slip into the breeziest beach dresses and flip-flops for the morning commute. So trust us when we say we understand that the humidity can have a powerful effect on your wardrobe — still, there are some things you just can't wear to your place of employment, no matter how hot it gets.

Wrinkle no blouse, tangle no jewelry, leave no beauty product behind, and still have room to spare.

Hue-changing dos we absolutely love.

Why your jean size varies from store to store.

Wait a month between waxing visits? Check. Pop a preappointment Advil? Duh. We all know the basics, but here are the tricks you don't know.

What to always—and never, ever—do to keep hair in top shape.

Get inspired to try these sweet and summery looks.

Stunning wedding styles that create a statement.

I attended the Abercrombie and Fitch holiday-season press preview yesterday, and in between checking out the cute gear that will hit stores this November, I picked up a little nugget of information I just have to share.

How to wear this cool-weather staple in the summer.

See how Miranda Kerr made a pair of Birkenstocks chic.