The Wedding Crown Is the New Tiara (Only Cooler). Which of These 5 Crowns Would YOU Wear?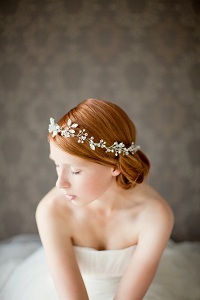 by Petra Guglielmetti, Glamour Magazine

When it comes to wedding hair accessories, tiaras aren't what the cool kids are wearing anymore (though I know some of you love them — we've had the wedding tiara debate here before). These days, it's all about the wedding crown. Aren't these five examples just gorgeous? Which would YOU wear?

Yes, it was new bride Natalie Portman who inspired me to post this (and inspired our newest Glamour blogger Nikki Oggunaike to declare flower crowns the hottest hair accessory, weddings aside). But she hardly started the trend. Check out these five gorgeous, wedding-worthy crowns. Which would you be most likely to wear?

Related: 50 Dreamy Dresses From Fashion Week

1. This wreath of vintage fabric petals and leaves from LaBoheme
Source: etsy.com via Petra on Pinterest
2. This bohemian gold beaded crown from Twigs & Honey
Source: twigsandhoney.blogsp​ot.com via Petra on Pinterest
3. This delicate rhinestone-and-pearl​ crown from Sibo Designs
Source: etsy.com via Petra on Pinterest
Related: Gorgeous Wedding Dresses (From $100 to $1,000!)

4. This ethereal crown of white lace blossoms from BHLDN
Source: bhldn.com via Petra on Pinterest
5. This more traditional, earthy flower crown from Serenity Crystal
Source: etsy.com via Petra on Pinterest
Which of these flower crowns would you most like to wear?

Photo: Courtesy of Pinterest

More from Glamour:
Things All Brides Should Know About Wedding Planning
Hairstyle Ideas To Consider
What Your Hairstyle Says About You (According to Guys)

beauty tips and style advice
These travel-sized beauty products will do double-duty while you're on the road.

Neatly sidestepping high fashion, the smiling, cheerful Kate Middleton is fast becoming the Duchess of Normcore.

This December, New Yorkers might notice something missing in the Christmas air.

When Madonna posted an image of herself wearing a full on Game of Thrones Khaleesi costume on Instagram last week we weren't exactly surprised—this is the woman who rolled into the Grammy Awards wearing a tuxedo and a grill earlier this winter, so why not celebrate the Jewish holiday of Purim with a leather corset and a pair of tiny dragons? Still, we were hypnotized by her white-blonde, braided Daenerys Targaryen hair. Functioning as a bleached out cultural weather vane of sorts, it tapped into multiple obsessions at once—the return of "Game of Thrones" to HBO, spring's new extreme hair lengths and, most notably, fashion's current platinum mania. Our own love of ice-blonde hair—which transforms any look from everyday to extraordinary—has been well documented of late, but last night's Game of Thrones premiere sent our platinum fever into overdrive. In celebration of fashion's favorite hair color, a look at the best platinum moments in history.

While you were sleeping, fast retail chain H&M H&M announced that its next designer collaboration is with Alexander Wang.

Formal, beachy, country club-chic or gorgeously rustic whatever the setting calls for, we've found a bevy of beautiful dresses to wear to a wedding this season.

Puffy, tired, weary no more. These tips take years off and create that "I slept great, thanks!" effect.

Top dermatologists, cosmetic chemists, makeup artists, and hairstylists reveal quick tips and tricks that can peel back years in a matter of seconds

We're all for sartorial freedom, but there are certain once-on-trend items that, when worn today, appear anything but current. Consider this your official out list.

If you're a practitioner of reselling your clothes—a good way to clear out some space in your wardrobe and make a few extra bucks—you might already be familiar with San Francisco-based thredUP.

A picture may be worth a thousand words, but emoji must be worth at least a million. Here we show you how to channel your favorites: Go ahead, express yourself!

11 earth-friendly beauty products we love.