What makes women feel their sexiest?
High heels, lipstick and a brand new thong make women feel hot to trot, says study.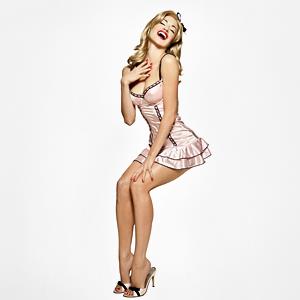 Feeling sexy? Women typically do thanks to certain products, says a recent study, even if it's not directly visible to others.

Digital Hub says among the top three things that make a woman feel her hottest are smooth legs, wearing new underwear and getting complimented on her looks, according to a study conducted by Boux Avenue.

Black high heels, red lipstick and a cleavage-enhancing bra also topped the list, says the research. In fact, 80 percent of interviewees said high heels make them feel instantly sexy (and slightly slimmer, mind you, which adds to the feeling of instant sexiness).

More from Living: 7 Things Men Will Never Get About Beauty

It may seem obvious that visible items like high heels and lipstick made the list, but the study gives us another reason to stock up on thongs. "High heels and red lipstick predictable have an effect on how we look, feel and act, but people tend to underestimate the power that new underwear can have on a woman, despite the fact that few people will actually see it," says spokesperson Lisa Bond. "It's amazing that the most subtle changes can transform a woman into feeling sexy."

More from Living: Guys Rate the Trends

Although the study found that one in twenty women make an effort to feel sexy every single day,  there's still a significant percentage out there that forgo the fancy heels--19 percent say they simply never bother putting in the effort to feel sexy. That sounds like a lot less work!

Tell us: What makes you feel the sexiest?Bing: What men find attractive

Photo: Terence Langendoen, Getty Images

More from Simply Chic:
Why Kristin Stewart finally put on a pair of heels
Would you ever get your pinky toe removed?
The most expensive spray tan ever?
fashion: trends & must-haves for your wardrobe
When morning talk shows and local newspapers dole out their seasonal swimsuit shopping advice, I'm usually pretty disappointed by the lack of body types represented. What about the women who don't resemble fruit? (Or aren't boy-shaped—the third "one of these things is not like the other" category I've never quite understood. Couldn't they say "banana?" Or is that somehow more offensive than "apple" and "pear" shapes?)

Ready to refresh your hair and makeup for spring? Well, look no further for your latest batch of inspiration. These ladies are bringing the beauty brilliance with megawatt lipstick shades, sleek haircuts, and must-try hair colors. Get ready to play copycat.

Long, layered, medium or wavy – we're sharing our favorite hairstyles of 2013 with a new 'do each day. Stuck in a hair rut? Check back daily for snappy new looks that are sure to give your locks some beauty inspiration.

Step into spring with style in June Ambrose's new shoe line for HSN.

Revamp your corporate look with graphic prints and bold color.

If you have only five makeup tools in your kit, make sure these are them. They do much more than just look cute on your vanity!

Think all it can do is shellac everything down, helmet-head style? So wrong! A can of whatever's in your cabinet is your secret beauty weapon. Try it like this.

You may not get wrinkles on your hair, but it ages all the same. Grays, dullness, thinning strands, and frizz are all (unfortunately) part of the hair's aging process, which starts happening in your 30s. The good news is that you don't need Botox to fix these problems. Here are six tips for hair that's shiny, bouncy, healthy—and, yes, younger looking.

Our fashion-savvy FLOTUS shows us she is truly a master at mixing high- and low-end designs.

Get ready for summer with these cute and easy to DIY nail art designs.

Brides, it's your big day and you want to look special. Please, whatever you do, don't wear one of these wedding dresses. These are truly the worst.

Even if you're the best friend of all time, no bridesmaid should ever have to wear these worst-ever bridesmaid dresses. Lace, ruffles and satin overload!