The Worst Place To Apply Your Eyeliner According To An Eye Doctor (Can You Guess Where It Is?)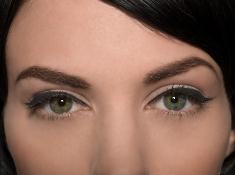 by Baze Mpinja, Glamour Magazine

Recently, I had a chance to meet with Dr. Susan Resnick, a New York City-based optometrist, for an eye exam. Not only did I find out that the Acuvue Oasys contact lenses I've been wearing for years have built-in UVA/UVB sun protection (I had no clue!), but I got some tips I think you guys will want to know. Like where not to put your eyeliner (well, at least not every day).

Related: Cute Haircut Ideas for Midlength Hair
 
The area to avoid is the flat part of your eye on the inside of your lash lines. "The most important glands are right there on the eyelid margin, and if you block those, you're blocking the natural secretion of the oils which protect you from having dry eyes. You could also get styes caused by bacteria," said Dr. Resnick.
Related: 57 Jaw-Dropping Gorgeous Wedding Gowns
Fortunately, you don't have to give up inside eyeliner entirely, just limit it to once a week or so to be safe. "And if you are going to do it, make sure you get all of the makeup off at night," Dr. Resnick said.

Here are more of her tips:
For contact lens wearers:
1. If you like to go heavy on the eye makeup, consider switching to daily disposable contacts to avoid product and debris buildup.
2. Steer clear of oil-based eye makeup removers. "They can make lenses blurry and uncomfortable because the oils will lay on the surface of tears. So, when you wake up in the morning, residue will attach to the contacts when you put them in," explained Dr. Resnick.
3. Rub your contact lenses gently but thoroughly before storing them (even if your solution says no-rub) to get rid of any makeup that might be lingering.

For everyone:
1. Sharpen pencil eyeliners before each use for a clean, fresh surface.
2. Opt for powder eye shadows–creamy textures tend to hold more bacteria.
3. Don't let uncovered liners roll around in your purse! Keep the caps on tight.
4. And, of course, replace your mascara every three months.

So who guessed right after reading the headline for this post? Do you already follow any of these tips?

Photo: Ralf Nau/Thinkstock

More from Glamour:
10 Shoes Every Woman Should Own
50 Things Men Are Afraid to Ask For But Want Super-Duper Badly
What Your Hairstyle Says About You (According to Guys)

beauty tips and style advice
Here's something to brighten up your Tuesday afternoon: The brilliant minds at Moschino have always been masters at combining fashion and whimsical, quirky humor—and this season, they've gone and outdone themselves.

It's looking to be a winter wonderland out there today and that means extreme sweater weather.

Check out these mind-blowing runway photos.

Click to see 10 must-have hair tools to streamline your beauty routine.

See 9 of the prettiest holiday hair accessories for the holidays.

Here's how to choose the neckline style that looks best on you.

This season, let your nails be as merry—and bright—as your mood.

Sure, a little black dress or le smoking is always on par for the party scene, but who says holiday dressing has to be so cut and dry? We have 15 ideas for switching it up this season—getting festive just got a whole lot more fun.

Super-fast (and easy) hair, makeup, and nail ideas that'll make you party-ready in minutes. Sorry, no more last-minute bailing because you're running late.

From straight and sleek to intricate braids and sky high topknots, some celebs just know how to do party hair

From a structured blazer to that awe-inducing statement clutch, Rachel Zoe shares her picks for December dressing with InStyle.com exclusively.

Simple style tricks to help your hair look better in an instant.