Where are America's least faithful cities?
Extra-marital affairs are more common in some cities than others, according to an annual report.
For the second year in a row, Washington D.C. has been named the country's most infidelity-prone city.
AshleyMadison.com is a dating website for married people looking to cheat. "You only live once," is their motto, followed by, "have an affair." As you can imagine, the site is no stranger to criticism, and they've released another controversial report: their annual list of "Americas Least Faithful Cities." Based on user data collected on their site, they found that our nation's capital is indeed our country's least faithful city.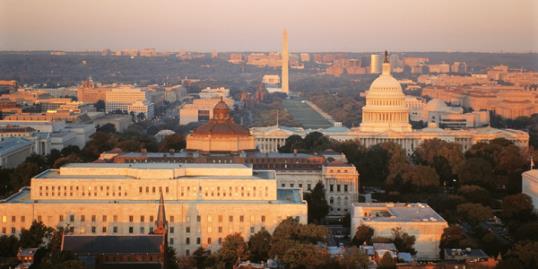 More on MSN Living: 10 tips for a sexy and romantic Valentine's Day
Washington D.C. had the highest number of AshleyMadison members per capita last year—with 34,157 new users. Apparently, Texans also have cheating on their minds. Austin and Houston came in second and third on the list.
"With enormous public attention paid to political cheating scandals this year, including the Gen. Petraeus affair, there was no doubt that Washington residents would be influenced," founder Noel Biderman said in a press release. "Living in D.C., it's crucial to keep up appearances and therefore adultery has become a way of life for many of the city's most powerful residents." 
More on MSN Living: Best Valentine's Day gifts on Pinterest
Biderman also found that the day after Valentine's Day is his site's busiest day of the year. In 2012, they had a 439 percent increase in membership sign-ups.
So where else does infidelity prevail?
  Top 10 Least Faithful Cities, according to AshleyMadison.com:
Washington, D.C.

Austin

Houston

Miami 

Oklahoma City, Okla.

Richmond, Va.

Boston

Lincoln, Neb.

Philadelphia

Phoenix, Aiz.

More from The Heart Beat:
Romance fades three and a half years into marriage
New wedding trend: The anti-invite
China's 'fake-marriage market' a growing trend
Love content like this? Friend us on Facebook, follow us on Twitter and find us on Pinterest.
Photo: Cameron Davidson/Getty Images
beauty tips and style advice
These travel-sized beauty products will do double-duty while you're on the road.

And before you ask, sorry, the $325 dress is SOLD OUT on Matches.com and DVF.com—you snooze, you loose.

Click through the slideshow to shop some of our spring favorites.

French braid? Been there. Fishtail? Done that. The newest styles are all about unexpected texture, major volume, and one man's wild imagination.

Long hair, don't care? Think again…

She dishes on the routine that keeps her looking polished, even when she's pulling up to the <i>Mad Men</i> set at 5 a.m. Plus, the fragrance that helps Christina get her Joan on.

For inspiration, we've rounded up gorgeous (and easy to replicate) wedding makeup looks from the red carpet.

With a few insider tricks, you can enjoy short hair 365 days of the year and have a gorgeous style on your wedding day. Wedding hairstyles for short hair do exist.

I'm beyond excited to finally ditch my winter coat and heavy layers, but I'm not so eager to ditch my tights. Let's just say my legs are not as smooth and bronzed as they were the last time I showed them off many, many months ago.

After a jam-packed week in New Zealand, Kate Middleton and Prince William finally enjoyed a day off, but as of last night (or this morning..? Ah, time change!) they're back on the road again.

Neatly sidestepping high fashion, the smiling, cheerful Kate Middleton is fast becoming the Duchess of Normcore.

This December, New Yorkers might notice something missing in the Christmas air.