Jennifer Aniston Is InStyle's March Cover Girl!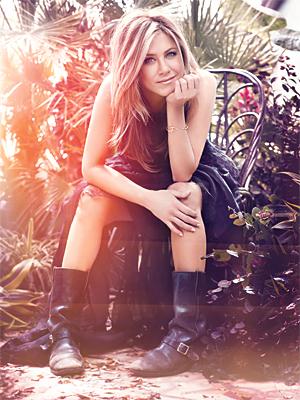 by Sharon Clott, InStyle magazine

Jennifer Aniston is InStyle's March cover girl! In this issue, the actress opens up about her joyful life, answering InStyle readers' questions about style, relationships, fitness, aging, and more.

"You know what makes me feel old? When I see girls who are 20-something, or the new crop of actresses, and think, Aren't we kind of the same age?" the 43-year-old says. "I don't feel my age. I feel young every day."

Related: Get a Body Like Jennifer Aniston
And since she's linked up with her boyfriend, actor-director-scree​nwriter Justin Theroux—she met him while filming her new movie Wanderlust, in theaters February 24th—her joyfulness has only increased. "Having experienced everything you don't want in a partner over time, it starts to narrow down to what you actually do want," she says. "As I get older I realize what qualities are important in love and what suits me. And what I won't settle for."

Related: 10 Hairstyles That are Always in Style

Though, just don't tell her that she's stealing his downtown-cool style. "First of all, he has great style—it's very specific, and it has been his style forever. Has it influenced mine? No, but I know people say it has. 'Oh, look, you're dressing alike.' And I think, No I'm not. I've had this jacket for three years!" Indeed, her look is all her own. For more of our exclusive interview with Jennifer Aniston, pick up the March issue of InStyle, on newsstands Friday.
Cover: Calvin Klein dress. Photo: Emilio Pucci top and skirt, House of Waris cuff, stylist's own boots.

Photo: Michelangelo Di Battista
More on InStyle.com:
• More on Jennifer's InStyle Cover

• Jennifer Aniston's 8 Beauty Must-Haves
• Try on Jennifer Aniston's Hairstyles!
• The Real Reason She Cut Her Hair
• 2012's New Celebrity Hairstyles

beauty tips and style advice
Click through the slideshow to shop some of our spring favorites.

French braid? Been there. Fishtail? Done that. The newest styles are all about unexpected texture, major volume, and one man's wild imagination.

Long hair, don't care? Think again…

She dishes on the routine that keeps her looking polished, even when she's pulling up to the <i>Mad Men</i> set at 5 a.m. Plus, the fragrance that helps Christina get her Joan on.

For inspiration, we've rounded up gorgeous (and easy to replicate) wedding makeup looks from the red carpet.

With a few insider tricks, you can enjoy short hair 365 days of the year and have a gorgeous style on your wedding day. Wedding hairstyles for short hair do exist.

I'm beyond excited to finally ditch my winter coat and heavy layers, but I'm not so eager to ditch my tights. Let's just say my legs are not as smooth and bronzed as they were the last time I showed them off many, many months ago.

After a jam-packed week in New Zealand, Kate Middleton and Prince William finally enjoyed a day off, but as of last night (or this morning..? Ah, time change!) they're back on the road again.

These travel-sized beauty products will do double-duty while you're on the road.

Neatly sidestepping high fashion, the smiling, cheerful Kate Middleton is fast becoming the Duchess of Normcore.

This December, New Yorkers might notice something missing in the Christmas air.

When Madonna posted an image of herself wearing a full on Game of Thrones Khaleesi costume on Instagram last week we weren't exactly surprised—this is the woman who rolled into the Grammy Awards wearing a tuxedo and a grill earlier this winter, so why not celebrate the Jewish holiday of Purim with a leather corset and a pair of tiny dragons? Still, we were hypnotized by her white-blonde, braided Daenerys Targaryen hair. Functioning as a bleached out cultural weather vane of sorts, it tapped into multiple obsessions at once—the return of "Game of Thrones" to HBO, spring's new extreme hair lengths and, most notably, fashion's current platinum mania. Our own love of ice-blonde hair—which transforms any look from everyday to extraordinary—has been well documented of late, but last night's Game of Thrones premiere sent our platinum fever into overdrive. In celebration of fashion's favorite hair color, a look at the best platinum moments in history.