Jennifer Aniston Is InStyle's March Cover Girl!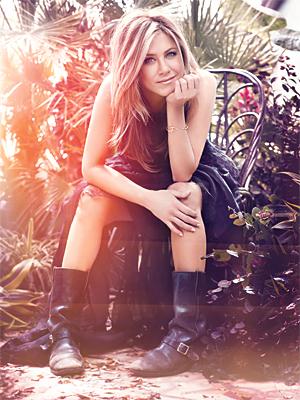 by Sharon Clott, InStyle magazine

Jennifer Aniston is InStyle's March cover girl! In this issue, the actress opens up about her joyful life, answering InStyle readers' questions about style, relationships, fitness, aging, and more.

"You know what makes me feel old? When I see girls who are 20-something, or the new crop of actresses, and think, Aren't we kind of the same age?" the 43-year-old says. "I don't feel my age. I feel young every day."

Related: Get a Body Like Jennifer Aniston
And since she's linked up with her boyfriend, actor-director-scree​nwriter Justin Theroux—she met him while filming her new movie Wanderlust, in theaters February 24th—her joyfulness has only increased. "Having experienced everything you don't want in a partner over time, it starts to narrow down to what you actually do want," she says. "As I get older I realize what qualities are important in love and what suits me. And what I won't settle for."

Related: 10 Hairstyles That are Always in Style

Though, just don't tell her that she's stealing his downtown-cool style. "First of all, he has great style—it's very specific, and it has been his style forever. Has it influenced mine? No, but I know people say it has. 'Oh, look, you're dressing alike.' And I think, No I'm not. I've had this jacket for three years!" Indeed, her look is all her own. For more of our exclusive interview with Jennifer Aniston, pick up the March issue of InStyle, on newsstands Friday.
Cover: Calvin Klein dress. Photo: Emilio Pucci top and skirt, House of Waris cuff, stylist's own boots.

Photo: Michelangelo Di Battista
More on InStyle.com:
• More on Jennifer's InStyle Cover

• Jennifer Aniston's 8 Beauty Must-Haves
• Try on Jennifer Aniston's Hairstyles!
• The Real Reason She Cut Her Hair
• 2012's New Celebrity Hairstyles

beauty tips and style advice
When it comes to lounging on the beach in the buff, turns out that Germans and Austrians are the most comfortable with their birthday suits, according to a worldwide survey of beachgoing habits around the world.

Chic time-tested shades you'll love for this summer.

Our top picks for staying cool this summer.

Does makeup make you feel more or less like yourself? These women — some makeup junkies, some who never touch the stuff — were brave enough to be photographed with half their faces made up by a pro and half their faces totally bare.

Chic ensembles for every woman.

At almost every age, more men report being satisfied with looks than women.