Jennifer Aniston Is InStyle's March Cover Girl!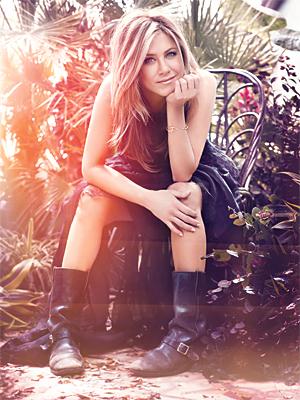 by Sharon Clott, InStyle magazine

Jennifer Aniston is InStyle's March cover girl! In this issue, the actress opens up about her joyful life, answering InStyle readers' questions about style, relationships, fitness, aging, and more.

"You know what makes me feel old? When I see girls who are 20-something, or the new crop of actresses, and think, Aren't we kind of the same age?" the 43-year-old says. "I don't feel my age. I feel young every day."

Related: Get a Body Like Jennifer Aniston
And since she's linked up with her boyfriend, actor-director-scree​nwriter Justin Theroux—she met him while filming her new movie Wanderlust, in theaters February 24th—her joyfulness has only increased. "Having experienced everything you don't want in a partner over time, it starts to narrow down to what you actually do want," she says. "As I get older I realize what qualities are important in love and what suits me. And what I won't settle for."

Related: 10 Hairstyles That are Always in Style

Though, just don't tell her that she's stealing his downtown-cool style. "First of all, he has great style—it's very specific, and it has been his style forever. Has it influenced mine? No, but I know people say it has. 'Oh, look, you're dressing alike.' And I think, No I'm not. I've had this jacket for three years!" Indeed, her look is all her own. For more of our exclusive interview with Jennifer Aniston, pick up the March issue of InStyle, on newsstands Friday.
Cover: Calvin Klein dress. Photo: Emilio Pucci top and skirt, House of Waris cuff, stylist's own boots.

Photo: Michelangelo Di Battista
More on InStyle.com:
• More on Jennifer's InStyle Cover

• Jennifer Aniston's 8 Beauty Must-Haves
• Try on Jennifer Aniston's Hairstyles!
• The Real Reason She Cut Her Hair
• 2012's New Celebrity Hairstyles

beauty tips and style advice
Monday's New Zealand itinerary brought Kate and William to the cricket field.

We put a slew of new formulas to the test, and these are the ones making us look younger and fresher.

From the coolest chestnut to the deepest mahogany, these stars show how to unleash your inner brunette bombshell.

In a girl's life, there are a select few occasions when it's considered completely appropriate to go all out with a truly spectacular dress. Her wedding day comes to mind, of course, and maybe her Sweet 16. Prom night, however, is certainly at the tip-top of that short list of special events.

When I was a teenager, I wouldn't be caught dead without my lip gloss, blush, eyeshadow and eyeliner at all times. Now, even though I'm older, I'll admit I still don't feel 100 percent confident leaving the house without at least some of my "face" on—plus, my obsession with beauty products doesn't encourage me to go makeup-free very often.

Good magazine covers grab your attention and make you want to look inside. Controversial covers and photo shoots, like the 14 that follow, often become a part of history.