Why celebrities love to show their midriffs, according to Chloe Sevigny
Make a bold fashion statement!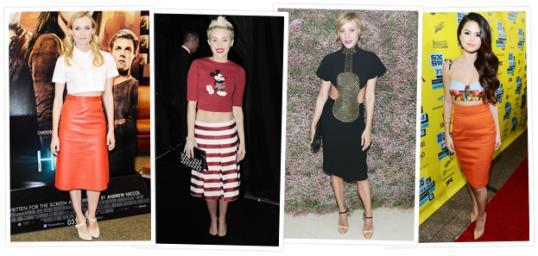 By Judy Meepos, InStyle magazine
Midriff tops make a bold fashion statement, but it's a statement that everyone, including Diane Kruger (in Carven and Vanessa Bruno), Miley Cyrus (in Marc Jacobs), and Selena Gomez (in Dolce & Gabbana) is loving—and Chloe Sevigny hopes it stays that way.

RELATED: Selena's Creamsicle Orange Lipstick

The "American Horror Story" actress, who wore her own cutout creation (vintage Chloe by Karl Lagerfeld) to Barneys Celebrates 60 Years of Chloe at the department store in New York, loves the look because she believes it gives people a chance to break out from "playing it safe" with their style.

RELATED: 10 Ways to a Flatter Tummy

"I think that you shouldn't be afraid of being an individual," Sevigny told InStyle.com. "People are so afraid of criticism, especially from all of the tabloid magazines and stuff, but I think that the InStyles of the world always seem to celebrate individuality more, so I just keep that in mind." So true, Chloe!

Plus, see more stars in the latest trends in our Look of the Day gallery.

MORE:

Beauty Editor's Spring Must-Haves
Chloe and the Stars Celebrate the One Foundation
Spring's Most Daring Fashion Trends
Bing: Celebrity fashion trends

PHOTO: Sipa USA (2); Splash News; Getty Images

beauty tips and style advice
Once the summer heat kicks in, it's all we can do not to slip into the breeziest beach dresses and flip-flops for the morning commute. So trust us when we say we understand that the humidity can have a powerful effect on your wardrobe — still, there are some things you just can't wear to your place of employment, no matter how hot it gets.

Wrinkle no blouse, tangle no jewelry, leave no beauty product behind, and still have room to spare.

Hue-changing dos we absolutely love.

Why your jean size varies from store to store.

Wait a month between waxing visits? Check. Pop a preappointment Advil? Duh. We all know the basics, but here are the tricks you don't know.

What to always—and never, ever—do to keep hair in top shape.

Get inspired to try these sweet and summery looks.

Stunning wedding styles that create a statement.

I attended the Abercrombie and Fitch holiday-season press preview yesterday, and in between checking out the cute gear that will hit stores this November, I picked up a little nugget of information I just have to share.

How to wear this cool-weather staple in the summer.

See how Miranda Kerr made a pair of Birkenstocks chic.

We love how a new nail polish has the ability to instantly change your look and your mood with a simple swipe. While happy lime greens and aquas are ruling the five million #nailpolish Instagrams this summer, there are a variety of great colors to choose from—whether you want an office-appropriate neutral or a fun going-out shade that'll give your LBD a punch of color.