The Latest Runway Debate: Is There Room in the Modeling World for "Normal-Sized" Models?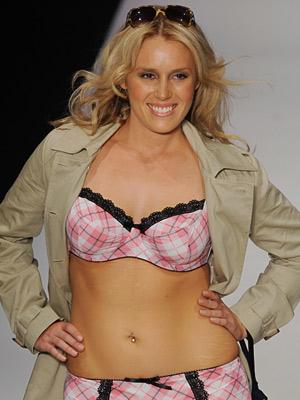 The never-ending controversy of the size of models seems to be a topic that always manages to cause a stir. In many instances, it's the battle over models who appear way too thin and the pressure to stay skinny in the industry. Other times, it's the topic of plus-sized models and their place in the modeling world.

But Fashionista.com is exploring yet another trigger that has been creating buzz—what about all the normal-sized girls?

In a world where models are given flack for being too fat, or in the case of plus-sized models, not big enough, the question remains, is there room in the industry for everyone else?

26-year old Katie Halchishick (not pictured) is making a name for herself by exploring this question. The model, who worked as a plus-sized model in her teens, was told to gain more weight to open up the opportunity fo more work. When she did, by putting on enough weight to reach a size 14, her career flourished. But a few years later, when she lost a little weight (she was down to a size 8) to be healthier, her career came to a hault and she was no longer picking up many jobs.

So what did she do? She started her own agency catered to employing models size 6-10, with the intention that "healthy is the new skinny."

Do you think this is a growing trend?
Photo: GREG WOOD/AFP/Getty Images
Are you sure you want to delete this comment?
beauty tips and style advice
I can't tell you how many times one ill-timed sneeze ruined all of my hard work with a mascara wand. #allergyproblems.

While we're not averse to shelling out upwards of $30 for an amazing lipstick, many of our standby lip colors cost a whole lot less than that. The drugstore is full of high-quality, long-lasting lipsticks in gorgeous shades that—wait for it!—ring in under $10. Click through above to shop our favorites!

What's the perfect add-on to your beauty look? A hair accessory, of course! Just when you think you've seen it all, every year there seems to be a new "it" hair piece that rules the moment. In the '50s, a dainty bow-tied head scarf was perfectly housewife-chic. In the '60s and '70s, real flower crowns officially became the epitome of boho style—your outfit simply wasn't complete without a daisy topper. Fast-forward to the '90s and you had a bevy of creative hair charms and baubles, including butterfly clips, hair wraps and those infamous bra strap headbands (shudder).

The right blush can warm up your complexion, create the illusion of cheekbones, and even make you look younger. (Yes, really!) Here, the most flattering shades for fair, medium, olive, and dark skin.

Think you can't put a price on looking younger? Well, we did—and it's $25. We challenged dermatologists to find great products that don't cost even one cent over that amount.

You want to dress in a way that's young and cool but that doesn't suggest you're on your way to a One Direction concert. "The trick to looking younger is adding one fashionable piece to a classic outfit," says stylist Cher Coulter. Here's how to nail it.