The Latest Runway Debate: Is There Room in the Modeling World for "Normal-Sized" Models?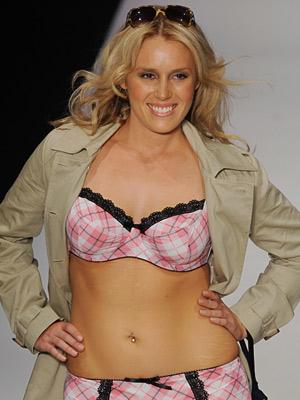 The never-ending controversy of the size of models seems to be a topic that always manages to cause a stir. In many instances, it's the battle over models who appear way too thin and the pressure to stay skinny in the industry. Other times, it's the topic of plus-sized models and their place in the modeling world.

But Fashionista.com is exploring yet another trigger that has been creating buzz—what about all the normal-sized girls?

In a world where models are given flack for being too fat, or in the case of plus-sized models, not big enough, the question remains, is there room in the industry for everyone else?

26-year old Katie Halchishick (not pictured) is making a name for herself by exploring this question. The model, who worked as a plus-sized model in her teens, was told to gain more weight to open up the opportunity fo more work. When she did, by putting on enough weight to reach a size 14, her career flourished. But a few years later, when she lost a little weight (she was down to a size 8) to be healthier, her career came to a hault and she was no longer picking up many jobs.

So what did she do? She started her own agency catered to employing models size 6-10, with the intention that "healthy is the new skinny."

Do you think this is a growing trend?
Photo: GREG WOOD/AFP/Getty Images
Are you sure you want to delete this comment?
beauty tips and style advice
When someone says "Julia Roberts," you think teeth. You think hair. But while you may not immediately think fashion, she has had a pretty consistent—and consistently pretty—style since her Mystic Pizza days: clean, classic, menswear-inspired looks that let her natural beauty—and rightly famous smile—take center stage. Here's how she has elevated that look over the years.

Lupita Nyong'o shows off the power of the pixie on the Oscars red carpet.

Walk a mile in a pair of SJP's stilettos? Well yes, we'd love to; thank you for asking.

Anti-aging doesn't have to take over your life. Here, expert tweaks to slow the clock.

We're at the tail end of a jam-packed awards season, with the grand finale—the Oscars, duh—just a few days away. We can't wait to see what our favorite nominees wear—we already know Jennifer Lawrence will step out in a breathtaking Dior, while we hope to see Lupita Nyong'o pick another brilliantly bold monochromatic gown. As for which designer she'll select—Gucci? Ralph Lauren?—that's anyone's guess.

No one will ever accuse Blanchett of being boring. Gorgeous, yes. We can always count on her to wear—and say—something interesting. Here, we trace this risk taker's style evolution over the past 16 years.