The Latest Runway Debate: Is There Room in the Modeling World for "Normal-Sized" Models?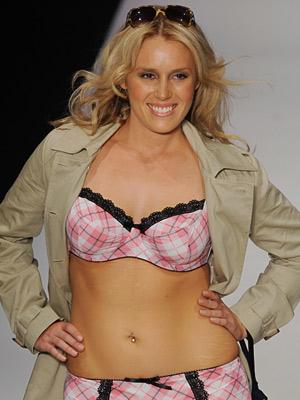 The never-ending controversy of the size of models seems to be a topic that always manages to cause a stir. In many instances, it's the battle over models who appear way too thin and the pressure to stay skinny in the industry. Other times, it's the topic of plus-sized models and their place in the modeling world.

But Fashionista.com is exploring yet another trigger that has been creating buzz—what about all the normal-sized girls?

In a world where models are given flack for being too fat, or in the case of plus-sized models, not big enough, the question remains, is there room in the industry for everyone else?

26-year old Katie Halchishick (not pictured) is making a name for herself by exploring this question. The model, who worked as a plus-sized model in her teens, was told to gain more weight to open up the opportunity fo more work. When she did, by putting on enough weight to reach a size 14, her career flourished. But a few years later, when she lost a little weight (she was down to a size 8) to be healthier, her career came to a hault and she was no longer picking up many jobs.

So what did she do? She started her own agency catered to employing models size 6-10, with the intention that "healthy is the new skinny."

Do you think this is a growing trend?
Photo: GREG WOOD/AFP/Getty Images
Are you sure you want to delete this comment?
fashion: trends & must-haves for your wardrobe
Toss your tweezers. Everything from brows (thick!) to your workout is taking a cue from the Flintstones. Yabba-dabba-doo!

Big event? Focus on the outfit, because we've got your hair all figured out, whether you've got two minutes to do it or 20.

If every morning seems like a Manic Monday, then you'll love these clever, minute-shaving beauty tips. Learn the secrets to spending less time getting gorgeous straight from pros!

More American women are trading their itsy bitsy bikinis in for one piece swimwear.

Punk, with its undercurrents of rebellion and reinvention, brought out the best of the fashion flock at last night's Met Gala—where more than a few beauty transformations made their winning debut. Actress Anne Hathaway turned up on the red carpet with an extreme bleach-blonde crop that sent photographers into overdrive, while model Joan Smalls showed off a cool new ombré hair color that graduated sharply from brown to blonde.

Experts tell you the simple things you can do to get gorgeous while you sleep.