The Latest Runway Debate: Is There Room in the Modeling World for "Normal-Sized" Models?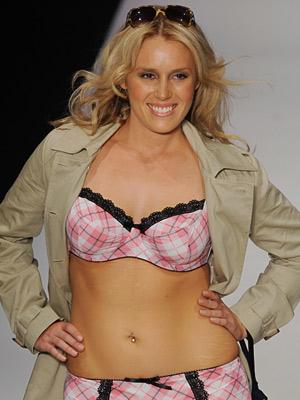 The never-ending controversy of the size of models seems to be a topic that always manages to cause a stir. In many instances, it's the battle over models who appear way too thin and the pressure to stay skinny in the industry. Other times, it's the topic of plus-sized models and their place in the modeling world.

But Fashionista.com is exploring yet another trigger that has been creating buzz—what about all the normal-sized girls?

In a world where models are given flack for being too fat, or in the case of plus-sized models, not big enough, the question remains, is there room in the industry for everyone else?

26-year old Katie Halchishick (not pictured) is making a name for herself by exploring this question. The model, who worked as a plus-sized model in her teens, was told to gain more weight to open up the opportunity fo more work. When she did, by putting on enough weight to reach a size 14, her career flourished. But a few years later, when she lost a little weight (she was down to a size 8) to be healthier, her career came to a hault and she was no longer picking up many jobs.

So what did she do? She started her own agency catered to employing models size 6-10, with the intention that "healthy is the new skinny."

Do you think this is a growing trend?
Photo: GREG WOOD/AFP/Getty Images
Are you sure you want to delete this comment?
beauty tips and style advice
Neatly sidestepping high fashion, the smiling, cheerful Kate Middleton is fast becoming the Duchess of Normcore.

This December, New Yorkers might notice something missing in the Christmas air.

When Madonna posted an image of herself wearing a full on Game of Thrones Khaleesi costume on Instagram last week we weren't exactly surprised—this is the woman who rolled into the Grammy Awards wearing a tuxedo and a grill earlier this winter, so why not celebrate the Jewish holiday of Purim with a leather corset and a pair of tiny dragons? Still, we were hypnotized by her white-blonde, braided Daenerys Targaryen hair. Functioning as a bleached out cultural weather vane of sorts, it tapped into multiple obsessions at once—the return of "Game of Thrones" to HBO, spring's new extreme hair lengths and, most notably, fashion's current platinum mania. Our own love of ice-blonde hair—which transforms any look from everyday to extraordinary—has been well documented of late, but last night's Game of Thrones premiere sent our platinum fever into overdrive. In celebration of fashion's favorite hair color, a look at the best platinum moments in history.

While you were sleeping, fast retail chain H&M H&M announced that its next designer collaboration is with Alexander Wang.

Formal, beachy, country club-chic or gorgeously rustic whatever the setting calls for, we've found a bevy of beautiful dresses to wear to a wedding this season.

Puffy, tired, weary no more. These tips take years off and create that "I slept great, thanks!" effect.