The Latest Runway Debate: Is There Room in the Modeling World for "Normal-Sized" Models?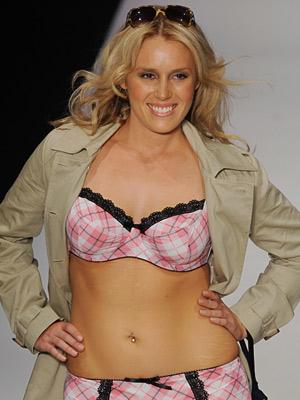 The never-ending controversy of the size of models seems to be a topic that always manages to cause a stir. In many instances, it's the battle over models who appear way too thin and the pressure to stay skinny in the industry. Other times, it's the topic of plus-sized models and their place in the modeling world.

But Fashionista.com is exploring yet another trigger that has been creating buzz—what about all the normal-sized girls?

In a world where models are given flack for being too fat, or in the case of plus-sized models, not big enough, the question remains, is there room in the industry for everyone else?

26-year old Katie Halchishick (not pictured) is making a name for herself by exploring this question. The model, who worked as a plus-sized model in her teens, was told to gain more weight to open up the opportunity fo more work. When she did, by putting on enough weight to reach a size 14, her career flourished. But a few years later, when she lost a little weight (she was down to a size 8) to be healthier, her career came to a hault and she was no longer picking up many jobs.

So what did she do? She started her own agency catered to employing models size 6-10, with the intention that "healthy is the new skinny."

Do you think this is a growing trend?
Photo: GREG WOOD/AFP/Getty Images
Are you sure you want to delete this comment?
beauty tips and style advice
These jeans aren't just distressed, they're destroyed, and all the cooler for it — the perfect way to make a basic T-shirt feel totally badass.

These products are so great they've attained cult status among beauty insiders—yet you can find them just about anywhere without blowing your budget.

Those awesome back-to-school outfits are begging for some killer kicks! Strut down the hallway in fall's hottest shoe trends.

These stars don't sleep in a hyperbaric chamber (that we know of), yet they seem to look better with each passing year. That's because somewhere along the way, they discovered a few signature makeup tricks that make all the difference. Steal some of their game-changing moves.

Your closet update just got way easier. Sneakers, heels, boots, flats—we've got it all covered.

Dressing right gets tricky when summer turns to fall. It's too warm for tweed, but shorts just don't feel right anymore. Fortunately, Esquire's got it all figured out for you.

When you're flying in a metal tube at 30,000 feet, comfort trumps style. To help you avoid an in-flight fashion faux pas, avoid wearing the 5 items below.

In the pursuit of silky, swingy, frizz-free hair, there are a dizzying number of tempting in-salon services to choose from. We grilled chemists and stylists on what works (and what's safe). Here are the eight things you—and your hair—need to know before you commit.

Beauty products have a lot of power. Applied expertly, they can make you look vibrant, gorgeous and at least five years younger. If you aren't using them correctly, though, the same products can add a few years to your gorgeous visage. But before mothers of the bride go into panic mode, read on. We asked makeup artist Brigitte Reiss-Andersen, who's worked with the likes of Meryl Streep, Michelle Pfeiffer and Rachel Weisz, to divulge common beauty mistakes that you can nip in the bud before your daughter's wedding.

Some people apply makeup at a vanity that's crying out to be on Pinterest, and others rummage through a drawer overflowing with their 103 absolute must-have, use-daily products—but everybody can benefit from a few clever storage tricks. These are the smartest ways we've ever heard to keep your products and tools organized, accessible, and most of all, beautiful.

Squeeze days out of your style with smart tricks from blowout queen Alli Webb, founder of Drybar.

Our favorite freckle-faced models and actresses.