The 10 most underrated beauty habits of all
Glamour readers share their take on beauty habits.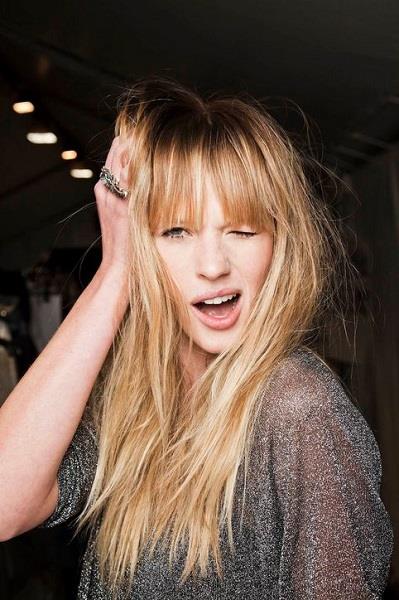 by
Petra Guglielmetti
I recently shared what I think are
the five most underrated beauty habits
—and once the post went up, you ladies had a lot of thoughts to add. We've had so much fun reading your comments, and here I've rounded up 10 more of the most underrated beauty habits, according to you, our readers.
More from Glamour: 15 Hair-Color Makeover Ideas to Try in 20131. Applying plain-old coconut oil as body lotion.
I've long suggested this to you ladies!) "I use coconut oil in the shower after the water is off. Apply generously all over and then just pat dry. You can reapply to very dry areas and even put socks on after applying to heels and feet. I keep it by the shower and use it to shave my legs as well." —abqkid28 [Note: Just be very careful, coconut oil makes your shower super slippery!]
2. Exfoliating regularly and thoroughly.
"Exfoliating is key, otherwise you are  cutting creams and lotion on dead skin and it cant do its job." —StefiNY
3. Exfoliating your lips too.
"When I wash my face, I use an extra-gentle exfoliating
Buf-Puf
sponge and exfoliate my lips with it at the same time." [OMG, I haven't used a Buf-Puf since junior high! Must get one ASAP!] "The last thing I do when I brush my teeth is run my toothbrush over my lips a few times gently to exfoliate." —manda09
4. Using humble, cheapie petroleum jelly.
"I always put Vaseline on my lips before going to bed, and they are always full and moisturized in the morning!" —huttonl
5. Braiding your hair before bed for easy waves.
"I part my hair, then braid four sections: 1. the top/crown, 2. left side, 3. right side, 4. back. The braids aren't so tight that they kill any potential volume. I anchor all four braids to the top of my head using a small clip or bobby pins so there are no kinks. —BunnyBread
Click here and scroll down in the comments for LOTS more detaile
!
6. Keeping your feet to the grindstone.
"You have to pumice your feet like daily in the summer. Sandals and crusty feet are never cute. Also, pumice stones are like $1." —mamacheeks
7. Fighting frizz with an old tee.
"Drying your hair with a T-shirt versus a towel helps lessen frizz and define curls." —fancyj
8. Indulging in lavender-laced beauty sleep.
"Bath & Body Works has a great-smelling lavender vanilla aromatherapy lotion called
Sleep
. It's probably all in my head, but I swear whenever I use it, I fall asleep faster!" —tadajewsk
9. Practically swimming in body lotion daily.
"I didn't discover this until I went to school with white people, because it's assumed this is daily routine in the black community and every black girl in my elementary school carried travel bottles in her bag: applying lotion every day! Every. Single. DAY. From head to toe, right after my shower. I never understood why lotion can go for $15, $20, $50 a JAR until I realized that not everybody goes through a 21oz. bottle of it every month." —daydream11
10. Chilling the heck out.
"I think taking 20 minutes for yourself each day is the most underrated one. I have to make myself do this and when I skip it I eat more and feel not so focused. I'm trying to fit it in, but with a new puppy and a job with longer hours, it's so tough! The best is taking that 20 minutes with my awesome new
Frends
headphones! Bliss!" —cmm
More from Glamour: 10 Wardrobe Essentials Every Woman Should OwnNext, how 'bout we talk OVERrated beauty habits? (Dutifully getting tri-monthly hair trims? Using base coat before nail polish?) Tell me below for a future post!


Subscribe to Simply Chic
| Friend us on
Facebook
| Follow us on
Twitter
| Find us on
Pinterest
More from Glamour:
35 Truths About Marriage--From a Guy's Point of View
10 Hot Date-Night Outfits (According to Guys)
50 Hot-Off-the-Runway Wedding Dresses That Will Make Your Heart Skip a Beat
Photo: Mark Leibowitz
beauty tips and style advice
The redeeming factor of summer, sadly, not being endless? New seasons require a different wardrobe, and there's no time like the present to start your fall shopping. With autumn creeping up, I already know the boots and sweaters I'll be heaving out of the stuffed containers under my bed that I think of fondly as my second closet…but there's always room for fresh blood. I quizzed Shopbop's fashion director, Elle Strauss, for help with getting the best strategy in place. Herewith, the 10 pieces she suggests picking up now (plus chic ideas for how to start incorporating them into your current closet).

These jeans aren't just distressed, they're destroyed, and all the cooler for it — the perfect way to make a basic T-shirt feel totally badass.

These products are so great they've attained cult status among beauty insiders—yet you can find them just about anywhere without blowing your budget.

Those awesome back-to-school outfits are begging for some killer kicks! Strut down the hallway in fall's hottest shoe trends.

These stars don't sleep in a hyperbaric chamber (that we know of), yet they seem to look better with each passing year. That's because somewhere along the way, they discovered a few signature makeup tricks that make all the difference. Steal some of their game-changing moves.

Your closet update just got way easier. Sneakers, heels, boots, flats—we've got it all covered.

Dressing right gets tricky when summer turns to fall. It's too warm for tweed, but shorts just don't feel right anymore. Fortunately, Esquire's got it all figured out for you.

When you're flying in a metal tube at 30,000 feet, comfort trumps style. To help you avoid an in-flight fashion faux pas, avoid wearing the 5 items below.

In the pursuit of silky, swingy, frizz-free hair, there are a dizzying number of tempting in-salon services to choose from. We grilled chemists and stylists on what works (and what's safe). Here are the eight things you—and your hair—need to know before you commit.

Beauty products have a lot of power. Applied expertly, they can make you look vibrant, gorgeous and at least five years younger. If you aren't using them correctly, though, the same products can add a few years to your gorgeous visage. But before mothers of the bride go into panic mode, read on. We asked makeup artist Brigitte Reiss-Andersen, who's worked with the likes of Meryl Streep, Michelle Pfeiffer and Rachel Weisz, to divulge common beauty mistakes that you can nip in the bud before your daughter's wedding.

Some people apply makeup at a vanity that's crying out to be on Pinterest, and others rummage through a drawer overflowing with their 103 absolute must-have, use-daily products—but everybody can benefit from a few clever storage tricks. These are the smartest ways we've ever heard to keep your products and tools organized, accessible, and most of all, beautiful.

Squeeze days out of your style with smart tricks from blowout queen Alli Webb, founder of Drybar.