Porn Stars Offer Advice at Relationship Workshops
In NYC, couples are learning lessons from porn industry pros.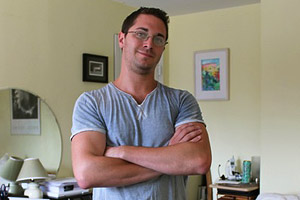 Porn stars seem an unlikely bunch to dispense relationship advice, but that's just what they're doing in a New York City-based series of workshops. And hear them out—it's not all about sex (but a lot of it is).
Since 2010, popular porn actresses have been taking over the lecture circuit, heading to NYC's West Village to host "Porn Star Sex Life." The name may be explicit, but the topics aren't always X-rated. Founder Josh Rosenberg claims that in addition to sex, he and his harem of porn princesses are revitalizing relationships, one couple at a time.
"We've really helped a lot of people," Rosenberg, 30, told DNAinfo.com. "We're helping couples reignite their passion."
While the premise of the workshop is obviously centered on sex, the lectures apparently encompass much more. After all, relationship behaviors like communication and understanding are a big part of a healthy sex life (presuming your sex life is not a career).
"It's just caring for your partner," Rosenberg said. "It's really understanding what's going on in your partner's head."
At $1,000 a ticket, I'd hope to leave with the ability to read my partner's mind. The cost is pricey, yes—but these ladies are staples of their industry, and, well, their time is worth a lot. The workshop is also an all day event.
In addition to relationship topics, the gals also dispense advice on dating, revealing the inner workings of the female brain to lovelorn men.
"It was everything—that's what they workshop was about," one attendee told DNAinfo. "Not just the sex, but things that make women want to be open with you."
According to a female attendee, "It's just information. 'Don't do that, do this instead.' And I thought that was really helpful."
And she makes a sensible point:
"I take lessons for tennis, people take lessons for the piano. Why wouldn't people take lessons for one of the most important things in their lives?"
True, but why get advice from porn pros rather than relationship experts?
"It's a lot sexier than a lecture," Rosenberg explained.
Photo: Josh Rosenberg/DNAinfo.co​m
More Love & Sex from MSN Living:
10 Things You Must Do After a Breakup
What He Really Wants to Do on Vacation
Men's Secret Bedroom Fears
fashion: trends & must-haves for your wardrobe
When morning talk shows and local newspapers dole out their seasonal swimsuit shopping advice, I'm usually pretty disappointed by the lack of body types represented. What about the women who don't resemble fruit? (Or aren't boy-shaped—the third "one of these things is not like the other" category I've never quite understood. Couldn't they say "banana?" Or is that somehow more offensive than "apple" and "pear" shapes?)

Ready to refresh your hair and makeup for spring? Well, look no further for your latest batch of inspiration. These ladies are bringing the beauty brilliance with megawatt lipstick shades, sleek haircuts, and must-try hair colors. Get ready to play copycat.

Long, layered, medium or wavy – we're sharing our favorite hairstyles of 2013 with a new 'do each day. Stuck in a hair rut? Check back daily for snappy new looks that are sure to give your locks some beauty inspiration.

Step into spring with style in June Ambrose's new shoe line for HSN.

Revamp your corporate look with graphic prints and bold color.

If you have only five makeup tools in your kit, make sure these are them. They do much more than just look cute on your vanity!

Think all it can do is shellac everything down, helmet-head style? So wrong! A can of whatever's in your cabinet is your secret beauty weapon. Try it like this.

You may not get wrinkles on your hair, but it ages all the same. Grays, dullness, thinning strands, and frizz are all (unfortunately) part of the hair's aging process, which starts happening in your 30s. The good news is that you don't need Botox to fix these problems. Here are six tips for hair that's shiny, bouncy, healthy—and, yes, younger looking.

Our fashion-savvy FLOTUS shows us she is truly a master at mixing high- and low-end designs.

Get ready for summer with these cute and easy to DIY nail art designs.

Brides, it's your big day and you want to look special. Please, whatever you do, don't wear one of these wedding dresses. These are truly the worst.

Even if you're the best friend of all time, no bridesmaid should ever have to wear these worst-ever bridesmaid dresses. Lace, ruffles and satin overload!