A Fresh Idea
Still searching for a Mother's Day gift? We have the perfect idea!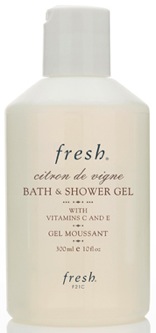 There are not many bath products that I love so much that I cannot wait to use again and again.
Fresh
is one of the few.
With names like Sugar, Sugar Lemon and Sugar Blossom, the products sound good enough to eat and smell sparkling and clean, but never overpowering.
I am convinced if you are stumped for a Mother's Day present, you will not go wrong with a gift from Fresh.
The company makes wonderful little wrapped soaps, like this triple-milled sugar soap, $14, that are all ready for gifting, or for a few dollars more, try a bath and shower gel.
The Citron de Vigne Gel, $18.50, has a light citrus fragrance and is perfect for the warmer weather.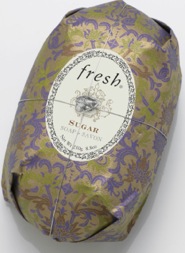 Another iconic favorite is the Brown Sugar Body Polish, which starts at $38.
The scrub, made of coarse sugar and a blend of four precious oils, leaves skin feeling silky smooth after just one use.
Tell me, are you a Fresh fan?
Shop Fresh products
online
and at Fresh stores.
beauty tips and style advice
That elusive, perfect-every-day haircut can be yours. Don't be skeptical, now; these sweet, shorter styles are as easy to pull off as they are flattering. So chop chop!

The wedding dresses on the spring 2015 runways were beautiful, breezy, and fresh—just like a breath of warm spring air. No matter where or when you'll say your vows (or how big or small your budget is), your dream wedding dress is just a few clicks away.

The results were crazy awesome.

There are no bad bodies, just bad jeans! Consider your denim problem areas solved (thanks to our 50-pair editor try-on).

Mascara wands are getting fatter, but that may not help your lashes. There's a better way to gain weight.

Three summers ago, I bought a pair of soft, white-calfskin Chanel loafers. I spent months trying to keep them pristine, but it wasn't long before a July thunderstorm left them and me soaked. I began steeling myself for what I thought was inevitable: a solemn drop in the trash. But once the loafers dried, I found the shoes' stained stitching—now storm-cloud gray—was lovely and a few new wrinkles in the leather were charming, like smile lines for shoes. I started to wear them freely—taking on puddles and tossing them onto the sand at the beach—and before long, they transformed. The roughened toe-tops reminded me of a welcoming, worn armchair, and a wet-and-hot summer had molded the material perfectly to my feet.

When the clock's ticking, digging though every compact in your bathroom is an exercise in frustration. What you need is one simple bag with a selection of products that help you pull yourself together as quickly as possible, at home or on the road. In it:

You know the freshly scrubbed, athletic look that defines American beauty? Turns out it's been centuries in the making.

According to Hollywood's top hairstylists, celebrity clients get sticky fingers when it comes to these no-fail products.

The American company that helped to popularize the shapewear trend has moved into the world of denim with a new jeans collection.

What to wear and what to avoid the next time you attend a wedding.

Want the most gorgeous hair of your life for your wedding day? Of course you do. Hairstylist Jen Atkin shares the top mistakes brides make that are getting in the way of that picture-perfect bridal hairstyle