3 Best Blushes for Brides (Because Heaven Forbid You Be a Non-Blushing Bride)
The 3 adjectives most commonly attached to the word 'bride' are beautiful, glowing and blushing. I'd say choosing the right wedding-day blush is a pretty important step.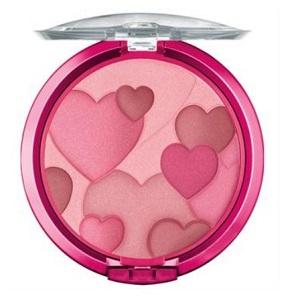 by Petra Guglielmetti
,
Glamour Magazine
I know, I know, I shouldn't have brought this up — you so don't need one more wedding decision to stress over. That is why I am going to narrow down your choices to the three best blushes for brides. You're welcome!
1.
Physicians Formula Happy Booster Glow & Mood Boosting Blush
Why it's perfect for brides:
First of all, it has those sweet hearts all over it and will make your getting-ready routine feel extra-special on the big day. But more important, this smooth and slightly iridescent blush gives you some extra gleam, while still offering plenty of pigment so you get believable color without having to pile it on. Oh, and there's a supposedly mood-boosting scent — not that you'll need the extra endorphins, but it sure does smell pretty and bridal.
Related: 15 Gorgeous Hair Updates to Try
2.
Tarte Amazonian Clay 12-Hour Blush
Why it's perfect for brides:
This is one of the longest-lasting blushes out there, so your cheeky glow won't fade away before cake cutting time. The cream formula means it looks incredibly natural and radiant. Oh, and bonus points: There's a shade called Blushing Bride.
3.
Bobbi Brown Blush
Why it's perfect for brides:
No cutesy packaging or wedding-related color names with this one — just the
most
perfect, totally matte and
seamless/airbrushed-​looking
blush, if that's what you're going for (and if you'll be adding plenty of shine elsewhere, such as on your eyes. I'm guessing you don't want to end up looking like Tinker Bell with a shimmery blush too).
Related: 35 Truths About Marriage (According to Guys)Engaged ladies, which of these three blush formulas would you most like to try as a potential wedding blush? Already-marrieds, which blush did YOU wear on your wedding day, and why was it perfect (or not)?
Photo: Physicians Formula

More from Glamour:

11 Movies Every Woman Should Watch
Celebs Share Their Best (and Worst) Dates Ever
30 Reasons Being a Woman Is Awesome
beauty tips and style advice
One shopper's tweet of the emaciated-looking figure forced the store to take action.

Once the summer heat kicks in, it's all we can do not to slip into the breeziest beach dresses and flip-flops for the morning commute. So trust us when we say we understand that the humidity can have a powerful effect on your wardrobe — still, there are some things you just can't wear to your place of employment, no matter how hot it gets.

Wrinkle no blouse, tangle no jewelry, leave no beauty product behind, and still have room to spare.

Hue-changing dos we absolutely love.

Why your jean size varies from store to store.

Wait a month between waxing visits? Check. Pop a preappointment Advil? Duh. We all know the basics, but here are the tricks you don't know.

What to always—and never, ever—do to keep hair in top shape.

Get inspired to try these sweet and summery looks.

Stunning wedding styles that create a statement.

I attended the Abercrombie and Fitch holiday-season press preview yesterday, and in between checking out the cute gear that will hit stores this November, I picked up a little nugget of information I just have to share.

How to wear this cool-weather staple in the summer.

See how Miranda Kerr made a pair of Birkenstocks chic.