Transgender model poses as Michelle Obama
Transgender model poses as Michelle Obama on the cover of Candy Magazine.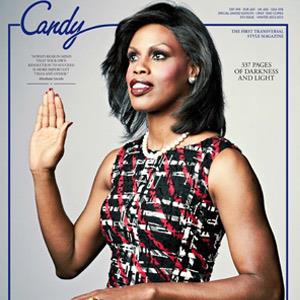 The fifth edition of the world's first transversal style magazine, Candy, has just hit newsstands, and publisher Luis Venegas chose Michelle Obama as inspiration for his cover. Transgender model Connie Fleming stars as a Michelle Obama lookalike on the cover.

More from Living: 7 things you've been doing wrong forever

The shot features Fleming dressed in first lady fashion with the headline "The Candydate," bearing a striking resemblance to the first lady.

More from Living: 10 Celebrities Who Refuse to Fix Their "Flaws"

"I especially love the cover story, which for the first time isn't a super-popular star, but a fabulous, beautiful black transwoman channeling a politician who looks pretty much like Michelle Obama," Venegas told Dazed Digital. "I remember back in early 2007 when the Democratic Party's nominees were narrowed down between two "controversial" stereotypes never before seen for presidency: a black man, Barack Obama; and a woman, Hillary Rodham Clinton. At that time, I thought, 'when will the time come when these archaic walls break down and the White House will be occupied by, for example, a black, transsexual woman?'"
Tell us: What do you think of the latest cover of Candy?

Bing: Transgender models in the fashion world


Photo: Via Candy
More from Simply Chic:

8 celebs who swear by Spanx
The biggest internet beauty trends of 2012
When should you stop wearing red lipstick and heavy makeup?

The Obama's are spending taxpayer money to vacation 3 weeks in Hawaii  cost: 5 Million, that includes $258,000.00 to transport Mrs.Obama's clothes closet.
WHAT IS WRONG WITH  THIS PICTURE?????????
5 million dollars would go a long way helping the EAST coast families with getting re-settled.......

From day one I have never understood reports of how great Michelle Obama looks. May I ask, compared to what? I know that beauty is in the eye of the beholder, but if we're talking physical beauty about Michelle Obama I say nay nay.  She is a towering amazon with some out to there bow legs. Heighth doth not a supermodel maketh.  And no doubt she has dental insurance so she should do something about that overbite, seriously.  I'll stop there because I don't want to be mean.  I think the lad in the photo above looks better than she ever has, now that's just the truth. Nice clothes look nice but they don't change what's inside of them. One last thought and this is about those $540.00 Lanvin sneakers she owns.  For Pete's sake, how did she not have the good grace and decency NOT to wear them to a food bank when arriving for her volunteer photo op. Oopsie.
Are you sure you want to delete this comment?
fashion: trends & must-haves for your wardrobe
Step into spring with style in June Ambrose's new shoe line for HSN.

Revamp your corporate look with graphic prints and bold color.

You may not get wrinkles on your hair, but it ages all the same. Grays, dullness, thinning strands, and frizz are all (unfortunately) part of the hair's aging process, which starts happening in your 30s. The good news is that you don't need Botox to fix these problems. Here are six tips for hair that's shiny, bouncy, healthy—and, yes, younger looking.

Our fashion-savvy FLOTUS shows us she is truly a master at mixing high- and low-end designs.

Long, layered, medium or wavy – we're sharing our favorite hairstyles of 2013 with a new 'do each day. Stuck in a hair rut? Check back daily for snappy new looks that are sure to give your locks some beauty inspiration.

Get ready for summer with these cute and easy to DIY nail art designs.

Brides, it's your big day and you want to look special. Please, whatever you do, don't wear one of these wedding dresses. These are truly the worst.

Even if you're the best friend of all time, no bridesmaid should ever have to wear these worst-ever bridesmaid dresses. Lace, ruffles and satin overload!

As your face changes, so should your hair—the right cut can shave years from your appearance. And while there's no such thing as an age-appropriate length, there are age-appropriate styles. Here, the 30 most gorgeous hairstyles for every age, as seen on Mila Kunis, Jessica Biel, Jennifer Aniston, Diane Keaton, and more.

Stuck in a office-look-rut? Let some of history's most smartly dressed women inspire your everyday uniform.

Few spots are as fashionable as the Cannes Film Festival red carpet. Celebrity style stars pull out all the stops—because if you can't wear a fabulous dress at one of the film industry's biggest events, in one of the world's most glamorous locales, when can you? Here are 25 of the masterpieces we still can't stop staring at.

From demure dresses to covetable coats, the Duchess of Cambridge has a maternity wardrobe that would make any grown woman wish she could be a princess. Click through the gallery to see some of her most stylish looks while pregnant.