Rubbing your body with broccoli might be the new sunscreen
Researchers are testing it out, at least.
by Beth Shapouri

We've known for years that eating broccoli is good for you, but a new study put together by researchers at the University of Arizona and Johns Hopkins University is testing out if rubbing it on your skin may reduce the risk of skin cancer.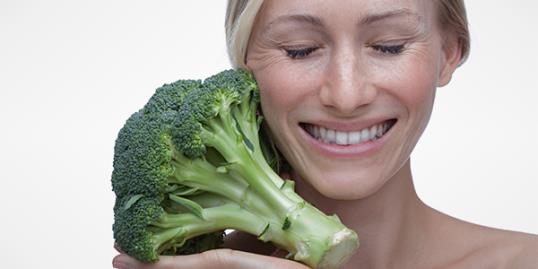 Why they think it might work? Broccoli contains a compound called sulforaphane, which prohibits cancer-causing pathways and activates chemoprotective genes for a one-two cancer-preventing punch. To see if it could work topically, the researchers will test a broccoli solution on skin to see if the compound can effectively block simulated sunlight. If it does, this could mean we might someday be spreading broccoli cream all over ourselves before we head outdoors. But in the meantime, still wear the regular-old SPF stuff. And, yes, eat your broccoli. It'll make your mom happy.

More from Glamour: Olivia Wilde's Dos and Don'ts of Getting Older and The 10 Prettiest Hair, Nail and Makeup Looks for Fall 2013

You can read more about the study here and here.

Subscribe to Simply Chic | Friend us on Facebook | Follow us on Twitter | Find us on Pinterest

Bing: Suncreen ratings

More from Glamour:
25 Celebrity Hairstyles That Will Make You Want Bangs
10 Wardrobe Essentials Every Woman Should Own
15 Hair-Color Makeover Ideas to Try in 2013
Photo: REX/Image Source
Are you sure you want to delete this comment?
beauty tips and style advice
Peach gloss and a swingy ponytail look great. They really do. But with only a month left until September, it's time to have more fun with your summer beauty game. We've come up with a gorgeous beauty idea for every last day in August. Test some now, pin others for later, and look amazing all month long.

That elusive, perfect-every-day haircut can be yours. Don't be skeptical, now; these sweet, shorter styles are as easy to pull off as they are flattering. So chop chop!

The wedding dresses on the spring 2015 runways were beautiful, breezy, and fresh—just like a breath of warm spring air. No matter where or when you'll say your vows (or how big or small your budget is), your dream wedding dress is just a few clicks away.

The results were crazy awesome.

There are no bad bodies, just bad jeans! Consider your denim problem areas solved (thanks to our 50-pair editor try-on).

Mascara wands are getting fatter, but that may not help your lashes. There's a better way to gain weight.

Three summers ago, I bought a pair of soft, white-calfskin Chanel loafers. I spent months trying to keep them pristine, but it wasn't long before a July thunderstorm left them and me soaked. I began steeling myself for what I thought was inevitable: a solemn drop in the trash. But once the loafers dried, I found the shoes' stained stitching—now storm-cloud gray—was lovely and a few new wrinkles in the leather were charming, like smile lines for shoes. I started to wear them freely—taking on puddles and tossing them onto the sand at the beach—and before long, they transformed. The roughened toe-tops reminded me of a welcoming, worn armchair, and a wet-and-hot summer had molded the material perfectly to my feet.

When the clock's ticking, digging though every compact in your bathroom is an exercise in frustration. What you need is one simple bag with a selection of products that help you pull yourself together as quickly as possible, at home or on the road. In it:

You know the freshly scrubbed, athletic look that defines American beauty? Turns out it's been centuries in the making.

According to Hollywood's top hairstylists, celebrity clients get sticky fingers when it comes to these no-fail products.

The American company that helped to popularize the shapewear trend has moved into the world of denim with a new jeans collection.

What to wear and what to avoid the next time you attend a wedding.