American Apparel ads banned for being 'sexually provocative'
Ads feature young girl in "overtly sexual" poses.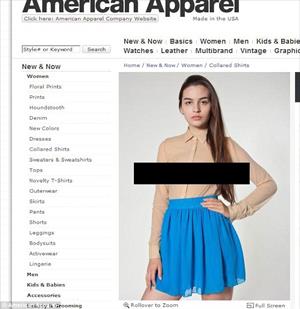 A recent ad campaign from clothing brand American Apparel is creating controversy.

The Daily Mail reports that risqué photos of a young-looking girl with her breast exposed has been banned by the Advertising Standards Authority, who says that the model in the ads looks to be younger than the age of 16.

More from Living:  7 Designers You Need to Know

Multiple comments on the brand's web site complained that the photos in the ads are  "unnecessarily sexual," inappropriate to be seen by children and portray a young girl in "overtly sexual" poses, says the Daily Mail.

More from Living: Rachel Zoe's Style DOs and DON'Ts

The ASA demanded the ads must not appear again, making this statement: 'We considered both poses were sexually provocative and concluded that the images were irresponsible and likely to cause widespread offence, because they were displayed on a website which could be viewed by, and was likely to have appeal to, children under 16 years of age.'

But the brand is standing to their ground, claiming the ads are "completely decent and were a fair representation of their product line." 

This certainly isn't the first time American Apparel has created controversy, but what do you think of their latest batch of ads?

Tell us on Facebook: Do you find this campaign offensive?

Bing: Most controversial ads of 2012

Photos: American Apparel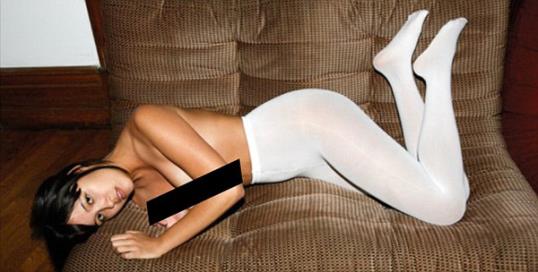 More from Simply Chic:
Would you ever get your pinky toe removed?
The amazing $50 Zara shoes Michelle Obama wears
72-year-old grandfather models young girls' clothing

beauty tips and style advice
Click through the slideshow to shop some of our spring favorites.

French braid? Been there. Fishtail? Done that. The newest styles are all about unexpected texture, major volume, and one man's wild imagination.

Long hair, don't care? Think again…

She dishes on the routine that keeps her looking polished, even when she's pulling up to the <i>Mad Men</i> set at 5 a.m. Plus, the fragrance that helps Christina get her Joan on.

For inspiration, we've rounded up gorgeous (and easy to replicate) wedding makeup looks from the red carpet.

With a few insider tricks, you can enjoy short hair 365 days of the year and have a gorgeous style on your wedding day. Wedding hairstyles for short hair do exist.

I'm beyond excited to finally ditch my winter coat and heavy layers, but I'm not so eager to ditch my tights. Let's just say my legs are not as smooth and bronzed as they were the last time I showed them off many, many months ago.

After a jam-packed week in New Zealand, Kate Middleton and Prince William finally enjoyed a day off, but as of last night (or this morning..? Ah, time change!) they're back on the road again.

These travel-sized beauty products will do double-duty while you're on the road.

Neatly sidestepping high fashion, the smiling, cheerful Kate Middleton is fast becoming the Duchess of Normcore.

This December, New Yorkers might notice something missing in the Christmas air.

When Madonna posted an image of herself wearing a full on Game of Thrones Khaleesi costume on Instagram last week we weren't exactly surprised—this is the woman who rolled into the Grammy Awards wearing a tuxedo and a grill earlier this winter, so why not celebrate the Jewish holiday of Purim with a leather corset and a pair of tiny dragons? Still, we were hypnotized by her white-blonde, braided Daenerys Targaryen hair. Functioning as a bleached out cultural weather vane of sorts, it tapped into multiple obsessions at once—the return of "Game of Thrones" to HBO, spring's new extreme hair lengths and, most notably, fashion's current platinum mania. Our own love of ice-blonde hair—which transforms any look from everyday to extraordinary—has been well documented of late, but last night's Game of Thrones premiere sent our platinum fever into overdrive. In celebration of fashion's favorite hair color, a look at the best platinum moments in history.