10 makeup tricks that make you look spectacular in photos
(Wedding or otherwise!)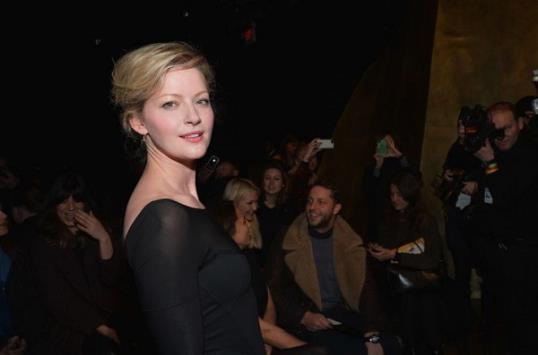 by Petra Guglielmetti

Bachelorette party, shower, rehearsal dinner, the actual wedding--you engaged ladies have just a few minor photo opps in your near future. So I had to share these 10 very smart tricks from celebrity makeup guru Nick Barose, the man who made Gretchen Mol look porcelain-doll perfect at Monday's Fall 2013 DKNY show.

More from Glamour: 10 Beauty Tricks That Make Guys Melt

1. Always start with primer. It fills in fine lines and fades imperfections that the (cruel, cruel) camera lens can often magnify. "Invest in a good one, it'll really make a difference," says Nick, who swears by Koh Gen Do Makeup Color Base in Lavender Pink for rosy-toned skin like Gretchen's.

2. Mind your neck. If you stop your foundation at your jawline, your face/neck color difference could be noticeable in photos (even if the contrast isn't noticeable in your mirror).

3. Avoid reverse raccoon eyes. Mix under-eye concealer with a bit of foundation before applying. This helps prevent skin-brightening concealer from popping out and looking too white when a flash hits. "We've all seen photos of stars with those white under-eye mishaps," Nick says.

4. Frame your face. Dust a sheer bronzer (like Bobbi Brown Bronzing Powder) just around the perimeter to flatteringly shape your face and take the focus off your forehead.

5. Get some power powder. If you always have major T-zone shine and regular powder doesn't cut it, try a blotting powder, like MAC Blot Powder--this stuff is your new best friend.

6. Reinforce your brows. Brows bring out your bone structure in photos, so subtly sketch them in with a bit of pencil. "They tend to disappear in photos, especially the tails," Nick notes.

7. Upgrade to liquid liner. Even if you usually use pencil, liquid will define your eyes more for photos and can still look natural; just trace a thin line extra-close to your lashes. "I like the NARS liquid liner," Nick says. "It's like a thin Sharpie and is so easy to use even a cat could probably apply it with its paws."

8. Brighten your blush. Don't be scared to go a bit brighter, just be sure to blend around the edges, and choose blush that has gleam but not noticeable sparkles. "It'll make you look radiant when the flash hits your face," says Nick, who used the Lancome Blush Subtil palette on Gretchen; he used the different shades to help sculpt her cheekbones.

9. Dabble in lip liner. Even if you hate the stuff, try using it just on your upper V and outer corners. "I learned this trick from Kim Cattrall--it gives her lips definition but never looks harsh or severe," Nick says.

10. Relax and feel pretty! "Remember that a smile will brighten your face and is always better than any lipstick or mascara!" And when you do see inevitable bad photos, blame the angle or flash and move on, because you looked perfect.

More from Glamour: 15 Hair-Color Makeover Ideas to Try in 2013

What's YOUR favorite makeup trick that helps you look extra-pretty in photos? A certain lipstick or blush shade, perhaps? A mascara tactic? Share below!
Photos: Getty Images, Nick Barose

More from Glamour:
10 Ways to Seduce Your Man in Seconds
20 "Annoying" Girl Things He Secretly Loves About You
50 Things Men Are Afraid to Ask For (But Really Want)
beauty tips and style advice
Stunning wedding styles that create a statement.

Hue-changing dos we absolutely love.

In case you weren't already overwhelmed enough by the daunting task of jeans shopping (or really, clothes shopping in general), our friends over at Racked published a handy little infographic today comparing the sizing of a variety of different retailers that you've likely frequented at least a handful of times in your lifetime.

I attended the Abercrombie and Fitch holiday-season press preview yesterday, and in between checking out the cute gear that will hit stores this November, I picked up a little nugget of information I just have to share.

How to wear this cool-weather staple in the summer.

See how Miranda Kerr made a pair of Birkenstocks chic.

We love how a new nail polish has the ability to instantly change your look and your mood with a simple swipe. While happy lime greens and aquas are ruling the five million #nailpolish Instagrams this summer, there are a variety of great colors to choose from—whether you want an office-appropriate neutral or a fun going-out shade that'll give your LBD a punch of color.

You already know wearing white after Labor Day is cool. But menswear is reinventing itself rapidly, leaving some long-held mandates by the wayside, not to mention a bunch of men with a lot of questions. Sure, some style laws are truly inviolable. Showing a quarter-inch of cuff will always be crucial, but with designers and dandies flaunting so many former taboos it's hard to tell what's in play these days. So we thought we'd take this opportunity to let you know which rules no longer apply.

Put down the wrinkled button-down, step away from the Crocs, and open your closet. We need to talk about the new rules of casual.

Buying a brush is like getting a new smartphone: once you learn how to use it, it's indispensable.

Surfers are the epitome of cool, laid-back American style. And if we can't be them, at least we can copy their hair.

It's time for bridal beauty to loosen up. Hair doesn't have to be tightly wound, makeup perfectly contoured, and nails French manicured (on this last point, really, please don't). You can, in fact, look gorgeously and timelessly cool at your wedding. Here's how.