More Couples Sleeping in Separate Beds, Survey Finds
One expert explains how splitting up can bring couples together.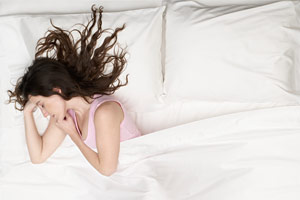 Recent surveys show that more couples are sleeping separately, and while some may think this would create a bar in intimacy, it's actually saving relationships.
In fact, sleeping separately is becoming so common that the National Association of Home Builders expects that 60 percent of custom-built homes will include dual master bedrooms in the year 2015.
A study from the National Sleep Foundation found that 25 percent of couples in the U.S. sleep separately; similarly, a recent British survey found that one in 10 British couples also sleep in separate beds. The Heart Beat talked to relationship expert Dr. Tracey Marks, the author of Master Your Sleep. She advocates separate sleeping and tells us why it's a good idea for some couples.
"With some couples, one partner is severely sleep deprived because the other partner keeps them awake with snoring, restlessness, keeping the room too hot, etc.," Dr. Marks tells us. "If the sleep deprivation makes you cranky, it's going to affect your relationship and you would be better off sleeping in a different bed so you can be in a better mood with your partner."
Conventionally, the notion of sleeping in the same bed is thought to create intimacy between spouses. But as Marks explains in a Huffington Post piece:
"While the media presents images of loving couples sleeping contentedly in each other's arms all night long, for many the reality is much different."

And she's right. A recent survey actually shows that couples fight 167 times a year in the bedroom. The number one cause of those fights is blanket hogging, followed by snoring and being too hot. These are all things that can easily be remedied by declaring your bedroom independence.
"The main problem arises when one partner feels rejected by it," Marks tells us. "Intellectually he may understand why it's a good idea, but he struggles with the idea that his partner doesn't want him.  I think this is a more likely outcome when there are underlying relationship problems and sleeping apart just compounds the problems and makes things feel less intimate."
Her answer for proposing the idea is to make sure that you start with a "clean slate," otherwise sleeping apart could exacerbate whatever problems are happening in the relationship.
But what about sex?
"Sleeping in separate beds can't mean no more sex," Marks says. "Sex is for waking hours, so do it before you go to sleep so that sleep and sex are completely distinct entities."
Sounds easy enough.  But as Marks mentioned, the media does present couples as bed-sharers, so there is a bit of a stigma with splitting up in the bedroom.
"People are going to take your lead in reacting to your situation," Dr. Marks tells us. "That is, if you are conflicted about it and mention it as though you are admitting some deep dark secret, the listener is going to respond that way…But if you are resolved that you are doing what's best for your relationship and both you and partner are fine with it, you can talk about it with confidence and emphasize how much more intimate your relationship is because of it."
And as for talking about it with your children, Marks advises:
"Whatever the reason is for needing to sleep separately, you emphasize the positive—dad and mom like it this way, mom and dad think it's important to get a good night's sleep, mom and dad like to cuddle in the same room while they are awake, but once we fall asleep we're not aware that we're not in the same bed, etc."
What do you think? Do you and your partner sleep in separate beds? Would you try it to keep from fighting in the bedroom?
Photo: Brad Wilson/Getty Images
More Love & Sex from MSN Living:
What He's Really Thinking After 1, 5, and 10 Years of Marriage
What She's Really Thinking After 1, 5, and 10 Years of Marriage
Avoid These Sneaky Love Landslides
beauty tips and style advice
Ugly, dangerous, or disrespectful, these things have no place at the gym.

These stars prove that the traditionally feminine fabric can be edgy, too.

Skip the blow-dryer and keep your style effortless. Here, the secrets for gorgeous air-dried hair—straight, wavy or curly—from the man behind Gisele's coveted waves, Harry Josh, John Frieda international creative consultant.

Ask pretty much any celebrity hairstylist, and they'll tell you the long bob (a.k.a. the lob) is the chicest haircut of 2014. In addition to throwing around the word "cool" at least twice, they'll also say it's because the lob is versatile, easy to style, and timeless. Check out our seven favorite ways to wear it.

Controversial.... Or empowering?

These jeans aren't just distressed; they're destroyed — and all the cooler for it. They're also the perfect way to make a basic T-shirt feel totally wild.