More Couples Sleeping in Separate Beds, Survey Finds
One expert explains how splitting up can bring couples together.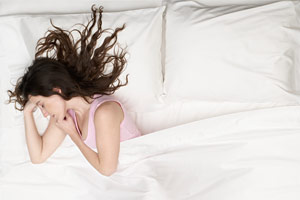 Recent surveys show that more couples are sleeping separately, and while some may think this would create a bar in intimacy, it's actually saving relationships.
In fact, sleeping separately is becoming so common that the National Association of Home Builders expects that 60 percent of custom-built homes will include dual master bedrooms in the year 2015.
A study from the National Sleep Foundation found that 25 percent of couples in the U.S. sleep separately; similarly, a recent British survey found that one in 10 British couples also sleep in separate beds. The Heart Beat talked to relationship expert Dr. Tracey Marks, the author of Master Your Sleep. She advocates separate sleeping and tells us why it's a good idea for some couples.
"With some couples, one partner is severely sleep deprived because the other partner keeps them awake with snoring, restlessness, keeping the room too hot, etc.," Dr. Marks tells us. "If the sleep deprivation makes you cranky, it's going to affect your relationship and you would be better off sleeping in a different bed so you can be in a better mood with your partner."
Conventionally, the notion of sleeping in the same bed is thought to create intimacy between spouses. But as Marks explains in a Huffington Post piece:
"While the media presents images of loving couples sleeping contentedly in each other's arms all night long, for many the reality is much different."

And she's right. A recent survey actually shows that couples fight 167 times a year in the bedroom. The number one cause of those fights is blanket hogging, followed by snoring and being too hot. These are all things that can easily be remedied by declaring your bedroom independence.
"The main problem arises when one partner feels rejected by it," Marks tells us. "Intellectually he may understand why it's a good idea, but he struggles with the idea that his partner doesn't want him.  I think this is a more likely outcome when there are underlying relationship problems and sleeping apart just compounds the problems and makes things feel less intimate."
Her answer for proposing the idea is to make sure that you start with a "clean slate," otherwise sleeping apart could exacerbate whatever problems are happening in the relationship.
But what about sex?
"Sleeping in separate beds can't mean no more sex," Marks says. "Sex is for waking hours, so do it before you go to sleep so that sleep and sex are completely distinct entities."
Sounds easy enough.  But as Marks mentioned, the media does present couples as bed-sharers, so there is a bit of a stigma with splitting up in the bedroom.
"People are going to take your lead in reacting to your situation," Dr. Marks tells us. "That is, if you are conflicted about it and mention it as though you are admitting some deep dark secret, the listener is going to respond that way…But if you are resolved that you are doing what's best for your relationship and both you and partner are fine with it, you can talk about it with confidence and emphasize how much more intimate your relationship is because of it."
And as for talking about it with your children, Marks advises:
"Whatever the reason is for needing to sleep separately, you emphasize the positive—dad and mom like it this way, mom and dad think it's important to get a good night's sleep, mom and dad like to cuddle in the same room while they are awake, but once we fall asleep we're not aware that we're not in the same bed, etc."
What do you think? Do you and your partner sleep in separate beds? Would you try it to keep from fighting in the bedroom?
Photo: Brad Wilson/Getty Images
More Love & Sex from MSN Living:
What He's Really Thinking After 1, 5, and 10 Years of Marriage
What She's Really Thinking After 1, 5, and 10 Years of Marriage
Avoid These Sneaky Love Landslides
beauty tips and style advice
Fashion Weeks may come and go (and with them a focus that shifts from statement coats to statement shoes and statement lips and eyes and back again), but one thing stays the same, no matter the date, year, or season: the editorial need for survival. And with that, you know, ideally looking good, too. Luckily for you, this season the Vogue.com team is divulging its Fashion Week "steals"; must-haves for under $100. From sneakers to a staple cardigan and a classic pair of shades, here are the fall-friendly items that we'll be carrying with us long after the collections end.

Ever since Kate Middleton transformed into Catherine, Duchess of Cambridge, in her Sarah Burton for Alexander McQueen wedding dress, the public has embraced her elegant sense of style and her ability to mix high street with haute couture. So it's only fitting that her maternity looks always follow suit. Early in her pregnancy with Prince George, the Duchess favored muted jewel tones in amber, forest, and tan in mostly flared silhouettes, and as winter gave way to spring, she let loose her penchant for pastels and English designers. A printed Erdem dress showed off her changing physique while a polka-dot Topshop look proved she was having fun with her pregnancy. A staple throughout was the fascinator, which she wore on her last five public appearances. As the world awaits and speculates as to what Kate Middleton will wear—and what gender baby she'll have—the second time around, we've compiled our favorite maternity looks from her first pregnancy.

Arm yourself from the cold with these foolproof tips.

Our top picks for brushes, glosses, concealers and beyond.

Dramatize your lashes with these fab buys.

Models may be pros at walking with authority, wearing clothes well, and looking good doing practically anything—but if there is one thing that exceeds their fashion prowess, it's their command of the world's best beauty products. Backstage each season and on set throughout the year, they road test a mind-boggling assortment of mascaras, foundations, hairsprays, and more. Between having their hair teased within an inch of its life, their makeup applied and reapplied a dozen times in a day, and their skin pushed to its absolute limits, it's safe to say they've figured out which are the most gentle, effective, and transformative formulas on the market. From the world's sexiest (and most healing) lip balm to the original French pharmacy face cream, here are ten beauty products you can find in almost every model's medicine cabinet.

After almost a decade together and six children, power couple Brad Pitt and Angelina Jolie finally made it official on Saturday, August 23 in Chateau Miraval, France. With photos of Angie's gown just released, take a look at hers and other gorgeous wedding dresses of the famous.

One of the best things about nail art, besides the gazillian likes on your #ManicureMonday post, is experimenting with different looks and designs. With these pro secrets, including celeb nail artist Miss Pop's top tricks, you can create salon-worthy nail art at home!

The newest nail polish colors for fall are so awesome, you'll be wishing #ManicureMonday was every day of the week.

Hey, you want to look more handsome than you already are, don't you? Sure, who doesn't—handsome wins you women, better customer service and because we live in a sick, sad, superficial world, even a higher salary. And thanks to this list, now being handsome is easier than ever. There's expert advice, common sense pointers, and even a couple of tips to help you beat bad, ugly, un-handsome habits. But don't waste your time reading this intro, become more handsome right now.

From cut and color to style, six expert hairstylists give you the scoop on back-to-school's freshest looks.

The Call of the Wild trend has gone from animal print to full-out birds of prey lately, as seen on these stars. Pretty fierce, no?