More Couples Sleeping in Separate Beds, Survey Finds
One expert explains how splitting up can bring couples together.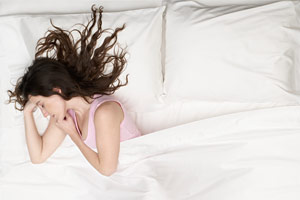 Recent surveys show that more couples are sleeping separately, and while some may think this would create a bar in intimacy, it's actually saving relationships.
In fact, sleeping separately is becoming so common that the National Association of Home Builders expects that 60 percent of custom-built homes will include dual master bedrooms in the year 2015.
A study from the National Sleep Foundation found that 25 percent of couples in the U.S. sleep separately; similarly, a recent British survey found that one in 10 British couples also sleep in separate beds. The Heart Beat talked to relationship expert Dr. Tracey Marks, the author of Master Your Sleep. She advocates separate sleeping and tells us why it's a good idea for some couples.
"With some couples, one partner is severely sleep deprived because the other partner keeps them awake with snoring, restlessness, keeping the room too hot, etc.," Dr. Marks tells us. "If the sleep deprivation makes you cranky, it's going to affect your relationship and you would be better off sleeping in a different bed so you can be in a better mood with your partner."
Conventionally, the notion of sleeping in the same bed is thought to create intimacy between spouses. But as Marks explains in a Huffington Post piece:
"While the media presents images of loving couples sleeping contentedly in each other's arms all night long, for many the reality is much different."

And she's right. A recent survey actually shows that couples fight 167 times a year in the bedroom. The number one cause of those fights is blanket hogging, followed by snoring and being too hot. These are all things that can easily be remedied by declaring your bedroom independence.
"The main problem arises when one partner feels rejected by it," Marks tells us. "Intellectually he may understand why it's a good idea, but he struggles with the idea that his partner doesn't want him.  I think this is a more likely outcome when there are underlying relationship problems and sleeping apart just compounds the problems and makes things feel less intimate."
Her answer for proposing the idea is to make sure that you start with a "clean slate," otherwise sleeping apart could exacerbate whatever problems are happening in the relationship.
But what about sex?
"Sleeping in separate beds can't mean no more sex," Marks says. "Sex is for waking hours, so do it before you go to sleep so that sleep and sex are completely distinct entities."
Sounds easy enough.  But as Marks mentioned, the media does present couples as bed-sharers, so there is a bit of a stigma with splitting up in the bedroom.
"People are going to take your lead in reacting to your situation," Dr. Marks tells us. "That is, if you are conflicted about it and mention it as though you are admitting some deep dark secret, the listener is going to respond that way…But if you are resolved that you are doing what's best for your relationship and both you and partner are fine with it, you can talk about it with confidence and emphasize how much more intimate your relationship is because of it."
And as for talking about it with your children, Marks advises:
"Whatever the reason is for needing to sleep separately, you emphasize the positive—dad and mom like it this way, mom and dad think it's important to get a good night's sleep, mom and dad like to cuddle in the same room while they are awake, but once we fall asleep we're not aware that we're not in the same bed, etc."
What do you think? Do you and your partner sleep in separate beds? Would you try it to keep from fighting in the bedroom?
Photo: Brad Wilson/Getty Images
More Love & Sex from MSN Living:
What He's Really Thinking After 1, 5, and 10 Years of Marriage
What She's Really Thinking After 1, 5, and 10 Years of Marriage
Avoid These Sneaky Love Landslides
beauty tips and style advice
Let's face it: winter's bitter cold left us feeling disillusioned with our wardrobes. So with warmer days ahead, it's time to shop for must-have pieces that'll keep your look fresh for months to come.

Every bride deserves to look flawless on her wedding day. So we say: Indulge a little. Book a facial (or six!) and invest in a great waterproof mascara. With this guide, getting ready for your big day has never been easier.

I can't tell you how many times one ill-timed sneeze ruined all of my hard work with a mascara wand. #allergyproblems.

While we're not averse to shelling out upwards of $30 for an amazing lipstick, many of our standby lip colors cost a whole lot less than that. The drugstore is full of high-quality, long-lasting lipsticks in gorgeous shades that—wait for it!—ring in under $10. Click through above to shop our favorites!

What's the perfect add-on to your beauty look? A hair accessory, of course! Just when you think you've seen it all, every year there seems to be a new "it" hair piece that rules the moment. In the '50s, a dainty bow-tied head scarf was perfectly housewife-chic. In the '60s and '70s, real flower crowns officially became the epitome of boho style—your outfit simply wasn't complete without a daisy topper. Fast-forward to the '90s and you had a bevy of creative hair charms and baubles, including butterfly clips, hair wraps and those infamous bra strap headbands (shudder).

The right blush can warm up your complexion, create the illusion of cheekbones, and even make you look younger. (Yes, really!) Here, the most flattering shades for fair, medium, olive, and dark skin.

Think you can't put a price on looking younger? Well, we did—and it's $25. We challenged dermatologists to find great products that don't cost even one cent over that amount.

You want to dress in a way that's young and cool but that doesn't suggest you're on your way to a One Direction concert. "The trick to looking younger is adding one fashionable piece to a classic outfit," says stylist Cher Coulter. Here's how to nail it.

Hair color is one of the most effective anti-aging tools we have—except when it isn't. Take your dye job too far (or inky, or frosty) and you can add years to your appearance. Three top colorists weigh in on what to avoid.

News flash: Your youth fix doesn't have to come in a bottle—or a needle. Your hairstyle could actually take years off (or add them to) your look. Don't believe us? Check out these celebrities—each one gorgeous, of course, but also looking older due to certain overly perfect hairdos. Anti-aging tip number one? Mess it up a little.

In feel-good fashion news of the day: Victoria Beckham will design a set of mommy-daughter dresses to benefit Born Free Africa, a non-profit with the mission to end mother-to-child HIV transmission by 2015.

See Duchess Catherin's perfect beach look.