More Couples Sleeping in Separate Beds, Survey Finds
One expert explains how splitting up can bring couples together.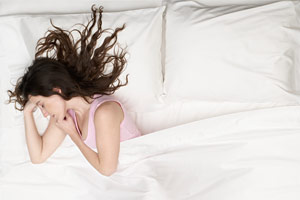 Recent surveys show that more couples are sleeping separately, and while some may think this would create a bar in intimacy, it's actually saving relationships.
In fact, sleeping separately is becoming so common that the National Association of Home Builders expects that 60 percent of custom-built homes will include dual master bedrooms in the year 2015.
A study from the National Sleep Foundation found that 25 percent of couples in the U.S. sleep separately; similarly, a recent British survey found that one in 10 British couples also sleep in separate beds. The Heart Beat talked to relationship expert Dr. Tracey Marks, the author of Master Your Sleep. She advocates separate sleeping and tells us why it's a good idea for some couples.
"With some couples, one partner is severely sleep deprived because the other partner keeps them awake with snoring, restlessness, keeping the room too hot, etc.," Dr. Marks tells us. "If the sleep deprivation makes you cranky, it's going to affect your relationship and you would be better off sleeping in a different bed so you can be in a better mood with your partner."
Conventionally, the notion of sleeping in the same bed is thought to create intimacy between spouses. But as Marks explains in a Huffington Post piece:
"While the media presents images of loving couples sleeping contentedly in each other's arms all night long, for many the reality is much different."

And she's right. A recent survey actually shows that couples fight 167 times a year in the bedroom. The number one cause of those fights is blanket hogging, followed by snoring and being too hot. These are all things that can easily be remedied by declaring your bedroom independence.
"The main problem arises when one partner feels rejected by it," Marks tells us. "Intellectually he may understand why it's a good idea, but he struggles with the idea that his partner doesn't want him.  I think this is a more likely outcome when there are underlying relationship problems and sleeping apart just compounds the problems and makes things feel less intimate."
Her answer for proposing the idea is to make sure that you start with a "clean slate," otherwise sleeping apart could exacerbate whatever problems are happening in the relationship.
But what about sex?
"Sleeping in separate beds can't mean no more sex," Marks says. "Sex is for waking hours, so do it before you go to sleep so that sleep and sex are completely distinct entities."
Sounds easy enough.  But as Marks mentioned, the media does present couples as bed-sharers, so there is a bit of a stigma with splitting up in the bedroom.
"People are going to take your lead in reacting to your situation," Dr. Marks tells us. "That is, if you are conflicted about it and mention it as though you are admitting some deep dark secret, the listener is going to respond that way…But if you are resolved that you are doing what's best for your relationship and both you and partner are fine with it, you can talk about it with confidence and emphasize how much more intimate your relationship is because of it."
And as for talking about it with your children, Marks advises:
"Whatever the reason is for needing to sleep separately, you emphasize the positive—dad and mom like it this way, mom and dad think it's important to get a good night's sleep, mom and dad like to cuddle in the same room while they are awake, but once we fall asleep we're not aware that we're not in the same bed, etc."
What do you think? Do you and your partner sleep in separate beds? Would you try it to keep from fighting in the bedroom?
Photo: Brad Wilson/Getty Images
More Love & Sex from MSN Living:
What He's Really Thinking After 1, 5, and 10 Years of Marriage
What She's Really Thinking After 1, 5, and 10 Years of Marriage
Avoid These Sneaky Love Landslides
beauty tips and style advice
No one will ever accuse Blanchett of being boring. Gorgeous, yes. We can always count on her to wear—and say—something interesting. Here, we trace this risk taker's style evolution over the past 16 years.

Famous brides may have access to elite designers that most of us can only dream of, but we can all delight in the statements they make on their big days. In honor of the pending nuptials of Kim Kardashian and Kanye West, let's take a look at some recent and past famous gorgeous gowns.

Amy Adams has glittered in tiaras and poufy sleeves as a Disney princess, covered up in bonnets and cloaks as a nun, and gone all crop-toppy in The Fighter. Her personal style, on the other hand, has been a lot more straightforward.

Some things never change. And then there's Sandra Bullock's style. It's hard to remember a time when the actress wasn't America's sweetheart—with a closet full of Lanvin and Marchesa to match—but with more than two decades of the red-carpet game under her belt, she's tried just about everything: crop tops, plunging necklines…even frosty lipstick (it was the '90s, after all). Here, our favorite hits and misses.

Before Jennifer Lawrence was "the world's most desirable woman," she was hiding under a pile of tulle skirts, patterned shifts, and unflattering metallics. Here's how the young bombshell learned how to dress like a true A-lister.

A great haircut is just half the battle. What about how to style it each and every morning? Check out these thirteen easy hairstyle ideas from stars like Gabrielle Union, Emma Stone, and Rooney Mara and get ready to rock ponytails, buns, updos and more.

Nothing but the best of what's new for makeup, skin, and hair (nice prices, too).

The preparation is intense; the entrances are unforgettable. Here are the most spectacular, glamorous, inspiring beauty looks in the history of the Academy Awards.

Look your best this Spring with these ever-popular styles

Not everyone will go home with an Oscar at the Academy Awards on March 2, but this year's losing nominees are all guaranteed to walk away with a jammed-packed gift bag.

That was fast! After a brief stint as a brunette, Britney Spears made the switch to a bold red hue late last week.

Applying makeup might be an effective way to cope with embarrassment.