Majority of porn viewers watch at work
Well, here's an embarrassing way to get fired.
There's a time and place for everything, and pornography enthusiasts may need to be reminded of this adage.
According to Dr. Christopher Ahlers, a sex therapist from Berlin, a staggering amount of people views porn from their work computers.
"Modern viewing of porn is no longer something in which strange individuals are engaged in quiet rooms in video booths," Ahlers said.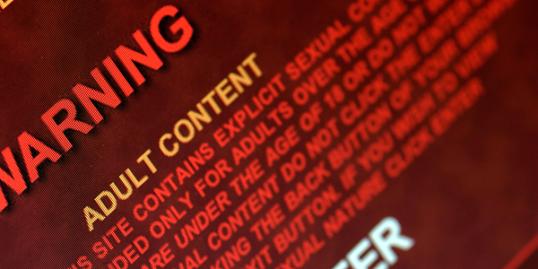 More on MSN Living: 10 men in your life you may be overlooking
Apparently, titillating videos are now enjoyed in cubicles around the world. At an Austrian conference on sexual behaviors, Ahlers claimed that of the 60 million people who log on daily to a free pornography website, about two-thirds of them are logging on from an office computer.
Ahler's claim isn't out of left field. The Washington Times reported that in 2009, an investigation at the National Science Foundation found that a senior executive spent a total of 331 days checking out porn on his government-issued computer. What's more, Bloomberg revealed that a memo written by the Pentagon ordered employees to stop "engaging in inappropriate content at work." The memo added that employees were "accessing Web sites and transmitting messages containing pornographic or sexually explicit images." I'm all for online surf breaks, but we may be getting just a little too comfortable with our at-work Internet habits.
More on MSN Living: 9 myths about men
According to Ahlers, while the first wave of the public's porn viewing seems to happen during office hours, the second daily wave occurs after dark.
"The second peak is from viewers at home after midnight," Ahlers explained. Definitely a more suitable venue.
Other studies have confirmed that excessive pornography habits do cause relationship issues. And with Ahler's recent claim, porn may be causing problems for people in the workplace as well. A 2011 ruling by the U.S. Court of Appeals says employees can legally be fired for looking at pornography on an office computer.
I suppose the phrase "NSFW" exists for a reason.
Photo: Martyn Vickery/Alamy
Bing: Find out which female sports star is getting divorced.
More Sex & Love on MSN Living:
The Essence most eligible bachelors
15 (guy approved!) ways to have the best first date ever
50 signs he's not that into you
20 'annoying' girl things he secretly loves about you
beauty tips and style advice
Selena Gomez with short hair? Behold the evidence at the KISS FM Jingle Ball last night.

Having a sister means stealing each other's clothes and fighting over the bathroom mirror. It also means enjoying two wardrobes and sharing new beauty-product tips and tricks. Here, our five favorite sets of celebrity sisters and the beauty lessons we've learned from them.

Most regrettable trends come with warning signs: Do your teeth set off metal detectors? Are your lashes prone to tangling? Are your shoes ugly and uncomfortable? Here is this year's crop of bad fads.

Restoring botched brows can be a major pain in the...arch.

In order to cope with the intense feelings of jealousy I experienced when seeing Jennifer Garner's flawless hairstyle last week, I decided to contact the stylist responsible for the look, Kylee Heath, and find out what exactly she did to produce these glorious results.

Apparently, every celebrity in the world decided to dye her hair over the last few days—or at least Duchess Catherine, Sienna Miller, and Pamela Anderson did.

It was the chicest family night out ever in London yesterday, as Victoria Beckham hit the red carpet, along with her ADORABLE sons, Brooklyn, little fashionisto Romeo, and Cruz, to support the premiere of the soccer football documentary Class of '92, featuring superstar dad David. And she looked perfect as always—in Victoria Beckham, of course.

There will always be a special place in our hearts for Pez—the completely absurd and impractical oblong candy that children are somehow meant to be patient enough to dispense, one by one, from a creaky plastic spring-loaded drawer contraption—and a newly minted shoe designer Camilla Elphick, a Cordwainers College graduate, has tapped into our oral fixation.

When it comes to her latest hair change, it's pretty clear that Sienna Miller was thinking pink!

She's followed by Michael Kors and Ralph Lauren.

Tis the season for gift-giving, mistletoe, snowmen – and ugly holiday sweaters. Whether you're headed to an ugly sweater party or just want to stay cozy in a festive, patterned pullover, Pinterest is chock full of joyful style inspiration this holiday season.

Be it from stress, lack of sleep or a rushed morning, we've all had those days where a glimpse in the mirror causes a minor shock. All of a sudden you find yourself faced with an unforseen beauty emergency, like a surprise zit or severe undereye circles. Luckily, these are hiccups can be fixed—and fast. Above, Nordstrom Beauty Stylist Enisa Sabovi shares her best tips on how to remedy any surprise beauty situation like a pro.