Majority of porn viewers watch at work
Well, here's an embarrassing way to get fired.
There's a time and place for everything, and pornography enthusiasts may need to be reminded of this adage.
According to Dr. Christopher Ahlers, a sex therapist from Berlin, a staggering amount of people views porn from their work computers.
"Modern viewing of porn is no longer something in which strange individuals are engaged in quiet rooms in video booths," Ahlers said.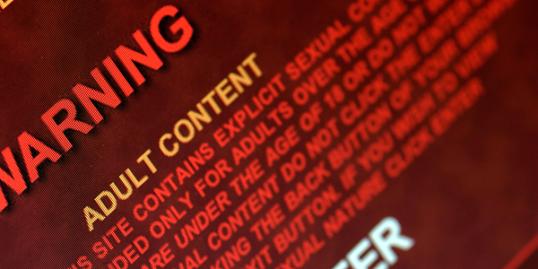 More on MSN Living: 10 men in your life you may be overlooking
Apparently, titillating videos are now enjoyed in cubicles around the world. At an Austrian conference on sexual behaviors, Ahlers claimed that of the 60 million people who log on daily to a free pornography website, about two-thirds of them are logging on from an office computer.
Ahler's claim isn't out of left field. The Washington Times reported that in 2009, an investigation at the National Science Foundation found that a senior executive spent a total of 331 days checking out porn on his government-issued computer. What's more, Bloomberg revealed that a memo written by the Pentagon ordered employees to stop "engaging in inappropriate content at work." The memo added that employees were "accessing Web sites and transmitting messages containing pornographic or sexually explicit images." I'm all for online surf breaks, but we may be getting just a little too comfortable with our at-work Internet habits.
More on MSN Living: 9 myths about men
According to Ahlers, while the first wave of the public's porn viewing seems to happen during office hours, the second daily wave occurs after dark.
"The second peak is from viewers at home after midnight," Ahlers explained. Definitely a more suitable venue.
Other studies have confirmed that excessive pornography habits do cause relationship issues. And with Ahler's recent claim, porn may be causing problems for people in the workplace as well. A 2011 ruling by the U.S. Court of Appeals says employees can legally be fired for looking at pornography on an office computer.
I suppose the phrase "NSFW" exists for a reason.
Photo: Martyn Vickery/Alamy
Bing: Find out which female sports star is getting divorced.
More Sex & Love on MSN Living:
The Essence most eligible bachelors
15 (guy approved!) ways to have the best first date ever
50 signs he's not that into you
20 'annoying' girl things he secretly loves about you
beauty tips and style advice
Even if everyone at school will be rocking their most festive shades of emerald on March 17, you don't want to end up looking like a Leprechaun in head-to-toe green.

How to dress your baby bump.

Things we learned backstage at the fall 2014 runway shows: Bold brows aren't going anywhere, bright green can actually look subtle, and glitter is amazing almost anywhere (within reason). Here, our favorite makeup looks of the season so far.

The fall runways showcased a broad range of hairstyles—braids, buns, ponytails, and even wigs. But there were unifying themes, too: A pervasive sense of ease; experimentation with texture; and an apparent belief that anything goes.

It's not always about the ladies of style. Check out these fashion icons.

Do you hear that? It's the sound of hundreds of cover bands beginning to tune their guitars and trying to remember the lyrics to "Shout." Ladies and gentlemen (but mostly ladies), it's nearly wedding season.

So, it hasn't snowed in nearly a week—does that mean it's summer yet? Well, almost. But alas, just because you're confident setting aside your trusty Sorel boots unfortunately doesn't mean you get to hop right into an itsy-bitsy-teenie-weenie yellow polka dot bikini just yet. Unless, of course, you're headed somewhere tropical in the next few weeks (lucky you!) and really do need to stock up on sexy swimsuits right now.

Getting away from it all for a bit? Your vacation wardrobe should be just like your plans: laid-back but totally fabulous. Take a cue from these celebrities, whose low-effort, high-style outfit ideas are officially on our must-copy list.

These fun and flattering vintage-style suits blend the best of the old with the best of the new.

Although it's not officially spring yet—the best time to start shopping for warm-weather clothes is now, while stores still have a good selection. Waiting until it's actually balmy enough to go bare-legged and short-sleeved leaves far too many factors to chance: what if your size sells out? Or the wrong color is left? And let's not forget about gross makeup stains from 10 other people trying it on!

From patriotic bikinis to retro two pieces, these celebs' stylish swimsuits will have you counting down to beach season! Check out your favorite stars rocking the hottest swim trends!

Neutral tones and beautiful metallics were a huge trend on the Oscars red carpet. And we saw so many dresses that would be exceptionally beautiful walking down the aisle. Here are our favorites!