The hottest manicure styles of 2013
10 nail trends to try this year.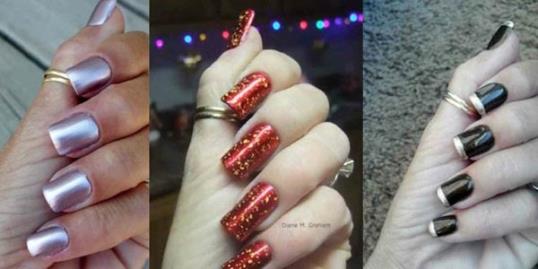 A new year means 365 more days of fashion and beauty trends. And as we look forward to spring, we're currently pondering what kind of color to try on our digits. But before we experiment, we wanted to scope out the hottest new trends in nails.

According to Katie Saxton, founder of CustomNailSolutions,​ there are 10 new fun and fab trends that will be all the rage this year. Here's ten trends to try on your nails in 2013.

More from Living: Princess Diana and Kate Middleton's similar styles

1. Two Tone French Manicure: 
This nail style exudes sophistication and classiness. To do this design, paint your nails any color and let dry, then add a French tip with a contrasting polish.
 


2. Sideways French Mani: 
Painting your nails with a coat of polish and adding a different-colored vertical stripe on either the right or left side of each nail will be huge in 2013. This fashionable and unique nail style will make you the talk of the town in all occasions!
 


3. One-Of-A-Kind French Tips: 
Changing out the traditional white tips for animal print accents, colored tips, funky wrapped tips, polka-dot tips, bejeweled tips, etc. will be huge in the year 2013. This is a fantastic way to express yourself and show off your unique personality!
 


4. Colored Metallic Nails: 
Jazzing up your nails with metallic polishes in colors like blue, red, and purple will be huge in the year 2013. This nail style is sassy and beautiful!
 


5. Vibrant Orange: 
Painting your nails in shades of orange like tangerine and orange-red will be a major trend of the year 2013. Wear polish in vibrant orange hues to ensure that your nails turn heads wherever you go!  
 


6. Holographic Nails:
Shimmery polishes with a 3D effect will be the go-to nail design in 2013. This gorgeous look is perfect for a night out at your fave downtown hotspot!
 


7. Real Gold Top Coats: 
Adding a real gold-infused topcoat to a colorful manicure will ensure that your nails are ready for the paparazzi wherever you go! Although more expensive than a typical clear topcoat, the gold flake topcoat is so glitzy and glamorous that it is well worth it!

8. Half Moon Manicure:
This classy manicure is perfect for a high fashion event or a fancy cocktail party! To do this style, paint your nails a certain color, let dry, and then cover the bottom halves of each nail with a hole reinforcer or a half-circle of tape, making certain that a semi-circle of paper/tape protrudes from the bottom of each nail. Add a coat of a different-colored polish over the paper/tape covering and the rest of the nail, and then take off the paper/tape covering and let dry. Voilà! You have a beautiful half moon mani to show off to the world!
 


9. Edgy Accents: 
Manicures featuring "bloody" tips, jagged tips, suspicious shadowy tips, and mysterious dark and dripping tips will be huge in the year 2013. Adding a chancy and dark theme to your nails shows your daring and adventurous side!
 


10. Pale Nails: 
Adding a coat of pale pink or neutral polish will be a popular look in the year 2013. It is a subtle and simple way to keep your nails primped and pretty!  

In addition to these top nail trends of the upcoming year, below is also info on the most innovative and talked-about nail product of the New Year: Custom Nail Solutions. It will keep your nails in tip-top shape for the year 2013 and beyond!

More from Living: 50 new hair ideas for the New Year

Katie Saxton is the founder of CustomNailSolutions a renowned blogger and regular contributor to TV, radio, print  and online media, on topics of nail beauty, nail care and trends. Custom Nail Solutions is a revolutionary artificial nail product offering custom nails that uniquely fit only your nail beds, are reusable, chemical-free and are guaranteed to last a lifetime. You can have lovely, natural looking salon-style nails on your own schedule and in the comfort of your own home.
Photo: Courtesy Custom Nail Solutions 

Bing: Fashion and beauty trends to try in 2013

More from Simply Chic:
The 'Kim effect' is more powerful than the 'Kate effect'
Models covered in manure for photo shoot
Has the cat trend officially jumped the shark?
fashion: trends & must-haves for your wardrobe
Ready to refresh your hair and makeup for spring? Well, look no further for your latest batch of inspiration. These ladies are bringing the beauty brilliance with megawatt lipstick shades, sleek haircuts, and must-try hair colors. Get ready to play copycat.

Long, layered, medium or wavy – we're sharing our favorite hairstyles of 2013 with a new 'do each day. Stuck in a hair rut? Check back daily for snappy new looks that are sure to give your locks some beauty inspiration.

Step into spring with style in June Ambrose's new shoe line for HSN.

Revamp your corporate look with graphic prints and bold color.

If you have only five makeup tools in your kit, make sure these are them. They do much more than just look cute on your vanity!

Think all it can do is shellac everything down, helmet-head style? So wrong! A can of whatever's in your cabinet is your secret beauty weapon. Try it like this.

You may not get wrinkles on your hair, but it ages all the same. Grays, dullness, thinning strands, and frizz are all (unfortunately) part of the hair's aging process, which starts happening in your 30s. The good news is that you don't need Botox to fix these problems. Here are six tips for hair that's shiny, bouncy, healthy—and, yes, younger looking.

Our fashion-savvy FLOTUS shows us she is truly a master at mixing high- and low-end designs.

Get ready for summer with these cute and easy to DIY nail art designs.

Brides, it's your big day and you want to look special. Please, whatever you do, don't wear one of these wedding dresses. These are truly the worst.

Even if you're the best friend of all time, no bridesmaid should ever have to wear these worst-ever bridesmaid dresses. Lace, ruffles and satin overload!

As your face changes, so should your hair—the right cut can shave years from your appearance. And while there's no such thing as an age-appropriate length, there are age-appropriate styles. Here, the 30 most gorgeous hairstyles for every age, as seen on Mila Kunis, Jessica Biel, Jennifer Aniston, Diane Keaton, and more.