The hottest manicure styles of 2013
10 nail trends to try this year.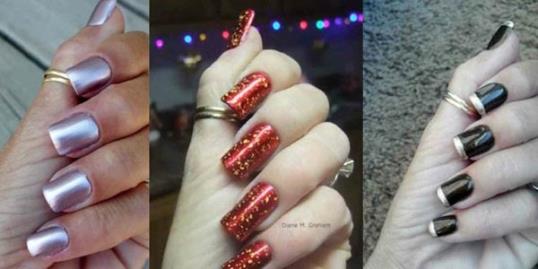 A new year means 365 more days of fashion and beauty trends. And as we look forward to spring, we're currently pondering what kind of color to try on our digits. But before we experiment, we wanted to scope out the hottest new trends in nails.

According to Katie Saxton, founder of CustomNailSolutions,​ there are 10 new fun and fab trends that will be all the rage this year. Here's ten trends to try on your nails in 2013.

More from Living: Princess Diana and Kate Middleton's similar styles

1. Two Tone French Manicure: 
This nail style exudes sophistication and classiness. To do this design, paint your nails any color and let dry, then add a French tip with a contrasting polish.
 


2. Sideways French Mani: 
Painting your nails with a coat of polish and adding a different-colored vertical stripe on either the right or left side of each nail will be huge in 2013. This fashionable and unique nail style will make you the talk of the town in all occasions!
 


3. One-Of-A-Kind French Tips: 
Changing out the traditional white tips for animal print accents, colored tips, funky wrapped tips, polka-dot tips, bejeweled tips, etc. will be huge in the year 2013. This is a fantastic way to express yourself and show off your unique personality!
 


4. Colored Metallic Nails: 
Jazzing up your nails with metallic polishes in colors like blue, red, and purple will be huge in the year 2013. This nail style is sassy and beautiful!
 


5. Vibrant Orange: 
Painting your nails in shades of orange like tangerine and orange-red will be a major trend of the year 2013. Wear polish in vibrant orange hues to ensure that your nails turn heads wherever you go!  
 


6. Holographic Nails:
Shimmery polishes with a 3D effect will be the go-to nail design in 2013. This gorgeous look is perfect for a night out at your fave downtown hotspot!
 


7. Real Gold Top Coats: 
Adding a real gold-infused topcoat to a colorful manicure will ensure that your nails are ready for the paparazzi wherever you go! Although more expensive than a typical clear topcoat, the gold flake topcoat is so glitzy and glamorous that it is well worth it!

8. Half Moon Manicure:
This classy manicure is perfect for a high fashion event or a fancy cocktail party! To do this style, paint your nails a certain color, let dry, and then cover the bottom halves of each nail with a hole reinforcer or a half-circle of tape, making certain that a semi-circle of paper/tape protrudes from the bottom of each nail. Add a coat of a different-colored polish over the paper/tape covering and the rest of the nail, and then take off the paper/tape covering and let dry. Voilà! You have a beautiful half moon mani to show off to the world!
 


9. Edgy Accents: 
Manicures featuring "bloody" tips, jagged tips, suspicious shadowy tips, and mysterious dark and dripping tips will be huge in the year 2013. Adding a chancy and dark theme to your nails shows your daring and adventurous side!
 


10. Pale Nails: 
Adding a coat of pale pink or neutral polish will be a popular look in the year 2013. It is a subtle and simple way to keep your nails primped and pretty!  

In addition to these top nail trends of the upcoming year, below is also info on the most innovative and talked-about nail product of the New Year: Custom Nail Solutions. It will keep your nails in tip-top shape for the year 2013 and beyond!

More from Living: 50 new hair ideas for the New Year

Katie Saxton is the founder of CustomNailSolutions a renowned blogger and regular contributor to TV, radio, print  and online media, on topics of nail beauty, nail care and trends. Custom Nail Solutions is a revolutionary artificial nail product offering custom nails that uniquely fit only your nail beds, are reusable, chemical-free and are guaranteed to last a lifetime. You can have lovely, natural looking salon-style nails on your own schedule and in the comfort of your own home.
Photo: Courtesy Custom Nail Solutions 

Bing: Fashion and beauty trends to try in 2013

More from Simply Chic:
The 'Kim effect' is more powerful than the 'Kate effect'
Models covered in manure for photo shoot
Has the cat trend officially jumped the shark?
beauty tips and style advice
"Unfortunately like most magazines, media and images you see on here, the girls have been retouched to look, taller, thinner ... all to see a product."

The redeeming factor of summer, sadly, not being endless? New seasons require a different wardrobe, and there's no time like the present to start your fall shopping. With autumn creeping up, I already know the boots and sweaters I'll be heaving out of the stuffed containers under my bed that I think of fondly as my second closet…but there's always room for fresh blood. I quizzed Shopbop's fashion director, Elle Strauss, for help with getting the best strategy in place. Herewith, the 10 pieces she suggests picking up now (plus chic ideas for how to start incorporating them into your current closet).

These jeans aren't just distressed, they're destroyed, and all the cooler for it — the perfect way to make a basic T-shirt feel totally badass.

These products are so great they've attained cult status among beauty insiders—yet you can find them just about anywhere without blowing your budget.

Those awesome back-to-school outfits are begging for some killer kicks! Strut down the hallway in fall's hottest shoe trends.

These stars don't sleep in a hyperbaric chamber (that we know of), yet they seem to look better with each passing year. That's because somewhere along the way, they discovered a few signature makeup tricks that make all the difference. Steal some of their game-changing moves.

Your closet update just got way easier. Sneakers, heels, boots, flats—we've got it all covered.

Dressing right gets tricky when summer turns to fall. It's too warm for tweed, but shorts just don't feel right anymore. Fortunately, Esquire's got it all figured out for you.

When you're flying in a metal tube at 30,000 feet, comfort trumps style. To help you avoid an in-flight fashion faux pas, avoid wearing the 5 items below.

In the pursuit of silky, swingy, frizz-free hair, there are a dizzying number of tempting in-salon services to choose from. We grilled chemists and stylists on what works (and what's safe). Here are the eight things you—and your hair—need to know before you commit.

Beauty products have a lot of power. Applied expertly, they can make you look vibrant, gorgeous and at least five years younger. If you aren't using them correctly, though, the same products can add a few years to your gorgeous visage. But before mothers of the bride go into panic mode, read on. We asked makeup artist Brigitte Reiss-Andersen, who's worked with the likes of Meryl Streep, Michelle Pfeiffer and Rachel Weisz, to divulge common beauty mistakes that you can nip in the bud before your daughter's wedding.

Some people apply makeup at a vanity that's crying out to be on Pinterest, and others rummage through a drawer overflowing with their 103 absolute must-have, use-daily products—but everybody can benefit from a few clever storage tricks. These are the smartest ways we've ever heard to keep your products and tools organized, accessible, and most of all, beautiful.