The hottest manicure styles of 2013
10 nail trends to try this year.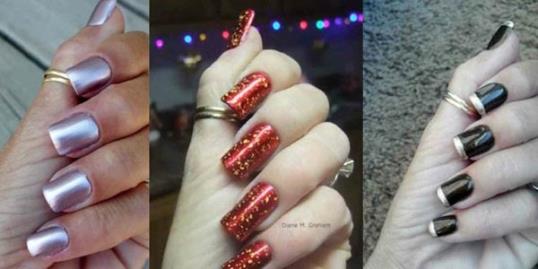 A new year means 365 more days of fashion and beauty trends. And as we look forward to spring, we're currently pondering what kind of color to try on our digits. But before we experiment, we wanted to scope out the hottest new trends in nails.

According to Katie Saxton, founder of CustomNailSolutions,​ there are 10 new fun and fab trends that will be all the rage this year. Here's ten trends to try on your nails in 2013.

More from Living: Princess Diana and Kate Middleton's similar styles

1. Two Tone French Manicure: 
This nail style exudes sophistication and classiness. To do this design, paint your nails any color and let dry, then add a French tip with a contrasting polish.
 


2. Sideways French Mani: 
Painting your nails with a coat of polish and adding a different-colored vertical stripe on either the right or left side of each nail will be huge in 2013. This fashionable and unique nail style will make you the talk of the town in all occasions!
 


3. One-Of-A-Kind French Tips: 
Changing out the traditional white tips for animal print accents, colored tips, funky wrapped tips, polka-dot tips, bejeweled tips, etc. will be huge in the year 2013. This is a fantastic way to express yourself and show off your unique personality!
 


4. Colored Metallic Nails: 
Jazzing up your nails with metallic polishes in colors like blue, red, and purple will be huge in the year 2013. This nail style is sassy and beautiful!
 


5. Vibrant Orange: 
Painting your nails in shades of orange like tangerine and orange-red will be a major trend of the year 2013. Wear polish in vibrant orange hues to ensure that your nails turn heads wherever you go!  
 


6. Holographic Nails:
Shimmery polishes with a 3D effect will be the go-to nail design in 2013. This gorgeous look is perfect for a night out at your fave downtown hotspot!
 


7. Real Gold Top Coats: 
Adding a real gold-infused topcoat to a colorful manicure will ensure that your nails are ready for the paparazzi wherever you go! Although more expensive than a typical clear topcoat, the gold flake topcoat is so glitzy and glamorous that it is well worth it!

8. Half Moon Manicure:
This classy manicure is perfect for a high fashion event or a fancy cocktail party! To do this style, paint your nails a certain color, let dry, and then cover the bottom halves of each nail with a hole reinforcer or a half-circle of tape, making certain that a semi-circle of paper/tape protrudes from the bottom of each nail. Add a coat of a different-colored polish over the paper/tape covering and the rest of the nail, and then take off the paper/tape covering and let dry. Voilà! You have a beautiful half moon mani to show off to the world!
 


9. Edgy Accents: 
Manicures featuring "bloody" tips, jagged tips, suspicious shadowy tips, and mysterious dark and dripping tips will be huge in the year 2013. Adding a chancy and dark theme to your nails shows your daring and adventurous side!
 


10. Pale Nails: 
Adding a coat of pale pink or neutral polish will be a popular look in the year 2013. It is a subtle and simple way to keep your nails primped and pretty!  

In addition to these top nail trends of the upcoming year, below is also info on the most innovative and talked-about nail product of the New Year: Custom Nail Solutions. It will keep your nails in tip-top shape for the year 2013 and beyond!

More from Living: 50 new hair ideas for the New Year

Katie Saxton is the founder of CustomNailSolutions a renowned blogger and regular contributor to TV, radio, print  and online media, on topics of nail beauty, nail care and trends. Custom Nail Solutions is a revolutionary artificial nail product offering custom nails that uniquely fit only your nail beds, are reusable, chemical-free and are guaranteed to last a lifetime. You can have lovely, natural looking salon-style nails on your own schedule and in the comfort of your own home.
Photo: Courtesy Custom Nail Solutions 

Bing: Fashion and beauty trends to try in 2013

More from Simply Chic:
The 'Kim effect' is more powerful than the 'Kate effect'
Models covered in manure for photo shoot
Has the cat trend officially jumped the shark?
beauty tips and style advice
Sunglasses: it may seem counterintuitive to invest in a wintertime accessory traditionally viewed as a sunny, warm-weather item. But spring is on the way and we're also currently being exposed to crazy amounts of UV rays—and then, of course, there's the reflective snow situation.

Some people look younger than they are, some look older. Even those with easy access to BOTOX and personal trainers. Can you guess the age of these celebrities?

Did anyone else hear wedding bells on the Oscars red carpet last night?

Then after the show, er, Oscars, it's the after party. Then after the party, it's the... Best Dressed List, of course. Nikki already picked her tops for the Academy Awards red carpet (did you vote yet?), so now it's time to see what the stars wore to the post-celebrations.

As I continue my personal campaign to swap out E!'s mani cam with a back-of-updo cam (and as a service to all the hardworking hairstylists who spent so much time creating beautiful hair looks for the 2014 Oscars), I'd like to point out that we miss a lot of gorgeous detail when we don't get the back view of a star's hair.

The bold new trend on the Oscars red carpet.

Trying new hairstyles is fun (have you picked up Allure Hair: The Ultimate How-To Hair Guide yet?).

When someone says "Julia Roberts," you think teeth. You think hair. But while you may not immediately think fashion, she has had a pretty consistent—and consistently pretty—style since her Mystic Pizza days: clean, classic, menswear-inspired looks that let her natural beauty—and rightly famous smile—take center stage. Here's how she has elevated that look over the years.

Lupita Nyong'o shows off the power of the pixie on the Oscars red carpet.

Walk a mile in a pair of SJP's stilettos? Well yes, we'd love to; thank you for asking.

Anti-aging doesn't have to take over your life. Here, expert tweaks to slow the clock.

We're at the tail end of a jam-packed awards season, with the grand finale—the Oscars, duh—just a few days away. We can't wait to see what our favorite nominees wear—we already know Jennifer Lawrence will step out in a breathtaking Dior, while we hope to see Lupita Nyong'o pick another brilliantly bold monochromatic gown. As for which designer she'll select—Gucci? Ralph Lauren?—that's anyone's guess.