Latest trend for guys: Man tights
'Meggings' are 'taking the world by storm.'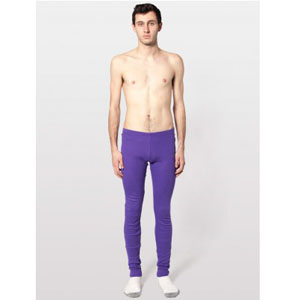 Guard your leggings, ladies. Because men are hopping on board the trend of wearing tight, stretchy pants, too. So if they disappear from your closet this winter, you know where they might have gone.

According to an article written by the Business Insider, men's leggings are no longer just reserved for ballet dancers and male models —they are now common among all trendsetting gents. 

More from Living: 7 things men will never get about beauty

"'Megging,' as the male legging is known, is now all the rage in sartorial circles," quotes the Insider. "Celebrities such as Justin Bieber, Russell Brand and Lenny Kravitz have all been spotted wearing leggings, while fashion stores Uniqlo, Barneys and Nordstrom are selling tights for men."

Apparently, the megging is creeping its way into fashionable men's closets everywhere, serving as a replacement for the popular skinny jean trend that has become more common among males in the past few years.

More from Living: The best mustaches of all time

"Male tights are so much more comfortable than skinny jeans," megging-wearer Mark Dorosz told the Insider. "I've always had good legs and it's nice to show them off all year round. There are so many people wearing exotic clothes in New York that nobody cares about a man wearing leggings if it works for him."

And so far, Dorosz says the feedback has been nothing but positive. "Perhaps people will be laughing around this in 12 months' time, but for now they come up to me and say, 'You look awesome.'"
Tell us on Facebook: Would you encourage your man to wear meggings?

Bing: Trending fashion for men


Photo: Courtesy American Apparel
More from Simply Chic:

72-year-old grandfather models young girls' clothing
Store mannequins spy on shoppers
What your shoes say about you
beauty tips and style advice
We put a slew of new formulas to the test, and these are the ones making us look younger and fresher.

From the coolest chestnut to the deepest mahogany, these stars show how to unleash your inner brunette bombshell.

In a girl's life, there are a select few occasions when it's considered completely appropriate to go all out with a truly spectacular dress. Her wedding day comes to mind, of course, and maybe her Sweet 16. Prom night, however, is certainly at the tip-top of that short list of special events.

When I was a teenager, I wouldn't be caught dead without my lip gloss, blush, eyeshadow and eyeliner at all times. Now, even though I'm older, I'll admit I still don't feel 100 percent confident leaving the house without at least some of my "face" on—plus, my obsession with beauty products doesn't encourage me to go makeup-free very often.

Good magazine covers grab your attention and make you want to look inside. Controversial covers and photo shoots, like the 14 that follow, often become a part of history.

For those of you on official Kate Middleton Outfit Watch, here's the latest.