Latest trend for guys: Man tights
'Meggings' are 'taking the world by storm.'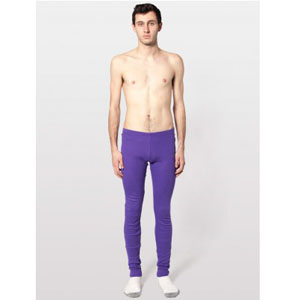 Guard your leggings, ladies. Because men are hopping on board the trend of wearing tight, stretchy pants, too. So if they disappear from your closet this winter, you know where they might have gone.

According to an article written by the Business Insider, men's leggings are no longer just reserved for ballet dancers and male models —they are now common among all trendsetting gents. 

More from Living: 7 things men will never get about beauty

"'Megging,' as the male legging is known, is now all the rage in sartorial circles," quotes the Insider. "Celebrities such as Justin Bieber, Russell Brand and Lenny Kravitz have all been spotted wearing leggings, while fashion stores Uniqlo, Barneys and Nordstrom are selling tights for men."

Apparently, the megging is creeping its way into fashionable men's closets everywhere, serving as a replacement for the popular skinny jean trend that has become more common among males in the past few years.

More from Living: The best mustaches of all time

"Male tights are so much more comfortable than skinny jeans," megging-wearer Mark Dorosz told the Insider. "I've always had good legs and it's nice to show them off all year round. There are so many people wearing exotic clothes in New York that nobody cares about a man wearing leggings if it works for him."

And so far, Dorosz says the feedback has been nothing but positive. "Perhaps people will be laughing around this in 12 months' time, but for now they come up to me and say, 'You look awesome.'"
Tell us on Facebook: Would you encourage your man to wear meggings?

Bing: Trending fashion for men


Photo: Courtesy American Apparel
More from Simply Chic:

72-year-old grandfather models young girls' clothing
Store mannequins spy on shoppers
What your shoes say about you
beauty tips and style advice
You thought you were so cool.

Kate Middleton likes outlet malls too.

Smart fall shopping can't be boiled down to some set-in-stone lineup of items. It's much more about how you play with what you've got rather than just racking up a bunch of new stuff; sometimes your bank account's balance simply won't allow for a full-on wardrobe refresh. That's when it's important to know what's worth it—and what isn't.

Autumn's just a few short months away, and we've got sweaters, coats and booties on our minds! Below are the first things we'll be buying (or have already bought!) to kick off next season.

Beauty editors are routinely asked to name three essentials they couldn't live without on a desert island. So here's our list: water, matches, protein bars. As much as we depend on beauty products, they're not exactly essential to survival. These luxurious fragrances, nail polishes, and tools are no exception. They're the anti-basics—hardly your medicine-cabinet staples. They won't shrink pores or obliterate frizz, but they will make you weak with desire. And that's a refreshing change of pace. Beyond just looking and feeling great, each of these cool new things appeals to our sense of style. How's that for an SOS?

You could breeze through the rest of summer with the same sheer balm and nude gloss you always wear. Or you could throw caution to the wind and try one of these superfun, superbright lipstick shades we saw on the spring runways. True red, orchid purple, neon orange—these lipsticks are as bold as they are beautiful.