Latest trend for guys: Man tights
'Meggings' are 'taking the world by storm.'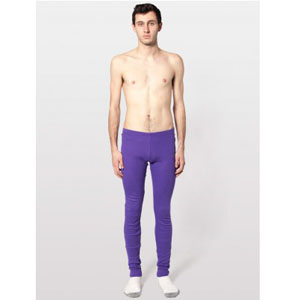 Guard your leggings, ladies. Because men are hopping on board the trend of wearing tight, stretchy pants, too. So if they disappear from your closet this winter, you know where they might have gone.

According to an article written by the Business Insider, men's leggings are no longer just reserved for ballet dancers and male models —they are now common among all trendsetting gents. 

More from Living: 7 things men will never get about beauty

"'Megging,' as the male legging is known, is now all the rage in sartorial circles," quotes the Insider. "Celebrities such as Justin Bieber, Russell Brand and Lenny Kravitz have all been spotted wearing leggings, while fashion stores Uniqlo, Barneys and Nordstrom are selling tights for men."

Apparently, the megging is creeping its way into fashionable men's closets everywhere, serving as a replacement for the popular skinny jean trend that has become more common among males in the past few years.

More from Living: The best mustaches of all time

"Male tights are so much more comfortable than skinny jeans," megging-wearer Mark Dorosz told the Insider. "I've always had good legs and it's nice to show them off all year round. There are so many people wearing exotic clothes in New York that nobody cares about a man wearing leggings if it works for him."

And so far, Dorosz says the feedback has been nothing but positive. "Perhaps people will be laughing around this in 12 months' time, but for now they come up to me and say, 'You look awesome.'"
Tell us on Facebook: Would you encourage your man to wear meggings?

Bing: Trending fashion for men


Photo: Courtesy American Apparel
More from Simply Chic:

72-year-old grandfather models young girls' clothing
Store mannequins spy on shoppers
What your shoes say about you
beauty tips and style advice
OK, you're pushing 30 . . . don't panic! Even if you were a complete antiaging recluse in your 20s, there is still time to enter the next decade with endless grace and fewer wrinkles. And who better to steal skin care secrets from than the actresses who remain looking forever young? These Hollywood starlets may be in their 30s, but there's nary a dark spot in sight. Their beauty favorites range from drugstore classics to cult luxury elixirs and even a DIY recipe. With this shopping list under your belt, you can celebrate your 30s without a worry line in sight.

Instead of just slapping on five creams—then washing your face because, seriously, that stuff is heavy—follow the lead of the pros.

Forget about simple straightening--the flat iron is so much more versatile than that.

Assuming that you've had tons of practice doing your own makeup on a daily basis, attempting to do it yourself on your wedding day actually isn't that much more difficult. After all, no one knows your face better than you do, and chances are you have many of the tools and products that you need for the big day right at your fingertips—you just need to know how to use them.

There's a particular episode of 30 Rock ("Black Light Attack!", for all the fellow 30 Rock historians out there) in which Jane Krakowski's youth-obsessed character Jenna goes on a Gossip Girl audition. She thinks it's for the role of an Upper East Side high schooler, but as she learns in the middle of the tryout, it's for that of her mother instead. While Tina Fey's brilliant Liz Lemon later tries to talk Jenna off the cliff, she says, "You can try to fight getting older. You can be like Madonna, and cling to youth with your Gollum arms. Or you can be like Meryl Streep and embrace your age with elegance."

Save money and look great.