Latest trend for guys: Man tights
'Meggings' are 'taking the world by storm.'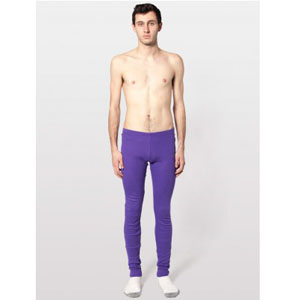 Guard your leggings, ladies. Because men are hopping on board the trend of wearing tight, stretchy pants, too. So if they disappear from your closet this winter, you know where they might have gone.

According to an article written by the Business Insider, men's leggings are no longer just reserved for ballet dancers and male models —they are now common among all trendsetting gents. 

More from Living: 7 things men will never get about beauty

"'Megging,' as the male legging is known, is now all the rage in sartorial circles," quotes the Insider. "Celebrities such as Justin Bieber, Russell Brand and Lenny Kravitz have all been spotted wearing leggings, while fashion stores Uniqlo, Barneys and Nordstrom are selling tights for men."

Apparently, the megging is creeping its way into fashionable men's closets everywhere, serving as a replacement for the popular skinny jean trend that has become more common among males in the past few years.

More from Living: The best mustaches of all time

"Male tights are so much more comfortable than skinny jeans," megging-wearer Mark Dorosz told the Insider. "I've always had good legs and it's nice to show them off all year round. There are so many people wearing exotic clothes in New York that nobody cares about a man wearing leggings if it works for him."

And so far, Dorosz says the feedback has been nothing but positive. "Perhaps people will be laughing around this in 12 months' time, but for now they come up to me and say, 'You look awesome.'"
Tell us on Facebook: Would you encourage your man to wear meggings?

Bing: Trending fashion for men


Photo: Courtesy American Apparel
More from Simply Chic:

72-year-old grandfather models young girls' clothing
Store mannequins spy on shoppers
What your shoes say about you
beauty tips and style advice
So there are fashion mishaps. And then, there is the catastrophe known as....camel toe.

The top tips I've picked up thanks to my obsession with blowouts, highlights, and my favorite hairstylist.

Something happens to your head when you have a kid — not to mention your body completely changes, and you can barely recognize yourself through bleary eyes, a fog of tiredness, and matted hair from sleepless nights. Sounds sexy, right? But, when that glimmering light at the end of the tunnel is in the near distance and the kid actually starts to act like a human and sleep normal hours, just like magic, you start to look like your old self again.

Ever slip into the latest summer fashion trend and then realize it's not exactly traditionally attractive? So what? Today we're speaking out on behalf of our favorite awkward fashion trends, whether they're bulky, strangely proportioned, or just at the opposite end of sexy. If there's still something magnetic about its pull on you, we say go for it. It's all in the name of fashion.

One shopper's tweet of the emaciated-looking figure forced the store to take action.

Once the summer heat kicks in, it's all we can do not to slip into the breeziest beach dresses and flip-flops for the morning commute. So trust us when we say we understand that the humidity can have a powerful effect on your wardrobe — still, there are some things you just can't wear to your place of employment, no matter how hot it gets.

Wrinkle no blouse, tangle no jewelry, leave no beauty product behind, and still have room to spare.

Hue-changing dos we absolutely love.

Why your jean size varies from store to store.

Wait a month between waxing visits? Check. Pop a preappointment Advil? Duh. We all know the basics, but here are the tricks you don't know.

What to always—and never, ever—do to keep hair in top shape.

Get inspired to try these sweet and summery looks.