Physicians Formula launches stackable nail polishes
Color-coordinated polish trios are also stackable.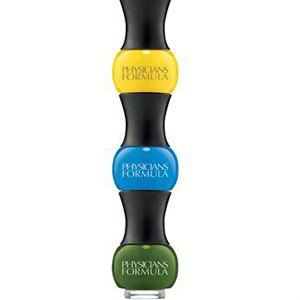 Manicure fanatics, rejoice. There's a fun new way to store your polishes, thanks to these new color-coordinated nail polish trios from
Physicians Formula
.
More from Living:
50 new hair ideas
Each adorable trio comes with three mix-and-match shades which can be worn alone, layered over one another, or used in one other magical, artsy design that you can think of. And when you're not using them, you can store them in style by stacking them back together. How cute is that? We love the cool snap-together concept because it allows is to a) save space in our medicine cabinet and b) channel our inner-kid—these bottles are like toys for beauty junkies. 

More from Living: 10 ways to look and feel more polished

They come in a ton of colors, with sassy names like, Smokin'Haute and Bare It All.

Get them online here if you just can't wait another second ($10.95 for a set of three), or find them in drugstores later this month. 

Photo: Physicians Formula

More from Simply Chic:
Fighting crime with chic jewelry
The most "OMG, WHAT!?" looks from London Men's Fashion Week
Look awesome when you feel like garbage
beauty tips and style advice
Monday's New Zealand itinerary brought Kate and William to the cricket field.

We put a slew of new formulas to the test, and these are the ones making us look younger and fresher.

From the coolest chestnut to the deepest mahogany, these stars show how to unleash your inner brunette bombshell.

In a girl's life, there are a select few occasions when it's considered completely appropriate to go all out with a truly spectacular dress. Her wedding day comes to mind, of course, and maybe her Sweet 16. Prom night, however, is certainly at the tip-top of that short list of special events.

When I was a teenager, I wouldn't be caught dead without my lip gloss, blush, eyeshadow and eyeliner at all times. Now, even though I'm older, I'll admit I still don't feel 100 percent confident leaving the house without at least some of my "face" on—plus, my obsession with beauty products doesn't encourage me to go makeup-free very often.

Good magazine covers grab your attention and make you want to look inside. Controversial covers and photo shoots, like the 14 that follow, often become a part of history.