Study: Sex Can Make You Smarter, Less Depressed
Scientists say getting it on is good for the brain.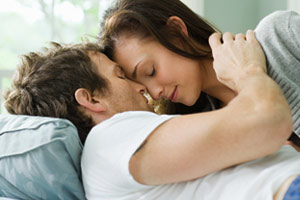 Despite that episode of
Seinfeld
in which George Costanza has a surge of cognitive function after abstaining from sex, scientists seem to think getting busy is actually what boosts brainpower.
Research shows that people who have lust on the brain perform better when presented with analytical problem solving assignments. What's more, scientists have also found that sex bolsters brain growth and can reduce depression.
Recently, Dr. Jens Forster of the University of Amsterdam led a study in which participants were presented with a series of critical thinking problems. Forster found that lustfully-minded subjects performed better than participants who didn't have sex on the brain.
In Jesse Bering's book, Why Is the Penis Shaped Like That? And Other Reflections on Being Human, he references this research and also discusses studies performed by Gordon Gallup, a psychologist at the University of Albany.
According to Bering, a "snapshot" of Gallup's recent research shows that "semen-exposed women perform better on concentration and cognitive tasks." Interestingly, Gallup's findings support a Princeton study that measured the cognitive function of sexually active rats.
In the Princeton experiment, scientists introduced adult male rats to sexually receptive female rats. Researchers then compared the brain function of the sexually active rats to that of virgin rats. The results? The sexually active rats experienced a growth in brain cells.
But Gallup's research is a bit different, as he's not just studying the health benefits of sex, but semen in particular. And his research, while valid, has not been without controversy.
In 2002, Gallup attracted media attention when he studied the mood-enhancing chemicals in semen. Bering lists these in his book:
"Perhaps the most striking of these compounds is the bundle of mood-enhancing chemicals in semen. Such anxiolytic chemicals include, but are by no means limited to, cortisol (known to increase affection), estrone (which elevates mood), prolactin (a natural antidepressant), oxytocin (also elevates mood),
thyrotropin-releasin​g

hormone (another antidepressant), melatonin (a sleep-inducing agent), and even serotonin (perhaps the best-known antidepressant neurotransmitter)."

With this knowledge, Gallup studied the antidepressant properties of semen and found that women who had regular unprotected sex indeed showed less depressive symptoms than those who used condoms. After the study was released, Gallup clarified:
"I want to make it clear that we are not advocating that people abstain from using condoms, clearly an unwanted pregnancy or a sexually transmitted disease would more than offset any advantageous psychological effects of semen."
In short, the consequences of unprotected sex are probably not worth it.
Getting back to sex and intelligence, this is an area that seems to intrigue scientists. In yet another experiment, German sex researcher Warner Habermehl also found that sexual activity stimulates the brain. He conducted a study among college students and discovered that participants who were having regular sex registered far more brain activity than those who weren't. The findings led Habermehl to assert:
"Sex makes you more intelligent in that experiences are collected that can be used later on in areas of your life not linked to sex."
Good news for the sexually active among us. Just remember: Smart sex is safe sex.
Photo: Getty Images
More Love & Sex from MSN Living:
What He's Really Thinking After 1, 5, and 10 Years of Marriage
What She's Really Thinking After 1, 5, and 10 Years of Marriage
Avoid These Sneaky Love Landslides
beauty tips and style advice
The famous Parisian shoe designer has unveiled a luxurious new nail polish, his first foray into the world of beauty, and there are no prizes for guessing what color it comes in.

Average shoe size is up about two sizes since the '70s, study says.

They can't escape wedding season, so they might as well look their best.

Front-row style star Miroslava Duma just clears 5′, Oscar winner Reese Witherspoon one-ups her—literally—at 5′ 1″, and fashion crush Rachel Bilson barely tops them both at a whopping 5′ 2″. But aside from standing at the diminutive end of the height spectrum, these three ladies have something else in common: the ability to nail every summer fashion trend. If you're part of the petite girls' club, take a look at these 12 fashion essentials—from closet staples to chic accessories—to keep you at the top of your style game this summer.

Quick, easy, everywhere-appropriate: There's no summer piece quite as versatile--or flattering.

These fresh, cute outfit ideas range from unexpected mash-ups to completely coordinated looks. What they all have in common is they'll get you out the door feeling totally confident.

Because it actually takes some makeup—maybe even a few false lashes—to look beautifully bare-faced.

Make a good impression by presenting the best form of yourself. Even when luck's against you--for instance, you encounter a huge zit the week before an important presentation--take action now. Here are fixes for your most common grooming mishaps.

We're still dreaming about Olivia Palermo's unconventional yet impossibly chic wedding-day ensemble. The shorts! The jutting tulle skirt overlay! The creamy cashmere sweater! Everything about this layered look is as trend-setting as it is unique.And though she may be the first star to walk down the aisle in shorts, Olivia isn't the first celebrity to say "I do" in something nontraditional. Several boundary-pushing stars have skipped the all-white look, and instead opted for a colorful wedding dress.

Keep your tresses looking their best, even on the muggiest of summer days, with these tips

Wide-leg pants are blowing up. Six women show us how to style a pair by Lauren Ralph Lauren.

It's the best and worst time to be a single girl in the dating world. On the one hand, past generations of women didn't have the freedom, financial independence, access to birth control (depending on your state and employer, of course), or plethora of options to meet new people—online and off—that we enjoy today. On the other hand, they also didn't have to worry about sexting, selecting the best selfie for their profile picture, or accidentally swiping right on a coworker.