Study: Sex Can Make You Smarter, Less Depressed
Scientists say getting it on is good for the brain.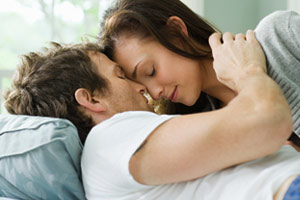 Despite that episode of
Seinfeld
in which George Costanza has a surge of cognitive function after abstaining from sex, scientists seem to think getting busy is actually what boosts brainpower.
Research shows that people who have lust on the brain perform better when presented with analytical problem solving assignments. What's more, scientists have also found that sex bolsters brain growth and can reduce depression.
Recently, Dr. Jens Forster of the University of Amsterdam led a study in which participants were presented with a series of critical thinking problems. Forster found that lustfully-minded subjects performed better than participants who didn't have sex on the brain.
In Jesse Bering's book, Why Is the Penis Shaped Like That? And Other Reflections on Being Human, he references this research and also discusses studies performed by Gordon Gallup, a psychologist at the University of Albany.
According to Bering, a "snapshot" of Gallup's recent research shows that "semen-exposed women perform better on concentration and cognitive tasks." Interestingly, Gallup's findings support a Princeton study that measured the cognitive function of sexually active rats.
In the Princeton experiment, scientists introduced adult male rats to sexually receptive female rats. Researchers then compared the brain function of the sexually active rats to that of virgin rats. The results? The sexually active rats experienced a growth in brain cells.
But Gallup's research is a bit different, as he's not just studying the health benefits of sex, but semen in particular. And his research, while valid, has not been without controversy.
In 2002, Gallup attracted media attention when he studied the mood-enhancing chemicals in semen. Bering lists these in his book:
"Perhaps the most striking of these compounds is the bundle of mood-enhancing chemicals in semen. Such anxiolytic chemicals include, but are by no means limited to, cortisol (known to increase affection), estrone (which elevates mood), prolactin (a natural antidepressant), oxytocin (also elevates mood),
thyrotropin-releasin​g

hormone (another antidepressant), melatonin (a sleep-inducing agent), and even serotonin (perhaps the best-known antidepressant neurotransmitter)."

With this knowledge, Gallup studied the antidepressant properties of semen and found that women who had regular unprotected sex indeed showed less depressive symptoms than those who used condoms. After the study was released, Gallup clarified:
"I want to make it clear that we are not advocating that people abstain from using condoms, clearly an unwanted pregnancy or a sexually transmitted disease would more than offset any advantageous psychological effects of semen."
In short, the consequences of unprotected sex are probably not worth it.
Getting back to sex and intelligence, this is an area that seems to intrigue scientists. In yet another experiment, German sex researcher Warner Habermehl also found that sexual activity stimulates the brain. He conducted a study among college students and discovered that participants who were having regular sex registered far more brain activity than those who weren't. The findings led Habermehl to assert:
"Sex makes you more intelligent in that experiences are collected that can be used later on in areas of your life not linked to sex."
Good news for the sexually active among us. Just remember: Smart sex is safe sex.
Photo: Getty Images
More Love & Sex from MSN Living:
What He's Really Thinking After 1, 5, and 10 Years of Marriage
What She's Really Thinking After 1, 5, and 10 Years of Marriage
Avoid These Sneaky Love Landslides
beauty tips and style advice
Avoid the hype at the makeup counter by sticking to this list of tried and true performers that will help you look your best day in and day out.

See Kate's best looks from Australia.

The springtime is the best time to press the reset button on your wardrobe, and given the great new fashion that's hitting stores right now, there are a myriad of ways to reboot and refresh. Of the nine must-try trends this season, it can be tough to choose a favorite. Perhaps you're feeling for a graphic floral? And maybe the season's sport-luxe look fits your style too? That said, if you're picking battles where your budget is concerned, the idea of a complete spring makeover can be overwhelming. Fret not, our biannual 100+ Under $100 Guide pulls pieces inspired by both the runways and the pages of the magazine together—at the perfect price.

We raided the aisles to find the best cheapie formulas for you.

As of this morning, I have decided that Kate Middleton should just tour things forever so we get to see more updos like the one she wore last night at a reception hosted by the Governor General Peter Cosgrove in Canberra, Australia.

Dressing for the office doesn't have to boring. Follow these style and beauty tips and you'll be sure to impress.

Every year, we look to the biggest names in bridal beauty and fashion design to pinpoint the hottest bridal hair and makeup ideas – keeping in mind of course that this is a wedding (no crazy neon mascara here). This year, bridal beauty has gone extra natural and romantic -- think messy braids, wispy hair, natural eye makeup and more.

You've got the dress. You've got the venue, date, and invitations. The last thing you need to complete your wedding day? An amazing pair of shoes to wear as you walk down the aisle!

With the dress as the main focus, you want the hair to be understated. An updo does just that. But there's a difference between understated and boring. Adding simple accessories, like a pin or flower, is just enough decoration to the hair. Let these gorgeous pins serve as inspiration for finding a simple, yet understated, wedding hairstyle.

Just when we were getting used to seeing beards everywhere, it may be time for men who enjoy the attention of the opposite sex to invest in some shaving paraphernalia. In a new University of New South Wales study, researchers found that "when people are confronted by a succession of bearded men, clean-shaven men become [...]

If your arm aches just thinking about blow-drying, take heart: These easy hair-saving tips will cut down on your mirror time and deliver salon-level results.

From designer maxi dresses by Roberto Cavalli and Temperley London to contemporary finds by Alice + Olivia and Zimmermann, there's a dress for every kind of seaside bride.