Model campaign brings more diversity to runways
By all indications, their open letter made a difference, with an uptick in diversity at the previews that ended last week.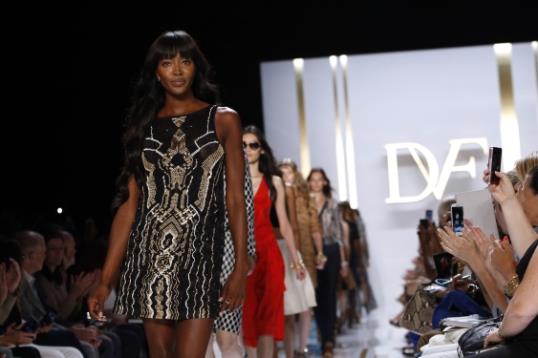 NEW YORK (AP) — Supermodel Iman watched the runways like a hawk this Fashion Week — but she wasn't looking at the clothes.

Iman joined with Naomi Campbell and veteran modeling agent Bethann Hardison for an unusual effort they are calling Balance Diversity to bring more black models to the runway, and they called out designers who whitewash their runways in the process.
By all indications, their open letter made a difference, with an uptick in diversity at the previews that ended last week. All the top designers presenting in New York used at least one black model, and some who previously had no black models used as many as seven this season.

Simply Chic: Naomi Campbell takes a stand against racism on the runway

"I've always said runways and photos are important to shape our young girls," Iman said in an interview last week. "To see models of color on the runway is important to the self-esteem of our young girls. To see otherwise makes them feel like they can be 'in or out.'"

What remains to be seen: Is the greater black presence on runways a lasting trend — or just more fast fashion? If black models fall out of favor next season like a short hemline, is that racist?

Balance Diversity is part activist group, part blog, part watchdog. They posed a catwalk challenge just before the seasonal style previews were to begin in New York.
"Eyes are on an industry that season after season watches fashion design houses consistently use ... one or no models of color. No matter the intention, the result is racism," said their open letter to the Council of Fashion Designers of America.
They called out by name some industry heavyweights, including Donna Karan, Proenza Schouler, The Row, Victoria Beckham and Calvin Klein — designers the group said used almost no black models in last February's shows. The website Jezebel calculated that 82.7 percent of that season's New York Fashion Week models were white, 9.1 percent were Asian, 6 percent were black and 2 percent Latina.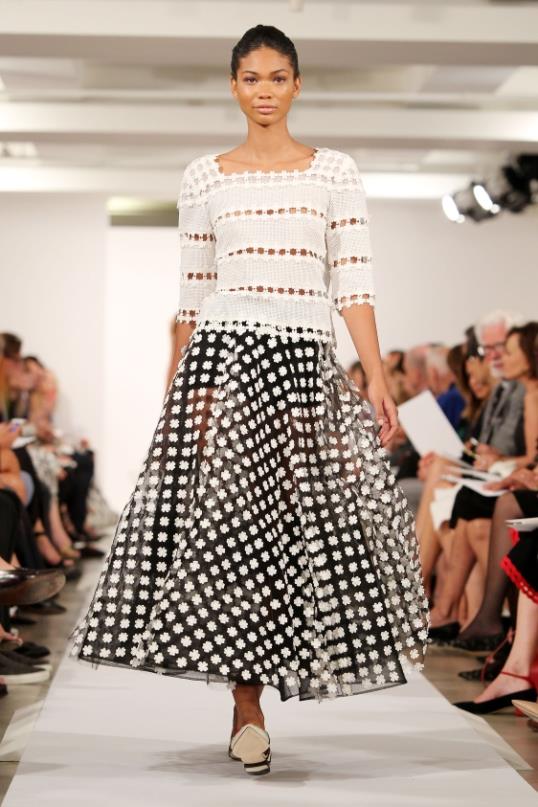 Iman and Hardison both note they aren't calling the designers or the casting agents themselves racist — but they say defining one's look with only white faces is a racist act. And they acknowledge that sometimes designers don't see the models until a day or two before a show, but say they are nonetheless ultimately responsible.
Their letter went to the heads of the London, Milan and Paris fashion councils. The European designers, according to Iman, are bigger offenders. (She makes an exception for Tom Ford and Jean Paul Gaultier, who are the old-school types of designers who cast a model for her personality instead of trying to jam her into a particular seasonal mold.)

Some black models remain in hot demand. Campbell is the favorite, even in a jaded industry that typically likes the next big thing. The crowd at Diane von Furstenberg gave her bigger cheers than the designer. Joan Smalls and Jourdan Dunn also are consistently booked in top-tier shows.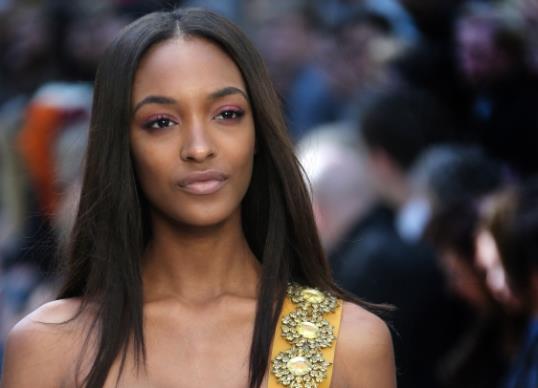 But Iman said it has to be about more than a token or two black models, and it has to be about more than the established names. Without a turn on the runway, younger black models don't get discovered and booked for advertising jobs.

Recently, shows moved toward a blonder, whiter cast, with a few minority model slots filled by Asians, she said, in an effort to appeal to the growing consumer economies in Asia. And even when big international brands put black models on their billboards, those same brands were holding out on the runway.

Designer Nanette Lepore, who was not targeted by Balance Diversity and whose runway featured a diverse group of models, said that she tries to cast a runway reflective of the world.

"The fashion world goes through these moments where people think that to get their message across they have to have one certain type of model," she said. "At one point everyone had to look like Kate Moss. Or it's Eastern European, or it's Brazilian."
Lepore also noted seeing more Asians, and, this season, more black models. "I think this will be the trend now," she said optimistically.

Things did change in New York: Calvin Klein, for example, increased its use of black womenswear models from zero to five this season, while The Row, the label helmed by Mary-Kate and Ashley Olsen, used seven dark-skinned models, according to Modelinia, a modeling industry website.

"This season will be more fun to count," said Hardison. "Before it was a job. I think it's going to be a pleasure this season."

Calvin Klein creative director Francisco Costa said in a post-show interview that this collection, inspired by the patchwork of cultures in New York City, was a celebration of diversity. He said model diversity is something he thinks about.

"Casting for us — we take it very seriously," Costa said. Of this season's catwalk, he said, "The casting was very fantastic, it was very seamless ... but it was very worldly and very multicultural."

Reed Krakoff was also on the Balance Diversity list, but he said he thinks about the issue, too, and there was darker skin on his runway: "It's important to represent a broad cross-section of different types of women. We're really looking for that interesting mix."

Most designers certainly weren't pushing toward the microphones last week to talk about this issue. Most seemed as if they'd be happy to talk only about their clothes and inspiration.

Rachel Zoe said discussions about diversity were like the touchy ones about the age and weight of models. "It's always going to be an issue," the designer said. "I just think it's important that we keep everything mixed up and fair."

Zac Posen, however, brought up the issue of diversity during a backstage interview. He said he thinks his diverse runway makes his clothes look better, and it wins him the support of models, who have backed him even when retailers and editors didn't.
He does use a casting director, but the final say is his. He's looking for "physical beauty, star quality — who's the next Naomi, Coco Rocha or Lindsey Wixson?" Posen said. "They all look different. It's about who'll look good in the clothes."

Hardison and Iman did notice the improvement this season and are committed to making it last through the European shows this month and beyond to next season and next year.

"The public is very excited by the fact that this is happening. Not just black people care, people care, people who care about beautiful," she said. "The activism has to remain."

Subscribe to Simply Chic | Friend us on Facebook | Follow us on Twitter | Find us on Pinterest

Bing: Naomi Campbell on diversity on the runway

More Simply Chic...
What's being done about the lack of diversity on the runway?
Mulberry channels 60s shapes at London show
Rose-tinted romanticism at Temperley London show
Online:
http://www.balancedi​versity.com
___
AP national writer Jocelyn Noveck and producer Nicole Evatt contributed to this report.
beauty tips and style advice
You know that classic nightmare where you walk into school or work completely naked? That's how I feel when I'm having a bad hair day. Like I don't want anyone to look at me and it takes everything I have not to immediately turn around and run back home.

Victoria Beckham will share her fashion story and give inside access to her brand via The Skype Collaboration Project in January 2014.

Just when we thought Pamela Anderson's sleek pixie marked her biggest hair makeover this year, the star ditched her trademark blonde hue.

Yes! Lupita Nyong'O shows us how.

Take the health of your hair up a notch with these natural treatments

Nope, it's not your resume.

This is why a short wedding dress makes sense.

The Queen is a handbag trendsetter, apparently.

You know winter is here when you pull off your clothes and find the insides lined with a thin coating of tiny dry skin particles. (Am I alone here, or do I have more serious dry skin issues than I thought?)

Yesterday I popped by the Clear Clinic, a dedicated acne treatment center that a lot of people (including a Glamour beauty blogger or two) swear have helped cure them of the dreaded spots.

The first thing I noticed about this photo of Keira Knightley at a London gala last night was her 90s-chic makeup, featuring matte pale foundation and lots of black eyeliner.

It's the stuff of pinups, old Hollywood glamour, and even science study after study says guys really go for it. But that classic Rita Hayworth red doesn't necessarily flatter every complexion. We rounded up the absolute best reds for every skin tone, so you can breeze through the sea of cherries, raspberries, and any other scarlet fruit.