Hey, Babe: The Pet Names Women Find Most Annoying
In the UK, women prefer their nicknames with less sugar.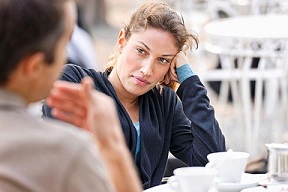 Honey, baby, sweet cheeks. If you're in a relationship, you likely don't call your partner by his or her first name. Chances are, you probably use a pet name when referring to your significant other.
But that loving nickname may not be as appreciated as you think.
A recent survey from Siteopia.com revealed babe as the most hated pet name among women. "Many people appear to find babe a bit too much, and it may be worth reconsidering the amount it's used and the kind of impact it's having," a spokesperson for the site told The Heart Beat.
Siteopia surveyed 2,000 British people between the ages of 18 and 60. They found that only one in five surveyed called their partner by his or her full name.
Related video: 5 Ways to Strengthen Your Relationship
In addition to babe, sweet cheeks, snookums, and baby doll were also unpopular.
"Pet names between partners are usually used as a way to show a little regular affection but some are clearly better than others," said the spokesperson.
Overly sappy nicknames proved to be most disliked by the ladies. Muffin, pudding, angel pie and honeybun all made the list of top 20 most hated nicknames.
Apparently, women don't appreciate being likened to desserts.
As for nicknames gals prefer, flattery will get you everywhere. Gorgeous, beautiful, lovely and sexy all made the list of top 20 most acceptable nicknames. Siteopia's spokesman continued:
"There's a lot of power in a name and each one throws up different connotations so it's important to know which ones will flatter a partner and which are definitely not going to have the right effect."
Personally, while angel pie may be a bit too sugary for my tastes, babe seems harmless. The spokesman explained that "babe" is one term of endearment that may not translate from the United States to the United Kingdom.

"When people hear 'Babe' in the U.K., it's very often associated with someone either trying a little bit too hard to be cool or coming across as cheesy."
Also interesting: One in seven surveyed admitted to giving their partner an unflattering pet name just to mess with them. One in six men referred to their partner as "the boss," and one in fourteen admitted to calling their significant other "the ball and chain."
Full lists of the most hated and most acceptable pet names for women are below. 
What do you think — which of these pet names are sweet and which are downright sappy?
Top 20 Most Hated Pet Names For Women:
Babe
Sweet cheeks
Snookums
Baby doll
Baby girl
Muffin
Ducky
Baby cakes
Sexy pants
Pudding
Angel pie
Pumpkin
Puppy
Sugar lips
Treacle (a type of syrup in the U.K.)

Baby
Pickle
Honeybun
Sugar pie
Cupcake

Top 20 Acceptable Pet Names For Women:
Gorgeous
Beautiful
Lovely
Love
Darling
Honey
Sexy
Angel
Dearest
Precious
Treasure
Snowflake
Blossom
Sweetie Pie
Sexy legs
Lover
Buttercup
Flower
Princess
Sweetness
Photo: George Clerk/The Agency COllection/Getty Images
More love and sex on MSN Living:
The New Bachelorette Party
9 Modern Ways to Get a Date
9 Proven Ways to Meet Someone New
beauty tips and style advice
Peach gloss and a swingy ponytail look great. They really do. But with only a month left until September, it's time to have more fun with your summer beauty game. We've come up with a gorgeous beauty idea for every last day in August. Test some now, pin others for later, and look amazing all month long.

That elusive, perfect-every-day haircut can be yours. Don't be skeptical, now; these sweet, shorter styles are as easy to pull off as they are flattering. So chop chop!

The wedding dresses on the spring 2015 runways were beautiful, breezy, and fresh—just like a breath of warm spring air. No matter where or when you'll say your vows (or how big or small your budget is), your dream wedding dress is just a few clicks away.

The results were crazy awesome.

There are no bad bodies, just bad jeans! Consider your denim problem areas solved (thanks to our 50-pair editor try-on).

Mascara wands are getting fatter, but that may not help your lashes. There's a better way to gain weight.

Three summers ago, I bought a pair of soft, white-calfskin Chanel loafers. I spent months trying to keep them pristine, but it wasn't long before a July thunderstorm left them and me soaked. I began steeling myself for what I thought was inevitable: a solemn drop in the trash. But once the loafers dried, I found the shoes' stained stitching—now storm-cloud gray—was lovely and a few new wrinkles in the leather were charming, like smile lines for shoes. I started to wear them freely—taking on puddles and tossing them onto the sand at the beach—and before long, they transformed. The roughened toe-tops reminded me of a welcoming, worn armchair, and a wet-and-hot summer had molded the material perfectly to my feet.

When the clock's ticking, digging though every compact in your bathroom is an exercise in frustration. What you need is one simple bag with a selection of products that help you pull yourself together as quickly as possible, at home or on the road. In it:

You know the freshly scrubbed, athletic look that defines American beauty? Turns out it's been centuries in the making.

According to Hollywood's top hairstylists, celebrity clients get sticky fingers when it comes to these no-fail products.

The American company that helped to popularize the shapewear trend has moved into the world of denim with a new jeans collection.

What to wear and what to avoid the next time you attend a wedding.