Hey, Babe: The Pet Names Women Find Most Annoying
In the UK, women prefer their nicknames with less sugar.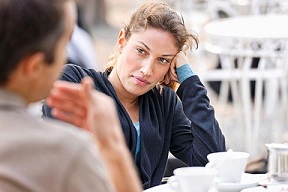 Honey, baby, sweet cheeks. If you're in a relationship, you likely don't call your partner by his or her first name. Chances are, you probably use a pet name when referring to your significant other.
But that loving nickname may not be as appreciated as you think.
A recent survey from Siteopia.com revealed babe as the most hated pet name among women. "Many people appear to find babe a bit too much, and it may be worth reconsidering the amount it's used and the kind of impact it's having," a spokesperson for the site told The Heart Beat.
Siteopia surveyed 2,000 British people between the ages of 18 and 60. They found that only one in five surveyed called their partner by his or her full name.
Related video: 5 Ways to Strengthen Your Relationship
In addition to babe, sweet cheeks, snookums, and baby doll were also unpopular.
"Pet names between partners are usually used as a way to show a little regular affection but some are clearly better than others," said the spokesperson.
Overly sappy nicknames proved to be most disliked by the ladies. Muffin, pudding, angel pie and honeybun all made the list of top 20 most hated nicknames.
Apparently, women don't appreciate being likened to desserts.
As for nicknames gals prefer, flattery will get you everywhere. Gorgeous, beautiful, lovely and sexy all made the list of top 20 most acceptable nicknames. Siteopia's spokesman continued:
"There's a lot of power in a name and each one throws up different connotations so it's important to know which ones will flatter a partner and which are definitely not going to have the right effect."
Personally, while angel pie may be a bit too sugary for my tastes, babe seems harmless. The spokesman explained that "babe" is one term of endearment that may not translate from the United States to the United Kingdom.

"When people hear 'Babe' in the U.K., it's very often associated with someone either trying a little bit too hard to be cool or coming across as cheesy."
Also interesting: One in seven surveyed admitted to giving their partner an unflattering pet name just to mess with them. One in six men referred to their partner as "the boss," and one in fourteen admitted to calling their significant other "the ball and chain."
Full lists of the most hated and most acceptable pet names for women are below. 
What do you think — which of these pet names are sweet and which are downright sappy?
Top 20 Most Hated Pet Names For Women:
Babe
Sweet cheeks
Snookums
Baby doll
Baby girl
Muffin
Ducky
Baby cakes
Sexy pants
Pudding
Angel pie
Pumpkin
Puppy
Sugar lips
Treacle (a type of syrup in the U.K.)

Baby
Pickle
Honeybun
Sugar pie
Cupcake

Top 20 Acceptable Pet Names For Women:
Gorgeous
Beautiful
Lovely
Love
Darling
Honey
Sexy
Angel
Dearest
Precious
Treasure
Snowflake
Blossom
Sweetie Pie
Sexy legs
Lover
Buttercup
Flower
Princess
Sweetness
Photo: George Clerk/The Agency COllection/Getty Images
More love and sex on MSN Living:
The New Bachelorette Party
9 Modern Ways to Get a Date
9 Proven Ways to Meet Someone New
beauty tips and style advice
See 15 fragrances for every personality on your holiday list.

Click to see 15 dog-walking outfits inspired by celebrities.

We're sure this enigmatic purple shade will be everywhere next year, from fashion and beauty to home, and we're pumped for its impending takeover. We've rounded up some of our favorite celebrity looks in Radiant Orchid, including Jessica Paré, Kristen Bell, Amy Adams, and Krysten Ritter, to give you a preview of what you can expect to see in 2014. Commit Radiant Orchid to memory—you're going to be spotting much more of it in the coming months.

What do you wear to a holiday party? Whether you're heading to a family shindig or an after-work office soiree, crib these style tips and lessons learned from some of our favorite celebrity dos and don'ts of the festive season.

We caught up with the new mommy to find out the trick to keeping her makeup on point—even when she's not in front of the cameras.

Kristen Stewart is known for her casual style, both on and off the red carpet

You can rent a couture dress or a designer bag, but would you rent hair extensions?

To get the scoop on quick office party beauty tricks, we turned to Landy Dean, celebrity makeup artist at Marie Robinson salon. His simple tutorial requires only a handful of products, starting with the darkest, inkiest eyeliner you can find. Dean swears by the Nars Larger Than Life liners smudged over the waterline and lashline, topped off with a few coats of Maybelline The Falsies mascara. Before you dash off to apply product, there's one small step that involves removing makeup. "If your foundation and concealer have caked or creased, I recommend a quick removal with a cleansing towelette and a redo to avoid heavy looking skin," he cautions. For those who would prefer to go the easy route, apply a hydrating moisturizer using a stippling motion and a sponge. Finish the look with a dusting of BareMinerals Mineral Veil—"this will even out discolorations and give a reflective finish that still looks natural"—swap your work bag for a chic clutch, and get ready to ring in the season.

Here's something to brighten up your Tuesday afternoon: The brilliant minds at Moschino have always been masters at combining fashion and whimsical, quirky humor—and this season, they've gone and outdone themselves.

It's looking to be a winter wonderland out there today and that means extreme sweater weather.

Check out these mind-blowing runway photos.

Click to see 10 must-have hair tools to streamline your beauty routine.