Hey, Babe: The Pet Names Women Find Most Annoying
In the UK, women prefer their nicknames with less sugar.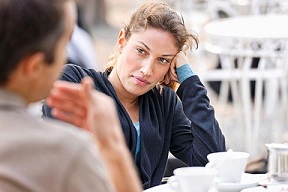 Honey, baby, sweet cheeks. If you're in a relationship, you likely don't call your partner by his or her first name. Chances are, you probably use a pet name when referring to your significant other.
But that loving nickname may not be as appreciated as you think.
A recent survey from Siteopia.com revealed babe as the most hated pet name among women. "Many people appear to find babe a bit too much, and it may be worth reconsidering the amount it's used and the kind of impact it's having," a spokesperson for the site told The Heart Beat.
Siteopia surveyed 2,000 British people between the ages of 18 and 60. They found that only one in five surveyed called their partner by his or her full name.
Related video: 5 Ways to Strengthen Your Relationship
In addition to babe, sweet cheeks, snookums, and baby doll were also unpopular.
"Pet names between partners are usually used as a way to show a little regular affection but some are clearly better than others," said the spokesperson.
Overly sappy nicknames proved to be most disliked by the ladies. Muffin, pudding, angel pie and honeybun all made the list of top 20 most hated nicknames.
Apparently, women don't appreciate being likened to desserts.
As for nicknames gals prefer, flattery will get you everywhere. Gorgeous, beautiful, lovely and sexy all made the list of top 20 most acceptable nicknames. Siteopia's spokesman continued:
"There's a lot of power in a name and each one throws up different connotations so it's important to know which ones will flatter a partner and which are definitely not going to have the right effect."
Personally, while angel pie may be a bit too sugary for my tastes, babe seems harmless. The spokesman explained that "babe" is one term of endearment that may not translate from the United States to the United Kingdom.

"When people hear 'Babe' in the U.K., it's very often associated with someone either trying a little bit too hard to be cool or coming across as cheesy."
Also interesting: One in seven surveyed admitted to giving their partner an unflattering pet name just to mess with them. One in six men referred to their partner as "the boss," and one in fourteen admitted to calling their significant other "the ball and chain."
Full lists of the most hated and most acceptable pet names for women are below. 
What do you think — which of these pet names are sweet and which are downright sappy?
Top 20 Most Hated Pet Names For Women:
Babe
Sweet cheeks
Snookums
Baby doll
Baby girl
Muffin
Ducky
Baby cakes
Sexy pants
Pudding
Angel pie
Pumpkin
Puppy
Sugar lips
Treacle (a type of syrup in the U.K.)

Baby
Pickle
Honeybun
Sugar pie
Cupcake

Top 20 Acceptable Pet Names For Women:
Gorgeous
Beautiful
Lovely
Love
Darling
Honey
Sexy
Angel
Dearest
Precious
Treasure
Snowflake
Blossom
Sweetie Pie
Sexy legs
Lover
Buttercup
Flower
Princess
Sweetness
Photo: George Clerk/The Agency COllection/Getty Images
More love and sex on MSN Living:
The New Bachelorette Party
9 Modern Ways to Get a Date
9 Proven Ways to Meet Someone New
fashion: trends & must-haves for your wardrobe
That's right. We said it. These nail polish colors aren't just sexy—they're the hottest things you can put on your feet this summer. Now the hard part: choosing one.

Days are getting longer, skirts are getting shorter, and our feet haven't seen the light of day since the autumnal equinox. A seasonal beauty overhaul is in order.

There's no hair hotline for all your summer freakouts—but for every strand, type, and texture, there is an Allure editor who's tested tons of products (in millions of combinations) to fix any problem. Here, our roundup of tried-and-true hot-weather hair regimens.

When heat and humidity strike, the last thing you want to do is spend an eternity styling your hair, only for it to end in the F word: frizz. But that doesn't mean you need to settle for a ho-hum hair day. These ten hairstyles are quick, simple, and not the least bit boring.

She's chosen designer gowns that you can rent from the new Beyoncé Boutique.

Long, layered, medium or wavy – we're sharing our favorite hairstyles of 2013 with a new 'do each day. Stuck in a hair rut? Check back daily for snappy new looks that are sure to give your locks some beauty inspiration.

Big event? Focus on the outfit, because we've got your hair all figured out, whether you've got two minutes to do it or 20.

When morning talk shows and local newspapers dole out their seasonal swimsuit shopping advice, I'm usually pretty disappointed by the lack of body types represented. What about the women who don't resemble fruit? (Or aren't boy-shaped—the third "one of these things is not like the other" category I've never quite understood. Couldn't they say "banana?" Or is that somehow more offensive than "apple" and "pear" shapes?)

Ready to refresh your hair and makeup for spring? Well, look no further for your latest batch of inspiration. These ladies are bringing the beauty brilliance with megawatt lipstick shades, sleek haircuts, and must-try hair colors. Get ready to play copycat.

Step into spring with style in June Ambrose's new shoe line for HSN.

Revamp your corporate look with graphic prints and bold color.

If you have only five makeup tools in your kit, make sure these are them. They do much more than just look cute on your vanity!