Hey, Babe: The Pet Names Women Find Most Annoying
In the UK, women prefer their nicknames with less sugar.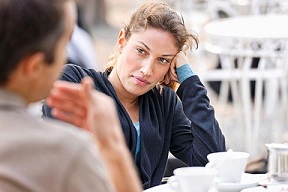 Honey, baby, sweet cheeks. If you're in a relationship, you likely don't call your partner by his or her first name. Chances are, you probably use a pet name when referring to your significant other.
But that loving nickname may not be as appreciated as you think.
A recent survey from Siteopia.com revealed babe as the most hated pet name among women. "Many people appear to find babe a bit too much, and it may be worth reconsidering the amount it's used and the kind of impact it's having," a spokesperson for the site told The Heart Beat.
Siteopia surveyed 2,000 British people between the ages of 18 and 60. They found that only one in five surveyed called their partner by his or her full name.
Related video: 5 Ways to Strengthen Your Relationship
In addition to babe, sweet cheeks, snookums, and baby doll were also unpopular.
"Pet names between partners are usually used as a way to show a little regular affection but some are clearly better than others," said the spokesperson.
Overly sappy nicknames proved to be most disliked by the ladies. Muffin, pudding, angel pie and honeybun all made the list of top 20 most hated nicknames.
Apparently, women don't appreciate being likened to desserts.
As for nicknames gals prefer, flattery will get you everywhere. Gorgeous, beautiful, lovely and sexy all made the list of top 20 most acceptable nicknames. Siteopia's spokesman continued:
"There's a lot of power in a name and each one throws up different connotations so it's important to know which ones will flatter a partner and which are definitely not going to have the right effect."
Personally, while angel pie may be a bit too sugary for my tastes, babe seems harmless. The spokesman explained that "babe" is one term of endearment that may not translate from the United States to the United Kingdom.

"When people hear 'Babe' in the U.K., it's very often associated with someone either trying a little bit too hard to be cool or coming across as cheesy."
Also interesting: One in seven surveyed admitted to giving their partner an unflattering pet name just to mess with them. One in six men referred to their partner as "the boss," and one in fourteen admitted to calling their significant other "the ball and chain."
Full lists of the most hated and most acceptable pet names for women are below. 
What do you think — which of these pet names are sweet and which are downright sappy?
Top 20 Most Hated Pet Names For Women:
Babe
Sweet cheeks
Snookums
Baby doll
Baby girl
Muffin
Ducky
Baby cakes
Sexy pants
Pudding
Angel pie
Pumpkin
Puppy
Sugar lips
Treacle (a type of syrup in the U.K.)

Baby
Pickle
Honeybun
Sugar pie
Cupcake

Top 20 Acceptable Pet Names For Women:
Gorgeous
Beautiful
Lovely
Love
Darling
Honey
Sexy
Angel
Dearest
Precious
Treasure
Snowflake
Blossom
Sweetie Pie
Sexy legs
Lover
Buttercup
Flower
Princess
Sweetness
Photo: George Clerk/The Agency COllection/Getty Images
More love and sex on MSN Living:
The New Bachelorette Party
9 Modern Ways to Get a Date
9 Proven Ways to Meet Someone New
beauty tips and style advice
Neatly sidestepping high fashion, the smiling, cheerful Kate Middleton is fast becoming the Duchess of Normcore.

This December, New Yorkers might notice something missing in the Christmas air.

When Madonna posted an image of herself wearing a full on Game of Thrones Khaleesi costume on Instagram last week we weren't exactly surprised—this is the woman who rolled into the Grammy Awards wearing a tuxedo and a grill earlier this winter, so why not celebrate the Jewish holiday of Purim with a leather corset and a pair of tiny dragons? Still, we were hypnotized by her white-blonde, braided Daenerys Targaryen hair. Functioning as a bleached out cultural weather vane of sorts, it tapped into multiple obsessions at once—the return of "Game of Thrones" to HBO, spring's new extreme hair lengths and, most notably, fashion's current platinum mania. Our own love of ice-blonde hair—which transforms any look from everyday to extraordinary—has been well documented of late, but last night's Game of Thrones premiere sent our platinum fever into overdrive. In celebration of fashion's favorite hair color, a look at the best platinum moments in history.

While you were sleeping, fast retail chain H&M H&M announced that its next designer collaboration is with Alexander Wang.

Formal, beachy, country club-chic or gorgeously rustic whatever the setting calls for, we've found a bevy of beautiful dresses to wear to a wedding this season.

Puffy, tired, weary no more. These tips take years off and create that "I slept great, thanks!" effect.