Majority of women would prefer to be lied to if they didn't look nice
New research says women want to be lied to if they're not looking good.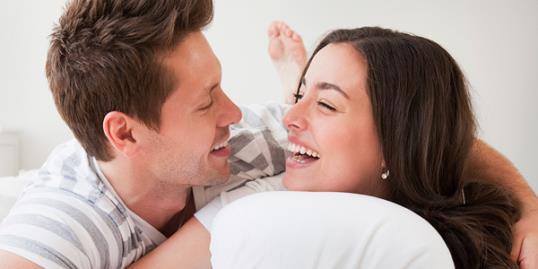 If you're having a day where you're just not looking your best, would you want someone to tell you? If your answer is "no," you're in agreement with the majority of other women, according to new research.

A study conducted by British discount web site www.MyVoucherCodes.c​o.uk, polled 1,582 women from ages 18-30 on whether or not they preferred to be lied to or told the truth when it came to their personal style and outfit choices, and the majority of respondents said yes. Bring on the lying!

More from Living: Quick! How's my outfit?

61 percent said they would prefer to be lied to when they didn't look good, while 29 percent said they preferred honesty and 10 percent said it would depend on who it was that was giving them the opinion.  

The study also found that the majority of women—a whopping 92 percent—said they care what other people think of the way that they look. And 89 percent of women rely on their partner for an answer to that question (77 percent of women also ask their friends, while 62 percent rely on family members).

More from Living: What does your lingerie say about you?

But when the tables are turned, the respondents admitted they were not always honest with others about how they looked—in fact, 63 percent admitted to lying to others about how they really looked. 

More from Living: Looks guys love (and hate)

"We were interested to find out whether or not British women preferred to be lied to if they didn't look good in the fashion sense," said Mark Pearson, Chairman of MyVoucherCodes.co.uk​. "Interestingly, the majority of those taking part admitted that they preferred to be lied to by their colleagues, friends, family and even their partners! While a healthy reality-check is always a good thing, it is obvious that many women only ask their friends and partners how they look not to hear the truth, but for a simple confidence boost."

Tell us: Do you lie to others about how they look?

Photo: Jamie Grill/Getty Images

More from Simply Chic:
Do women really age more quickly than men?
The most "OMG, WHAT!?" looks from London Men's Fashion Week
Look awesome when you feel like garbage
beauty tips and style advice
Stunning wedding styles that create a statement.

Hue-changing dos we absolutely love.

In case you weren't already overwhelmed enough by the daunting task of jeans shopping (or really, clothes shopping in general), our friends over at Racked published a handy little infographic today comparing the sizing of a variety of different retailers that you've likely frequented at least a handful of times in your lifetime.

I attended the Abercrombie and Fitch holiday-season press preview yesterday, and in between checking out the cute gear that will hit stores this November, I picked up a little nugget of information I just have to share.

How to wear this cool-weather staple in the summer.

See how Miranda Kerr made a pair of Birkenstocks chic.

We love how a new nail polish has the ability to instantly change your look and your mood with a simple swipe. While happy lime greens and aquas are ruling the five million #nailpolish Instagrams this summer, there are a variety of great colors to choose from—whether you want an office-appropriate neutral or a fun going-out shade that'll give your LBD a punch of color.

You already know wearing white after Labor Day is cool. But menswear is reinventing itself rapidly, leaving some long-held mandates by the wayside, not to mention a bunch of men with a lot of questions. Sure, some style laws are truly inviolable. Showing a quarter-inch of cuff will always be crucial, but with designers and dandies flaunting so many former taboos it's hard to tell what's in play these days. So we thought we'd take this opportunity to let you know which rules no longer apply.

Put down the wrinkled button-down, step away from the Crocs, and open your closet. We need to talk about the new rules of casual.

Buying a brush is like getting a new smartphone: once you learn how to use it, it's indispensable.

Surfers are the epitome of cool, laid-back American style. And if we can't be them, at least we can copy their hair.

It's time for bridal beauty to loosen up. Hair doesn't have to be tightly wound, makeup perfectly contoured, and nails French manicured (on this last point, really, please don't). You can, in fact, look gorgeously and timelessly cool at your wedding. Here's how.