Chic peek: Designer/model/singer Anine Bing on how to nail the California-cool look
In just over a year, she's created one of the most buzzed-about fashion collections in Los Angeles.
by
Jen Weinberg
How many times have you checked out another girl's outfit and then mentally "pinned" everything she has on? Guilty as charged! So, instead of standing idly by making mental Pinterest boards, I decided to ask some women I find irresistibly chic to give me a peek into their closets.

Welcome to the world of Anine (pronounced: Ah-NEEN-na) Bing. Whether she is rocking out with her band Kill Your Darlings, modeling, being a mom or designing her eponymous clothing and accessories line, one thing's for sure: In just over a year, she's created one of the most buzzed-about fashion collections in Los Angeles. The concept behind the clothes? A group of must-have items (e.g., the perfect leather jacket, the best-fitting pair of jeans and T-shirt, the booties you can't live without) all that give you that model off-duty look. She tells me, "The Anine Bing girl loves to travel and experience life. She's fashion-forward without trying too hard. She loves life, music, art. She wears her lifestyle day and night." Try the clothes — maybe you'll look just as cool as she does!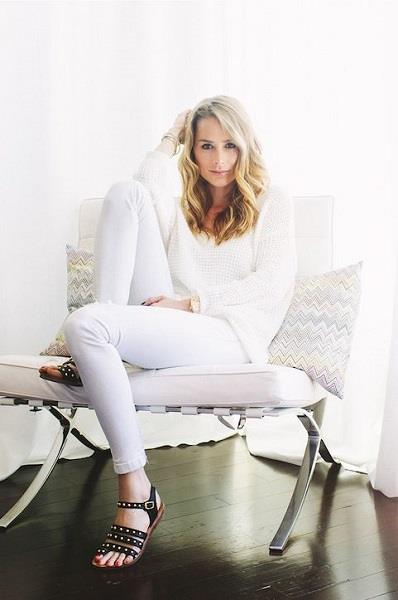 Anine lounging in her bedroom in her own clothes

Her style: "My style is super simple with a rock bohemian twist. I love dressing in skinny jeans, a linen T-shirt, a pair of cool boots and a leather jacket. Simple but with an edge."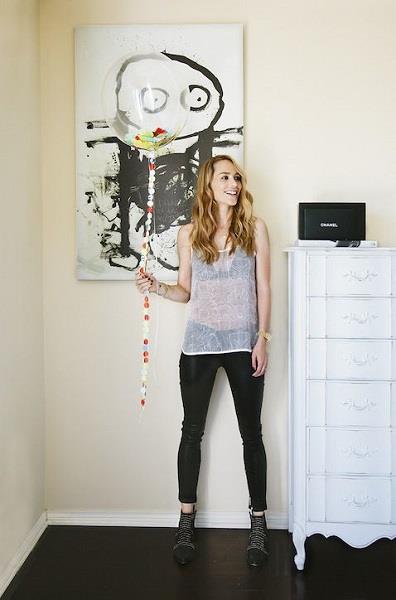 Anine in her own clothes, with her son Benjamin's balloon

On getting dressed in the morning: "I walk into my closet and grab something quick. I have two kids and I work a lot, so I don't have time to plan too much. I only wear my own line. All the styles go together and are easy to match, so it's easy to pick out an outfit."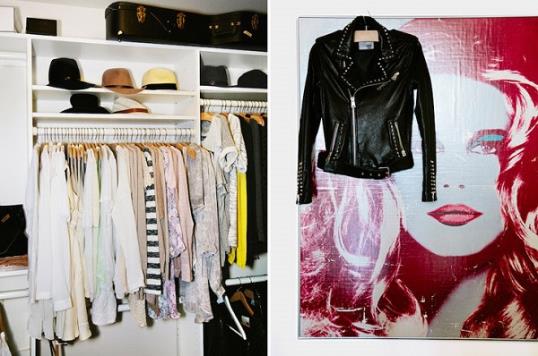 Her closet and one of the many leather jackets from her collection

On how to wear the oh-so-perfect leather jackets she designs: "With a white T-shirt, skinny jeans and boots. In the summertime it looks great over a cute dress with cowboy boots."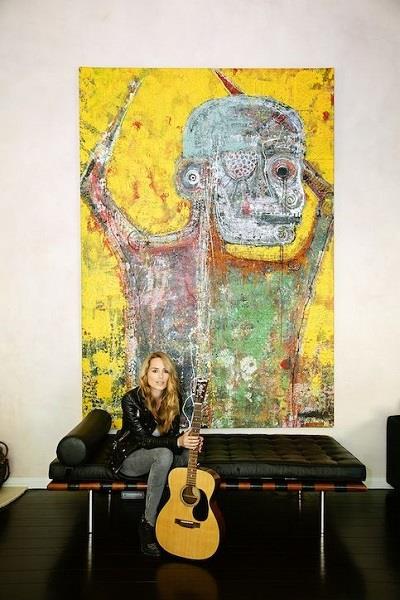 She tells us, "Beautiful art makes me happy. This big yellow painting belonged to my husband before we met."

More from Glamour: 15 Hair-Color Makeover Ideas to Try in 2013

When she's not designing: "I am planning to make another record with my band Kill Your Darlings. I have not had the time since I had my kids and started my clothing line. I really miss writing songs and singing, so making a record is something I'm really looking forward to and planning to do very soon."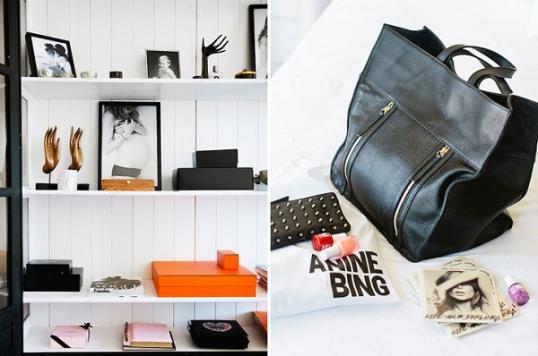 Collected objects, her namesake handbag and Kill Your Darlings CD

On music and fashion: "Music totally goes and hand in hand with my clothing style. I would say my music has the same rock bohemian feeling as my clothes have."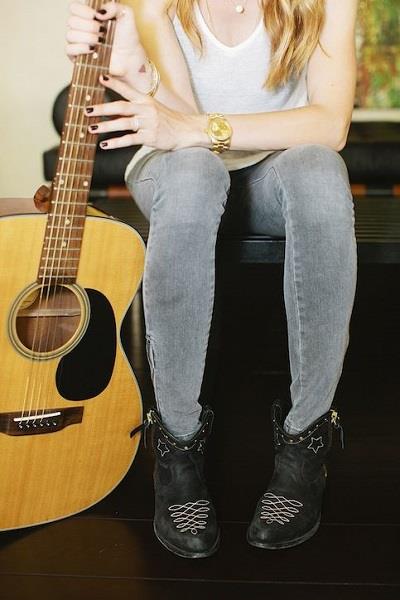 Anine and her guitar

More from Glamour: 10 Beauty Tricks That Make Guys Melt

On what to expect from her collection: "I've always been a jeans and T-shirt girl. I love the contrast between hard and soft, pretty and rock chic. It's all about great quality with the perfect fit."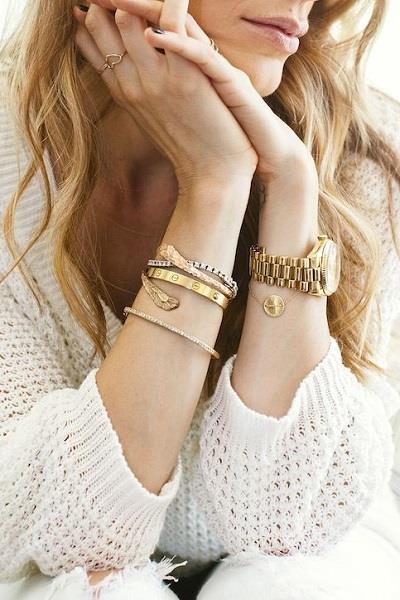 Bijioux

On the covetable shoes in her collection: "For those of you who love shoes and boots, you've come to the right place. All shoes are handmade here in Los Angeles, so they're not only cool, but you can walk a mile in them without getting aching feet."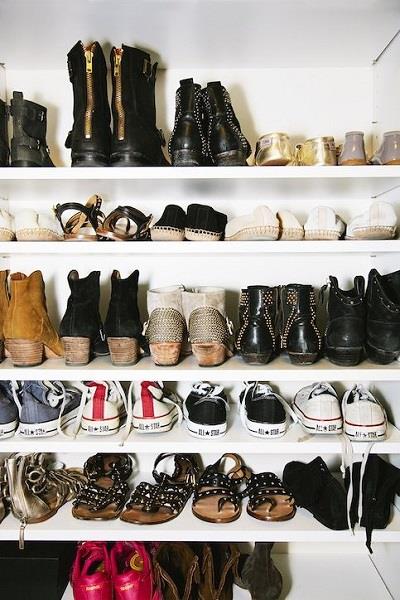 The shoe closet, mixed with her own shoes and sneakers

Her favorite beauty products: "I really love nail polish. I do my own nails since I don't have the time to get them done, always black or dark colors. Red is also a color I keep coming back to. I also love my rose perfume from Jo Malone."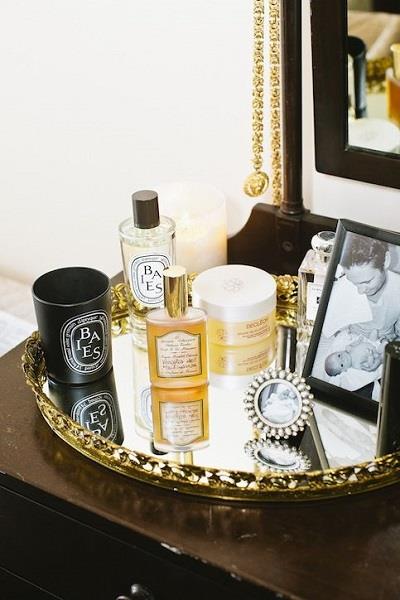 What her vanity looks like

On what inspires her: "I collect inspiration from life, from stylish women I see on the street, in magazines and at the various flea markets I love to take my family to during the weekends. After I put the kids to bed, I sit down with my mood boards and compile my thoughts and ideas."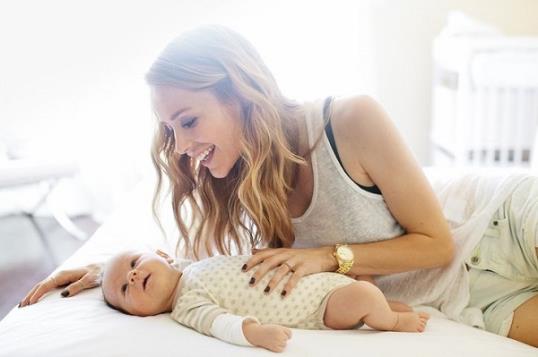 Anine with her son Benjamin

You can shop for all things Anine on her website. And watch out for this one, you'll be happy you can say you knew her when...

Subscribe to Simply Chic | Friend us on Facebook | Follow us on Twitter | Find us on Pinterest

Bing: Anine Bing music

More from Glamour:
10 Hot Date-Night Outfits (According to Guys)
25 Celebrity Hairstyles That Will Make You Want Bangs
10 Wardrobe Essentials Every Woman Should Own

Photos by: Miha Matei



Are you sure you want to delete this comment?
beauty tips and style advice
Celebrity beauty looks made headlines this year. Super short cuts topped the news, but that wasn't the only trend creating a buzz. Punk looks turned haute, peroxide blonde became the color of the moment, and braids reached an unprecedented level of artistry. Here, we look back at the most memorable hits and misses. For more year-end roundups, check out the Best and Worst Red Carpet Looks of 2013.

From the good, the bad, to the just plain bizarre, we've rounded up the top 13 hits and misses to grace the red carpet this year. For more year-end roundups, check out the Best Hairstyles of 2013.

=Hairdresser Rossano Ferretti can expect plenty of business following my news that the Duchess of Cambridge booked in to his luxury hair spa for a marathon six-hour session recently.

Selena Gomez with short hair? Behold the evidence at the KISS FM Jingle Ball last night.

Having a sister means stealing each other's clothes and fighting over the bathroom mirror. It also means enjoying two wardrobes and sharing new beauty-product tips and tricks. Here, our five favorite sets of celebrity sisters and the beauty lessons we've learned from them.

Most regrettable trends come with warning signs: Do your teeth set off metal detectors? Are your lashes prone to tangling? Are your shoes ugly and uncomfortable? Here is this year's crop of bad fads.

Restoring botched brows can be a major pain in the...arch.

In order to cope with the intense feelings of jealousy I experienced when seeing Jennifer Garner's flawless hairstyle last week, I decided to contact the stylist responsible for the look, Kylee Heath, and find out what exactly she did to produce these glorious results.

Apparently, every celebrity in the world decided to dye her hair over the last few days—or at least Duchess Catherine, Sienna Miller, and Pamela Anderson did.

It was the chicest family night out ever in London yesterday, as Victoria Beckham hit the red carpet, along with her ADORABLE sons, Brooklyn, little fashionisto Romeo, and Cruz, to support the premiere of the soccer football documentary Class of '92, featuring superstar dad David. And she looked perfect as always—in Victoria Beckham, of course.

There will always be a special place in our hearts for Pez—the completely absurd and impractical oblong candy that children are somehow meant to be patient enough to dispense, one by one, from a creaky plastic spring-loaded drawer contraption—and a newly minted shoe designer Camilla Elphick, a Cordwainers College graduate, has tapped into our oral fixation.

When it comes to her latest hair change, it's pretty clear that Sienna Miller was thinking pink!