Sample Sale Survival Guide
Fashion hounds flocked to Manolo Blahnik's sale. Here's how to manage the chaos.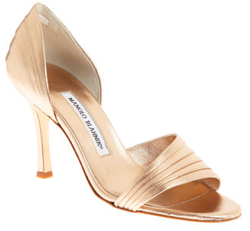 How far would you go to score a pair of brand new Manolo Blahniks for $100?
Let me translate: that's about $500 less than retail. Even in a recession, that's a good deal for handmade Italian leather shoes from the master shoe designer.
If you're like the hordes of women who attended the designer's bi-annual sale today at the Warwick Hotel in NYC, you'd wait as long three hours to gain entrance to the anticipated sale. That's just to get inside. Once inside, that's when the real fun starts.
Make no mistake: I've never witnessed women fighting over shoes (or clothes) at a sample sale, like the scene in
Confessions of a Shopaholic
. I'm not saying it hasn't happened, I just have never personally witnessed it and I've been going to Manolo's sample sale for more than five years. In fact, I find the women there were rather polite—as much as they can be, while hunting for the famous heels in their size.
Yet, this is not like shopping at Saks either—if you want to pay Saks prices, head to Saks. This is a sample sale. What to expect? It's crammed, hot and women there mean business. It's not uncommon to see gals working in groups—one manning the pile of shoes they've created in the center of the room while the others hunt down shoes on tables marked by size. (Watch a clip from the sale courtesy of NBCNewYork
here
.)
So, you need a gameplan. If you find yourself at a sample sale anytime soon, here are my five survival tips:
1) Dress lightly and carry a small bag. Why? It gets hot and if you're dressed too warmly, there's no place to put your coat. And don't carry a large bag, it will just get in the way.
2) Know your size. Make sure to try everything on (which can be hard). So, knowing in advance whether a designer runs small or big will save you time and money.
3) Be flexible and act fast. You may not find the basic black pumps you've always wanted, but you may spot some super fabulous purple high-heel sandals. And when you do, grab them. They won't be there if you turn your head.
4) Channel your inner yogi. Don't let the chaos of the sample sale disturb your focus. Remain calm, breath deeply and resist buying something if you don't absolutely love it.
5) Bring cash and set a limit. This may seem hard to do, but if you only buy what you love and stick to your budget, you'll be happier in the end.
Tell me, do you shop sample sales? How long would you wait for $100 Manolo Blahniks?
The gold Manolo Blahnik heels pictured retail at Barneys New York for more than $700.
beauty tips and style advice
Sunglasses: it may seem counterintuitive to invest in a wintertime accessory traditionally viewed as a sunny, warm-weather item. But spring is on the way and we're also currently being exposed to crazy amounts of UV rays—and then, of course, there's the reflective snow situation.

Some people look younger than they are, some look older. Even those with easy access to BOTOX and personal trainers. Can you guess the age of these celebrities?

Did anyone else hear wedding bells on the Oscars red carpet last night?

Then after the show, er, Oscars, it's the after party. Then after the party, it's the... Best Dressed List, of course. Nikki already picked her tops for the Academy Awards red carpet (did you vote yet?), so now it's time to see what the stars wore to the post-celebrations.

As I continue my personal campaign to swap out E!'s mani cam with a back-of-updo cam (and as a service to all the hardworking hairstylists who spent so much time creating beautiful hair looks for the 2014 Oscars), I'd like to point out that we miss a lot of gorgeous detail when we don't get the back view of a star's hair.

The bold new trend on the Oscars red carpet.

Trying new hairstyles is fun (have you picked up Allure Hair: The Ultimate How-To Hair Guide yet?).

When someone says "Julia Roberts," you think teeth. You think hair. But while you may not immediately think fashion, she has had a pretty consistent—and consistently pretty—style since her Mystic Pizza days: clean, classic, menswear-inspired looks that let her natural beauty—and rightly famous smile—take center stage. Here's how she has elevated that look over the years.

Lupita Nyong'o shows off the power of the pixie on the Oscars red carpet.

Walk a mile in a pair of SJP's stilettos? Well yes, we'd love to; thank you for asking.

Anti-aging doesn't have to take over your life. Here, expert tweaks to slow the clock.

We're at the tail end of a jam-packed awards season, with the grand finale—the Oscars, duh—just a few days away. We can't wait to see what our favorite nominees wear—we already know Jennifer Lawrence will step out in a breathtaking Dior, while we hope to see Lupita Nyong'o pick another brilliantly bold monochromatic gown. As for which designer she'll select—Gucci? Ralph Lauren?—that's anyone's guess.