Sample Sale Survival Guide
Fashion hounds flocked to Manolo Blahnik's sale. Here's how to manage the chaos.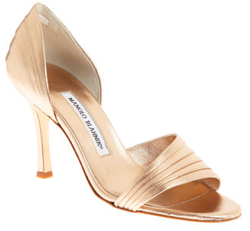 How far would you go to score a pair of brand new Manolo Blahniks for $100?
Let me translate: that's about $500 less than retail. Even in a recession, that's a good deal for handmade Italian leather shoes from the master shoe designer.
If you're like the hordes of women who attended the designer's bi-annual sale today at the Warwick Hotel in NYC, you'd wait as long three hours to gain entrance to the anticipated sale. That's just to get inside. Once inside, that's when the real fun starts.
Make no mistake: I've never witnessed women fighting over shoes (or clothes) at a sample sale, like the scene in
Confessions of a Shopaholic
. I'm not saying it hasn't happened, I just have never personally witnessed it and I've been going to Manolo's sample sale for more than five years. In fact, I find the women there were rather polite—as much as they can be, while hunting for the famous heels in their size.
Yet, this is not like shopping at Saks either—if you want to pay Saks prices, head to Saks. This is a sample sale. What to expect? It's crammed, hot and women there mean business. It's not uncommon to see gals working in groups—one manning the pile of shoes they've created in the center of the room while the others hunt down shoes on tables marked by size. (Watch a clip from the sale courtesy of NBCNewYork
here
.)
So, you need a gameplan. If you find yourself at a sample sale anytime soon, here are my five survival tips:
1) Dress lightly and carry a small bag. Why? It gets hot and if you're dressed too warmly, there's no place to put your coat. And don't carry a large bag, it will just get in the way.
2) Know your size. Make sure to try everything on (which can be hard). So, knowing in advance whether a designer runs small or big will save you time and money.
3) Be flexible and act fast. You may not find the basic black pumps you've always wanted, but you may spot some super fabulous purple high-heel sandals. And when you do, grab them. They won't be there if you turn your head.
4) Channel your inner yogi. Don't let the chaos of the sample sale disturb your focus. Remain calm, breath deeply and resist buying something if you don't absolutely love it.
5) Bring cash and set a limit. This may seem hard to do, but if you only buy what you love and stick to your budget, you'll be happier in the end.
Tell me, do you shop sample sales? How long would you wait for $100 Manolo Blahniks?
The gold Manolo Blahnik heels pictured retail at Barneys New York for more than $700.
beauty tips and style advice
Stunning wedding styles that create a statement.

Hue-changing dos we absolutely love.

In case you weren't already overwhelmed enough by the daunting task of jeans shopping (or really, clothes shopping in general), our friends over at Racked published a handy little infographic today comparing the sizing of a variety of different retailers that you've likely frequented at least a handful of times in your lifetime.

I attended the Abercrombie and Fitch holiday-season press preview yesterday, and in between checking out the cute gear that will hit stores this November, I picked up a little nugget of information I just have to share.

How to wear this cool-weather staple in the summer.

See how Miranda Kerr made a pair of Birkenstocks chic.

We love how a new nail polish has the ability to instantly change your look and your mood with a simple swipe. While happy lime greens and aquas are ruling the five million #nailpolish Instagrams this summer, there are a variety of great colors to choose from—whether you want an office-appropriate neutral or a fun going-out shade that'll give your LBD a punch of color.

You already know wearing white after Labor Day is cool. But menswear is reinventing itself rapidly, leaving some long-held mandates by the wayside, not to mention a bunch of men with a lot of questions. Sure, some style laws are truly inviolable. Showing a quarter-inch of cuff will always be crucial, but with designers and dandies flaunting so many former taboos it's hard to tell what's in play these days. So we thought we'd take this opportunity to let you know which rules no longer apply.

Put down the wrinkled button-down, step away from the Crocs, and open your closet. We need to talk about the new rules of casual.

Buying a brush is like getting a new smartphone: once you learn how to use it, it's indispensable.

Surfers are the epitome of cool, laid-back American style. And if we can't be them, at least we can copy their hair.

It's time for bridal beauty to loosen up. Hair doesn't have to be tightly wound, makeup perfectly contoured, and nails French manicured (on this last point, really, please don't). You can, in fact, look gorgeously and timelessly cool at your wedding. Here's how.