Let's discuss Miley Cyrus' new blue hair — I mean, 'hurrr'
She calls it "platinum."
by
Petra Guglielmetti
Today in "um,
obviously
": We need to discuss
Miley Cyrus
' new
hair color
, which the paparazzi snapped in L.A. on Friday.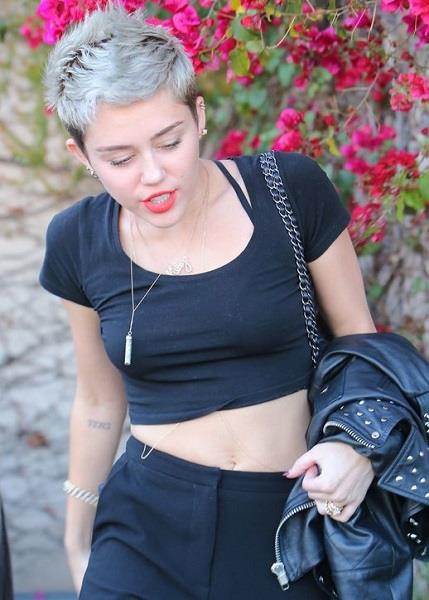 Media outlets were quick to announce Miley's new blue hair, but she hopped on Twitter to clarify. "My hurrr ain't blue," she tweeted. "That s***s PLATINUM." Noted. Except that calling this color "platinum" is a tad confusing, since when it comes to hair, this term generally means pale whitish blond. It appears Miley means platinum as in pale gray, like the metal. (See, I told you going gray on purpose was becoming a thing.) But her gray definitely does have a blue tinge to it.

More from Glamour: 15 Hair-Color Makeover Ideas to Try in 2013

Anyway, blue hair, platinum hair, gray hair — whatever you want to call it, this sure is an intriguing new shade — especially paired with that hot red lipstick! —and I'm so eager to hear what you're going to say about it. So come on down below and let's chat about Miley's new hair color!
Photo: INF

More from Glamour:

10 Beauty Tricks That Make Guys Melt
10 Ways to Seduce Your Man in Seconds
20 "Annoying" Girl Things He Secretly Loves About You
10 Things That Should Be on Every Girl's Beauty Bucket List
beauty tips and style advice
One shopper's tweet of the emaciated-looking figure forced the store to take action.

Once the summer heat kicks in, it's all we can do not to slip into the breeziest beach dresses and flip-flops for the morning commute. So trust us when we say we understand that the humidity can have a powerful effect on your wardrobe — still, there are some things you just can't wear to your place of employment, no matter how hot it gets.

Wrinkle no blouse, tangle no jewelry, leave no beauty product behind, and still have room to spare.

Hue-changing dos we absolutely love.

Why your jean size varies from store to store.

Wait a month between waxing visits? Check. Pop a preappointment Advil? Duh. We all know the basics, but here are the tricks you don't know.

What to always—and never, ever—do to keep hair in top shape.

Get inspired to try these sweet and summery looks.

Stunning wedding styles that create a statement.

I attended the Abercrombie and Fitch holiday-season press preview yesterday, and in between checking out the cute gear that will hit stores this November, I picked up a little nugget of information I just have to share.

How to wear this cool-weather staple in the summer.

See how Miranda Kerr made a pair of Birkenstocks chic.