Golden Globes beauty
How the celebs get golden!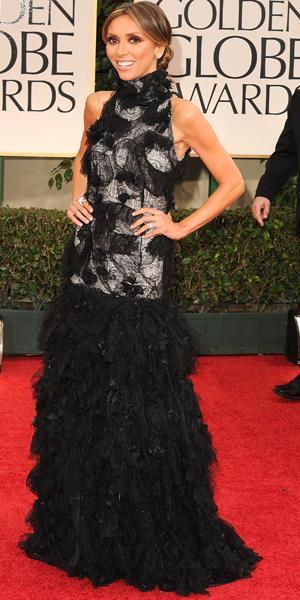 By Catherine Q. O'Neill
,
Allure magazine
For an actress, getting ready for the Golden Globes is more than just slipping on a fancy dress. There's the makeup, hair, manicure, pedicure, and juice cleanse. But before all that, there's one appointment they can't miss: the spray tan. "My regulars know they're going to get an appointment, so I get most of my calls today and tomorrow. I just confirmed Kelly Osbourne an hour ago," says St. Tropez skin-finishing expert Fiona Locke.


Related: The 10 Commandments of Mascara
Once Locke has a celebrity confirmed, she coordinates with her stylist to find out what the star will be wearing. "If they're wearing a very light color, like salmon, you don't want it to be that dramatic of a contrast," says Locke. For those gowns, she'll suggest making the appointment three to four days prior to give the color a chance to fade slightly. She also connects with the client's manicurist. If the manicure can't be done before the spray tan, Locke instructs the manicurist not to soak, scrub, or use any oils which can create unusual splotches on the hands and feet.
Now on to the actual tan. Yes, the actresses strip down (in the comfort of their own home). And yes, they get contoured. "Things look more toned with a tan, there's no question about it," says Locke. She asks them to do a bicep curl and subtly applies more tanner to the shadowed areas. She also asks them to make a fist so she can contour the triceps. And if it's a short dress, she sprays the legs a bit darker and asks them to stand on their toes to contour under their calves. "It makes the legs more fit by reducing unevenness or veins," she says. She leaves St. Tropez Skin Illuminator (a shimmery body highlighter) with the makeup artist and advises applying it to the collarbones, shoulders, and legs before the celeb hits the red carpet. After that, it's up to the actress. "They know how to stand to make everything look better," Locke says.
Related: The 6 Most Flattering Haircuts for Round Faces
Some of Locke's clients like a deeper tan than others (both Giuliana Rancic and Carrie Ann Inaba are "not afraid to be tan," she says). And Locke can honestly say she's never received any panicked calls the day of an award show. But if a celebrity wanted to take down the color, the best way is to soak the skin with baby oil and exfoliate to remove the color, she says.


Related:
Top 21 Drugstore Beauty Bargains
"It's an intimate business, and you really get to know people," she says. "One of my favorite moments was tanning the late Farrah Fawcett before an awards show. Her jeweler showed up while she was getting tanned and started handing her the most spectacular diamonds I've ever seen. She asked me to put them on so she could see them. It was a sweet moment."
More from Allure:
The 12 Best Eye Creams
Best of Beauty 2012
The 10 Most Gorgeous Hair-Color Ideas for Brunettes

Photo: Steve Granitz/WireImage
beauty tips and style advice
The wedding dresses on the spring 2015 runways were beautiful, breezy, and fresh—just like a breath of warm spring air. No matter where or when you'll say your vows (or how big or small your budget is), your dream wedding dress is just a few clicks away.

The results were crazy awesome.

There are no bad bodies, just bad jeans! Consider your denim problem areas solved (thanks to our 50-pair editor try-on).

Mascara wands are getting fatter, but that may not help your lashes. There's a better way to gain weight.

Three summers ago, I bought a pair of soft, white-calfskin Chanel loafers. I spent months trying to keep them pristine, but it wasn't long before a July thunderstorm left them and me soaked. I began steeling myself for what I thought was inevitable: a solemn drop in the trash. But once the loafers dried, I found the shoes' stained stitching—now storm-cloud gray—was lovely and a few new wrinkles in the leather were charming, like smile lines for shoes. I started to wear them freely—taking on puddles and tossing them onto the sand at the beach—and before long, they transformed. The roughened toe-tops reminded me of a welcoming, worn armchair, and a wet-and-hot summer had molded the material perfectly to my feet.

When the clock's ticking, digging though every compact in your bathroom is an exercise in frustration. What you need is one simple bag with a selection of products that help you pull yourself together as quickly as possible, at home or on the road. In it:

You know the freshly scrubbed, athletic look that defines American beauty? Turns out it's been centuries in the making.

According to Hollywood's top hairstylists, celebrity clients get sticky fingers when it comes to these no-fail products.

The American company that helped to popularize the shapewear trend has moved into the world of denim with a new jeans collection.

What to wear and what to avoid the next time you attend a wedding.

Want the most gorgeous hair of your life for your wedding day? Of course you do. Hairstylist Jen Atkin shares the top mistakes brides make that are getting in the way of that picture-perfect bridal hairstyle

So there are fashion mishaps. And then, there is the catastrophe known as....camel toe.