Golden Globes beauty
How the celebs get golden!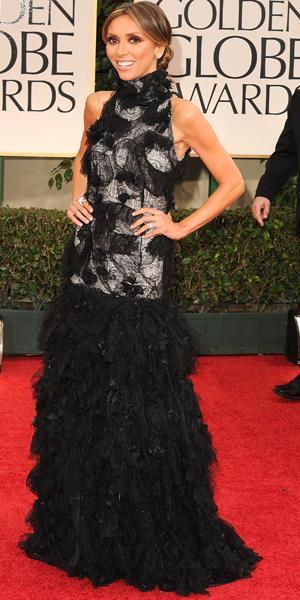 By Catherine Q. O'Neill
,
Allure magazine
For an actress, getting ready for the Golden Globes is more than just slipping on a fancy dress. There's the makeup, hair, manicure, pedicure, and juice cleanse. But before all that, there's one appointment they can't miss: the spray tan. "My regulars know they're going to get an appointment, so I get most of my calls today and tomorrow. I just confirmed Kelly Osbourne an hour ago," says St. Tropez skin-finishing expert Fiona Locke.


Related: The 10 Commandments of Mascara
Once Locke has a celebrity confirmed, she coordinates with her stylist to find out what the star will be wearing. "If they're wearing a very light color, like salmon, you don't want it to be that dramatic of a contrast," says Locke. For those gowns, she'll suggest making the appointment three to four days prior to give the color a chance to fade slightly. She also connects with the client's manicurist. If the manicure can't be done before the spray tan, Locke instructs the manicurist not to soak, scrub, or use any oils which can create unusual splotches on the hands and feet.
Now on to the actual tan. Yes, the actresses strip down (in the comfort of their own home). And yes, they get contoured. "Things look more toned with a tan, there's no question about it," says Locke. She asks them to do a bicep curl and subtly applies more tanner to the shadowed areas. She also asks them to make a fist so she can contour the triceps. And if it's a short dress, she sprays the legs a bit darker and asks them to stand on their toes to contour under their calves. "It makes the legs more fit by reducing unevenness or veins," she says. She leaves St. Tropez Skin Illuminator (a shimmery body highlighter) with the makeup artist and advises applying it to the collarbones, shoulders, and legs before the celeb hits the red carpet. After that, it's up to the actress. "They know how to stand to make everything look better," Locke says.
Related: The 6 Most Flattering Haircuts for Round Faces
Some of Locke's clients like a deeper tan than others (both Giuliana Rancic and Carrie Ann Inaba are "not afraid to be tan," she says). And Locke can honestly say she's never received any panicked calls the day of an award show. But if a celebrity wanted to take down the color, the best way is to soak the skin with baby oil and exfoliate to remove the color, she says.


Related:
Top 21 Drugstore Beauty Bargains
"It's an intimate business, and you really get to know people," she says. "One of my favorite moments was tanning the late Farrah Fawcett before an awards show. Her jeweler showed up while she was getting tanned and started handing her the most spectacular diamonds I've ever seen. She asked me to put them on so she could see them. It was a sweet moment."
More from Allure:
The 12 Best Eye Creams
Best of Beauty 2012
The 10 Most Gorgeous Hair-Color Ideas for Brunettes

Photo: Steve Granitz/WireImage
beauty tips and style advice
Sunglasses: it may seem counterintuitive to invest in a wintertime accessory traditionally viewed as a sunny, warm-weather item. But spring is on the way and we're also currently being exposed to crazy amounts of UV rays—and then, of course, there's the reflective snow situation.

Some people look younger than they are, some look older. Even those with easy access to BOTOX and personal trainers. Can you guess the age of these celebrities?

Did anyone else hear wedding bells on the Oscars red carpet last night?

Then after the show, er, Oscars, it's the after party. Then after the party, it's the... Best Dressed List, of course. Nikki already picked her tops for the Academy Awards red carpet (did you vote yet?), so now it's time to see what the stars wore to the post-celebrations.

As I continue my personal campaign to swap out E!'s mani cam with a back-of-updo cam (and as a service to all the hardworking hairstylists who spent so much time creating beautiful hair looks for the 2014 Oscars), I'd like to point out that we miss a lot of gorgeous detail when we don't get the back view of a star's hair.

The bold new trend on the Oscars red carpet.

Trying new hairstyles is fun (have you picked up Allure Hair: The Ultimate How-To Hair Guide yet?).

When someone says "Julia Roberts," you think teeth. You think hair. But while you may not immediately think fashion, she has had a pretty consistent—and consistently pretty—style since her Mystic Pizza days: clean, classic, menswear-inspired looks that let her natural beauty—and rightly famous smile—take center stage. Here's how she has elevated that look over the years.

Lupita Nyong'o shows off the power of the pixie on the Oscars red carpet.

Walk a mile in a pair of SJP's stilettos? Well yes, we'd love to; thank you for asking.

Anti-aging doesn't have to take over your life. Here, expert tweaks to slow the clock.

We're at the tail end of a jam-packed awards season, with the grand finale—the Oscars, duh—just a few days away. We can't wait to see what our favorite nominees wear—we already know Jennifer Lawrence will step out in a breathtaking Dior, while we hope to see Lupita Nyong'o pick another brilliantly bold monochromatic gown. As for which designer she'll select—Gucci? Ralph Lauren?—that's anyone's guess.