Golden Globes beauty
How the celebs get golden!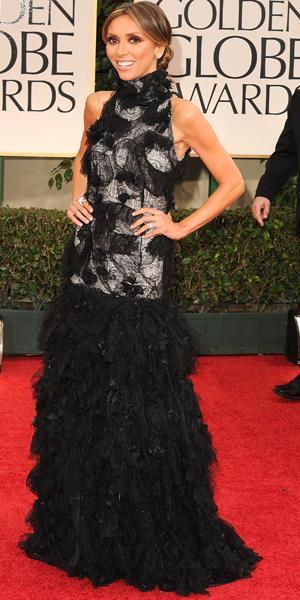 By Catherine Q. O'Neill
,
Allure magazine
For an actress, getting ready for the Golden Globes is more than just slipping on a fancy dress. There's the makeup, hair, manicure, pedicure, and juice cleanse. But before all that, there's one appointment they can't miss: the spray tan. "My regulars know they're going to get an appointment, so I get most of my calls today and tomorrow. I just confirmed Kelly Osbourne an hour ago," says St. Tropez skin-finishing expert Fiona Locke.


Related: The 10 Commandments of Mascara
Once Locke has a celebrity confirmed, she coordinates with her stylist to find out what the star will be wearing. "If they're wearing a very light color, like salmon, you don't want it to be that dramatic of a contrast," says Locke. For those gowns, she'll suggest making the appointment three to four days prior to give the color a chance to fade slightly. She also connects with the client's manicurist. If the manicure can't be done before the spray tan, Locke instructs the manicurist not to soak, scrub, or use any oils which can create unusual splotches on the hands and feet.
Now on to the actual tan. Yes, the actresses strip down (in the comfort of their own home). And yes, they get contoured. "Things look more toned with a tan, there's no question about it," says Locke. She asks them to do a bicep curl and subtly applies more tanner to the shadowed areas. She also asks them to make a fist so she can contour the triceps. And if it's a short dress, she sprays the legs a bit darker and asks them to stand on their toes to contour under their calves. "It makes the legs more fit by reducing unevenness or veins," she says. She leaves St. Tropez Skin Illuminator (a shimmery body highlighter) with the makeup artist and advises applying it to the collarbones, shoulders, and legs before the celeb hits the red carpet. After that, it's up to the actress. "They know how to stand to make everything look better," Locke says.
Related: The 6 Most Flattering Haircuts for Round Faces
Some of Locke's clients like a deeper tan than others (both Giuliana Rancic and Carrie Ann Inaba are "not afraid to be tan," she says). And Locke can honestly say she's never received any panicked calls the day of an award show. But if a celebrity wanted to take down the color, the best way is to soak the skin with baby oil and exfoliate to remove the color, she says.


Related:
Top 21 Drugstore Beauty Bargains
"It's an intimate business, and you really get to know people," she says. "One of my favorite moments was tanning the late Farrah Fawcett before an awards show. Her jeweler showed up while she was getting tanned and started handing her the most spectacular diamonds I've ever seen. She asked me to put them on so she could see them. It was a sweet moment."
More from Allure:
The 12 Best Eye Creams
Best of Beauty 2012
The 10 Most Gorgeous Hair-Color Ideas for Brunettes

Photo: Steve Granitz/WireImage
beauty tips and style advice
Click to see 10 must-have hair tools to streamline your beauty routine.

See 9 of the prettiest holiday hair accessories for the holidays.

Here's how to choose the neckline style that looks best on you.

This season, let your nails be as merry—and bright—as your mood.

Sure, a little black dress or le smoking is always on par for the party scene, but who says holiday dressing has to be so cut and dry? We have 15 ideas for switching it up this season—getting festive just got a whole lot more fun.

Super-fast (and easy) hair, makeup, and nail ideas that'll make you party-ready in minutes. Sorry, no more last-minute bailing because you're running late.

From straight and sleek to intricate braids and sky high topknots, some celebs just know how to do party hair

From a structured blazer to that awe-inducing statement clutch, Rachel Zoe shares her picks for December dressing with InStyle.com exclusively.

Simple style tricks to help your hair look better in an instant.

7 hairstyles to try this holiday season.

You know that classic nightmare where you walk into school or work completely naked? That's how I feel when I'm having a bad hair day. Like I don't want anyone to look at me and it takes everything I have not to immediately turn around and run back home.

Victoria Beckham will share her fashion story and give inside access to her brand via The Skype Collaboration Project in January 2014.