Study: Half of Women Prefer Drunk Sex
Social lubrication or low self-esteem?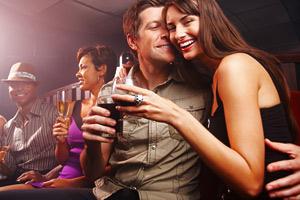 A recent survey revealed that half of German women prefer to have sex after a drink. Fifty-five percent said they like to be tipsy while having sex, and 7 percent want to be downright wasted. Because making love is just so much fun when the room's spinning.
C-Date.com performed the study, surveying the alcohol-fueled sex habits of 5,670 men and women from 11 different countries. The results echoed a study from 2009, which found that 48 percent of women prefer sex under the influence.
Kathryn Lakeland led the latter study and argued that women's propensity to hit the bottle before bed indicates a lack of self-confidence. She told the Daily Mail:
"The fact alcohol plays an integral role in their love lives shows that women are looking for a boost in self-esteem when it comes to their bedroom antics. A large percentage will actually refuse to get between the sheets without a bit of Dutch courage."
She found that 6 percent of women have never had sex sober, and one in six admitted that they "didn't have the confidence" to sleep with someone unless they were drunk.
Depressing statistics, yes. But for the majority of women, isn't "drunk sex" more about relaxing? As one commenter put it:
"People drink when they watch football, too. I think people just like to drink during recreational activities. Isn't that the whole point of drinking?"
Meanwhile, the C-Date study found that 52 percent of men say they don't need any alcohol to get in the mood. In fact, most avoid it in order to prevent any embarrassing bedroom mishaps.
Tell us on Facebook: Do you prefer to have sex when drunk or sober?

Photo: Joshua Hodge Photography/Getty Images

beauty tips and style advice
Hue-changing dos we absolutely love.

Why your jean size varies from store to store.

Wait a month between waxing visits? Check. Pop a preappointment Advil? Duh. We all know the basics, but here are the tricks you don't know.

What to always—and never, ever—do to keep hair in top shape.

Get inspired to try these sweet and summery looks.

Stunning wedding styles that create a statement.

I attended the Abercrombie and Fitch holiday-season press preview yesterday, and in between checking out the cute gear that will hit stores this November, I picked up a little nugget of information I just have to share.

How to wear this cool-weather staple in the summer.

See how Miranda Kerr made a pair of Birkenstocks chic.

We love how a new nail polish has the ability to instantly change your look and your mood with a simple swipe. While happy lime greens and aquas are ruling the five million #nailpolish Instagrams this summer, there are a variety of great colors to choose from—whether you want an office-appropriate neutral or a fun going-out shade that'll give your LBD a punch of color.

You already know wearing white after Labor Day is cool. But menswear is reinventing itself rapidly, leaving some long-held mandates by the wayside, not to mention a bunch of men with a lot of questions. Sure, some style laws are truly inviolable. Showing a quarter-inch of cuff will always be crucial, but with designers and dandies flaunting so many former taboos it's hard to tell what's in play these days. So we thought we'd take this opportunity to let you know which rules no longer apply.

Put down the wrinkled button-down, step away from the Crocs, and open your closet. We need to talk about the new rules of casual.