Study: Half of Women Prefer Drunk Sex
Social lubrication or low self-esteem?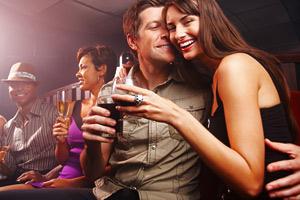 A recent survey revealed that half of German women prefer to have sex after a drink. Fifty-five percent said they like to be tipsy while having sex, and 7 percent want to be downright wasted. Because making love is just so much fun when the room's spinning.
C-Date.com performed the study, surveying the alcohol-fueled sex habits of 5,670 men and women from 11 different countries. The results echoed a study from 2009, which found that 48 percent of women prefer sex under the influence.
Kathryn Lakeland led the latter study and argued that women's propensity to hit the bottle before bed indicates a lack of self-confidence. She told the Daily Mail:
"The fact alcohol plays an integral role in their love lives shows that women are looking for a boost in self-esteem when it comes to their bedroom antics. A large percentage will actually refuse to get between the sheets without a bit of Dutch courage."
She found that 6 percent of women have never had sex sober, and one in six admitted that they "didn't have the confidence" to sleep with someone unless they were drunk.
Depressing statistics, yes. But for the majority of women, isn't "drunk sex" more about relaxing? As one commenter put it:
"People drink when they watch football, too. I think people just like to drink during recreational activities. Isn't that the whole point of drinking?"
Meanwhile, the C-Date study found that 52 percent of men say they don't need any alcohol to get in the mood. In fact, most avoid it in order to prevent any embarrassing bedroom mishaps.
Tell us on Facebook: Do you prefer to have sex when drunk or sober?

Photo: Joshua Hodge Photography/Getty Images

fashion: trends & must-haves for your wardrobe
Ready to refresh your hair and makeup for spring? Well, look no further for your latest batch of inspiration. These ladies are bringing the beauty brilliance with megawatt lipstick shades, sleek haircuts, and must-try hair colors. Get ready to play copycat.

Long, layered, medium or wavy – we're sharing our favorite hairstyles of 2013 with a new 'do each day. Stuck in a hair rut? Check back daily for snappy new looks that are sure to give your locks some beauty inspiration.

Step into spring with style in June Ambrose's new shoe line for HSN.

Revamp your corporate look with graphic prints and bold color.

If you have only five makeup tools in your kit, make sure these are them. They do much more than just look cute on your vanity!

Think all it can do is shellac everything down, helmet-head style? So wrong! A can of whatever's in your cabinet is your secret beauty weapon. Try it like this.

You may not get wrinkles on your hair, but it ages all the same. Grays, dullness, thinning strands, and frizz are all (unfortunately) part of the hair's aging process, which starts happening in your 30s. The good news is that you don't need Botox to fix these problems. Here are six tips for hair that's shiny, bouncy, healthy—and, yes, younger looking.

Our fashion-savvy FLOTUS shows us she is truly a master at mixing high- and low-end designs.

Get ready for summer with these cute and easy to DIY nail art designs.

Brides, it's your big day and you want to look special. Please, whatever you do, don't wear one of these wedding dresses. These are truly the worst.

Even if you're the best friend of all time, no bridesmaid should ever have to wear these worst-ever bridesmaid dresses. Lace, ruffles and satin overload!

As your face changes, so should your hair—the right cut can shave years from your appearance. And while there's no such thing as an age-appropriate length, there are age-appropriate styles. Here, the 30 most gorgeous hairstyles for every age, as seen on Mila Kunis, Jessica Biel, Jennifer Aniston, Diane Keaton, and more.