Study: Half of Women Prefer Drunk Sex
Social lubrication or low self-esteem?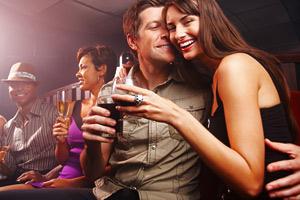 A recent survey revealed that half of German women prefer to have sex after a drink. Fifty-five percent said they like to be tipsy while having sex, and 7 percent want to be downright wasted. Because making love is just so much fun when the room's spinning.
C-Date.com performed the study, surveying the alcohol-fueled sex habits of 5,670 men and women from 11 different countries. The results echoed a study from 2009, which found that 48 percent of women prefer sex under the influence.
Kathryn Lakeland led the latter study and argued that women's propensity to hit the bottle before bed indicates a lack of self-confidence. She told the Daily Mail:
"The fact alcohol plays an integral role in their love lives shows that women are looking for a boost in self-esteem when it comes to their bedroom antics. A large percentage will actually refuse to get between the sheets without a bit of Dutch courage."
She found that 6 percent of women have never had sex sober, and one in six admitted that they "didn't have the confidence" to sleep with someone unless they were drunk.
Depressing statistics, yes. But for the majority of women, isn't "drunk sex" more about relaxing? As one commenter put it:
"People drink when they watch football, too. I think people just like to drink during recreational activities. Isn't that the whole point of drinking?"
Meanwhile, the C-Date study found that 52 percent of men say they don't need any alcohol to get in the mood. In fact, most avoid it in order to prevent any embarrassing bedroom mishaps.
Tell us on Facebook: Do you prefer to have sex when drunk or sober?

Photo: Joshua Hodge Photography/Getty Images

beauty tips and style advice
You know that classic nightmare where you walk into school or work completely naked? That's how I feel when I'm having a bad hair day. Like I don't want anyone to look at me and it takes everything I have not to immediately turn around and run back home.

Victoria Beckham will share her fashion story and give inside access to her brand via The Skype Collaboration Project in January 2014.

Just when we thought Pamela Anderson's sleek pixie marked her biggest hair makeover this year, the star ditched her trademark blonde hue.

Yes! Lupita Nyong'O shows us how.

Take the health of your hair up a notch with these natural treatments

Nope, it's not your resume.

This is why a short wedding dress makes sense.

The Queen is a handbag trendsetter, apparently.

You know winter is here when you pull off your clothes and find the insides lined with a thin coating of tiny dry skin particles. (Am I alone here, or do I have more serious dry skin issues than I thought?)

Yesterday I popped by the Clear Clinic, a dedicated acne treatment center that a lot of people (including a Glamour beauty blogger or two) swear have helped cure them of the dreaded spots.

The first thing I noticed about this photo of Keira Knightley at a London gala last night was her 90s-chic makeup, featuring matte pale foundation and lots of black eyeliner.

It's the stuff of pinups, old Hollywood glamour, and even science study after study says guys really go for it. But that classic Rita Hayworth red doesn't necessarily flatter every complexion. We rounded up the absolute best reds for every skin tone, so you can breeze through the sea of cherries, raspberries, and any other scarlet fruit.